Projects
CyrusOne Sterling 9 Data Center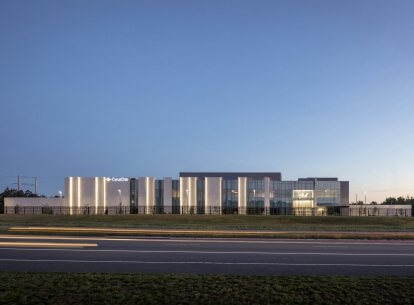 Project Stats
Location

Sterling, Virginia

Size

700,000 SF

Data Hall

400,000 SF

Critical Load

90 MW

Market

Expertise
Designed as a version of CyrusOne's Cloud Center prototype, Sterling 9 targets Cloud providers looking to build at large scales on a fast, predictable delivery schedule while maintaining affordability per megawatt.
The most prominent façade plays with typical precast form — celebrating the material. The main façade pushes and pulls using a simple C-Panel form — adding shadow interest during daylight hours. At each vertical joint of the panel, a recessed vertical cavity is home to a linear light fixture to display the precast at all hours.
The project design keeps modularity in mind allowing any precast member to be shipped to a prototype's site within the United States and fit perfectly. Focusing on each precast member allowed for the layout orientation to be customizable for each specific project site. This innovative aspect provides flexibility for the end-users. This concept further evolved when the precaster joined the team and offered suggestions to push precast efficiencies even further.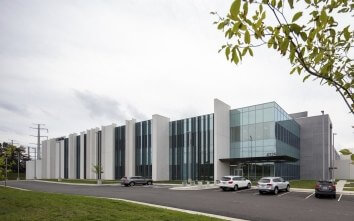 Precast innovation featured throughout the entire data center.