Projects
CyrusOne Aurora Data Center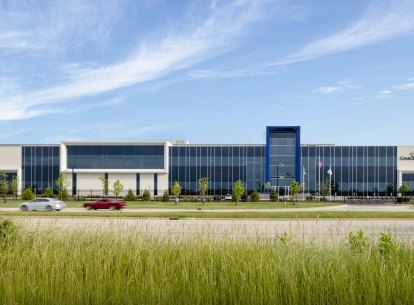 Project Stats
Location

Aurora, Illinois

Size

428,000 SF

Data Hall

240,000 SF

Critical Load

9 MW

Market

Expertise
Doubled from its original build size, this two-story expansion caters to the financial services industry. During construction, CyrusOne purchased the adjacent property, which was incorporated into a master plan for the campus. The campus includes a 35-foot tall communications tower on the site for expanded connectivity options. This site also has an interconnected multi-facility data center platform across three continents.
The Corgan team assisted CyrusOne in the planning and necessary approvals required by the City. The design intent created a new dynamic front door for the existing site and future campus expansion. The use of the existing CyrusOne material palette created a playful building elevation where interior function translate to the exterior. The design visually appeals to financial and broker tenants which occupy the existing building.
Interconnected hub for the financial services industry.