News & Insights — Insights
The CDC-backed Badge for Workplace Wellness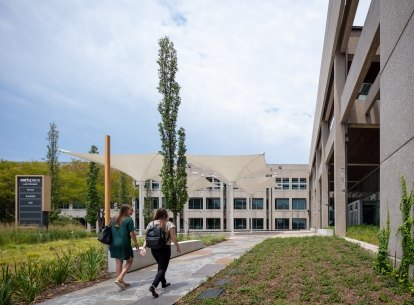 Here's what employers at the top of the game are doing to care for employees.
With company cultures at stake and the end of hustle culture, it's time to turn up the spotlight on the layered nuances of corporate wellness initiatives. Why? Because workplace wellness means more than driving the bottom line—it's linked to overall satisfaction and attracting and retaining your top talent.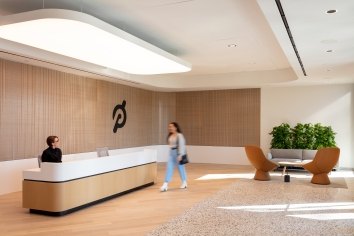 Wellness that Works
As employees look to both keep up with the demand for wellness at work and the preferences of a modern workforce, certifications such as WELL and LEED serve as a research-based roadmap with measurable benefits for their staff. However, these programs are often not always the right solution. For some clients—perhaps with design restrictions or budget limitations—these certifications, though aspirational, may not always be feasible. 
Fitwel, developed by the Centers for Disease Control, offers a broader range of clients a toolkit to right-size their efforts as a partner in achieving their wellness goals.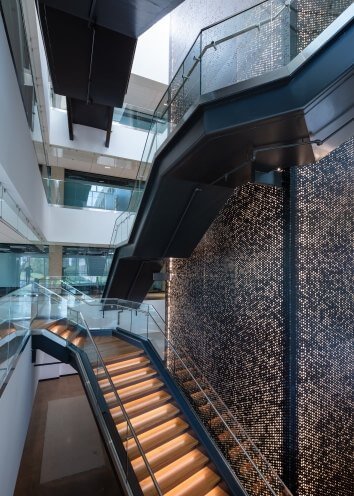 Research-Based & Right Sized
Incorporating 100 years of research and many of the same concepts and principles of their more intensive counterparts, Fitwel empowers clients with accessible, tailored solutions. Fitwel scorecards can be customized to company approaches, budgets, and cultures so that clients can more easily pursue certification at any stage in their design, construction, and occupancy timeline. From monumental stairs and outdoor spaces to commuter benefits and green purchasing programs, Fitwel marries policy and design with the goal of creating wellness-based buildings for everyone. 
As an extension of our expertise in WELL and LEED, Corgan's Fitwel Ambassadors work with clients to activate their design and strategically incorporate or adapt policies that leverage their existing space while identifying opportunities to maximize their wellness goals. Recognized by Fitwel as the Best in Building Health, Corgan's recent projects serve as case studies on how to scale for workplace wellness while balancing practical viability with meaningful impact across a mix of project scopes.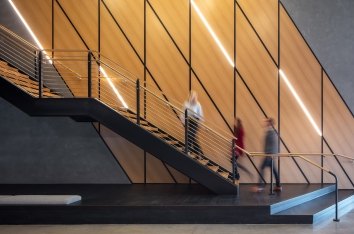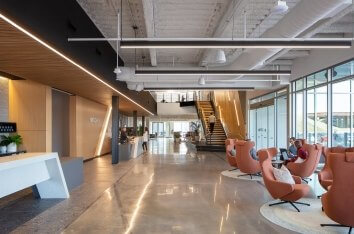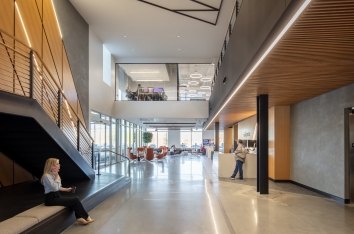 Designing for a Competitive Edge
As a pioneer in one of the first flexible sit-to-stand workstations, Vari's new muti-tenant campus in Coppell is an extension of their wellness values and place as a leader in corporate innovation. Corgan's Interiors practice was tapped for their new Class A 168,257 sq. ft. of rentable "space as a service"—a concept that offers tenants short-term lease opportunities with ready-to-go, customizable space plans. Complemented by Vari furnishings and products that promote movement and activity, VariSpace Coppell's three-year Fitwel certification and highest score in the Multi-Tenant Whole Building (Design) category is a testament to the collective power of flexible solutions and attractive wellness advantages that extend to other tenants and shared spaces.
A natural extension of their wellness priorities and leasing goals, Fitwel scorecards helped Corgan and Vari articulate their culture in both design and policy. Celebrating movement and the outdoors, a monumental stair anchors the lobby space and serves as the primary artery connecting activity and teams. Little pep talks, signage along the ways let's you know how many calories you've burned or just how many laps you need to climb Mount Everest.
With attention to nutrition, a grab-and-go market implements Fitwel standards limiting sugar and calories caps on certain items, placing healthier options at eye level, and providing a mix of inventory that favors healthy foods and beverages. Natural daylight floods the building and an interior floor plan orients workstations near windows and views to the outdoors while moving storage to the core of the building leaning into the mood-boosting benefits of biophilia and a harmonized circadian rhythm. Onsite policies such as a tobacco free campus and a crop share drop-off support the sustainability and wholistic impact of these interventions—not only making fresh take-home produce more convenient but also encouraging better wellness decisions outside of the office.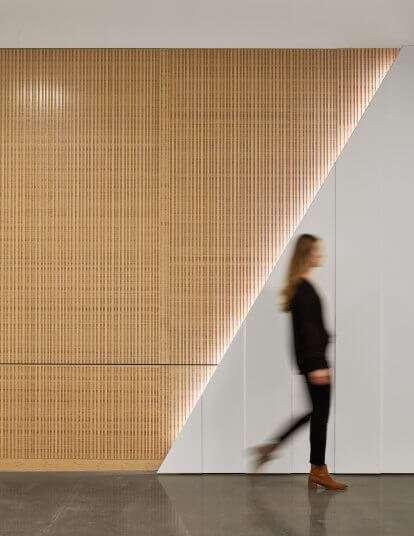 Setting the Pace for Fitwel
The highest scoring project of all time, Peloton Headquarters in New York outlines the impact of curated policies that leverage existing design to demonstrate an investment in health and wellness intrinsic to their culture, business, and industry. After earning Fitwel certification at their Plano office and training facility, Peloton partnered with Corgan Fitwel Ambassadors to pursue certification of their flagship office. 
An old building converted into a high-rise, the existing design features a staircase that threads multiple floors, indoor plants, several gathering spaces, a cafe, and abundant natural light. Creating a comprehensive wellness experience for their staff in a dense urban setting, however, required a generously reimagined approach to how these spaces are activated and how they maximize health benefits.
Reevaluating and stretching their policies to adjust onsite food inventory and services, provide motivational and wellness-centric signage, and prioritize AED on every floor, Peloton's powerhouse of strategic initiatives does more than take advantage of nearby retail, bike sharing programs, and access to public transit; rather, it is both a clear next step and a healthy reach for what's to come in corporate health and wellness.
Fitwel at Work
Healthier workplaces can start anywhere in the process—from site selection to redesigning policies post-occupancy that encourage healthier decision making throughout the day. At Corgan, our Fitwel Ambassadors can provide test fits to aid in site selection and explore the possibilities of implementing LEED, WELL, or Fitwel based on the location. Balancing the limitations and opportunities of a location, corporate culture, and budget, big and small interventions in interior floorplans and design can amplify wellness goals. Later in the process, strategic administrative and cultural changes rooted in a full picture of the building's ecosystem including design, workplace management, and the evolution of new tools such as Fitwel can critically and creatively marry policy and design to offer more accessible, tailored wellness solutions that work.