Projects
Peloton Interactive Office and Training Center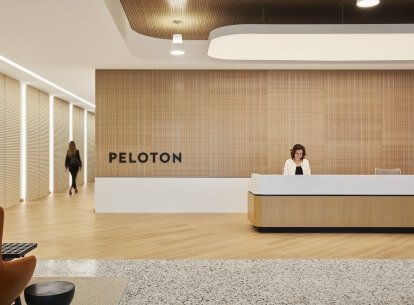 Project Stats
Location

Plano, Texas

Size

100,000 SF

Awards

Interior Design, Best of Year Award Honoree

Market

Expertise
A shift in perspective.
As the pandemic took hold in early 2020 and gyms and fitness studios began closing, orders for Peloton bikes soared. What started out as a 60,000-square-foot project rapidly spun into 100,000 square feet with an expanded scope.
The challenge from Peloton was turning a nondescript warehouse into a vibrant and brand-focused office environment supporting 750 employees. Peloton is an employee-focused company, so providing a great work environment is important to its culture and brand.
With the added square footage, Peloton enhanced its original programmed amenities and make this project a training and development hub. Two entrances were created — one for visitors and another for locally-based employees. Keeping employees at top-of-mind, one entrance could not one-up the other. The employee entrance offers adjacency to the work café, the heart of social interaction for Peloton. The visitor's entrance near the training rooms and fitness center features Peloton bikes, treads, and spaces for workouts. Though these two spaces are far apart, it was important to Peloton that both groups interact and flow from one end of the space to the other.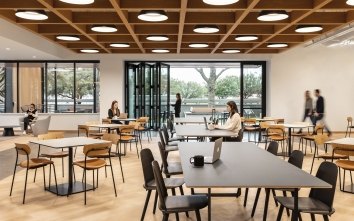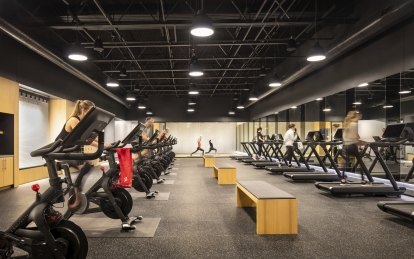 Fitwel Case Study
Company mission a driver for wellness certification.
Corgan introduced the Fitwel Certification program to the Peloton Interactive Plano team during the design phase of their new space. It was an obvious choice for Peloton, given their mission to provide people with more efficient and accessible workouts. The Peloton team quickly understood how many of the Fitwel evidence-based health strategies they were already implementing in their day-to-day operations. Solidifying these practices was a great way to instill confidence as employees are welcomed to the space, attract and retain top talent, and recognize that health and wellness are their priority. Given the immediate success of this program to the Plano office space, the Pelton Headquarters in NYC is currently seeking the highest possible Fitwel score at 3 stars.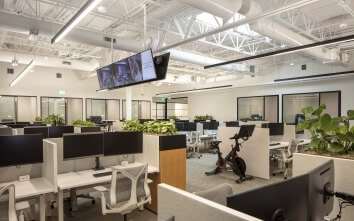 To help light the dark center, a series of skylights bring natural light into the interior work zones. White, light wood, and concrete surfaces consistent with Peloton's corporate and retail stores are used throughout the space to tie in the Peloton brand. The office provides a bright, open, and airy place to work, surrounded by real plant life, natural sunlight, and sustainable materials.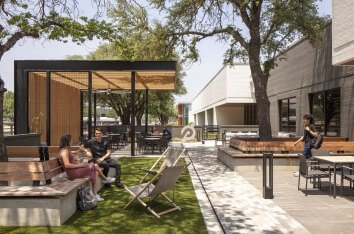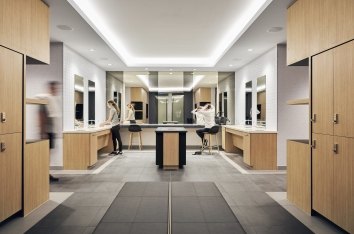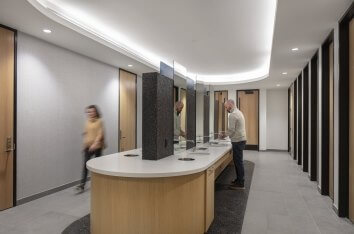 Pushing boundaries.
Even though Peloton values its brand guidelines and company culture, they were open to exploring new ideas and encouraged creative suggestions from the design team. To enhance the employee experience, the design includes an outdoor patio, game room, and meditation room. And to promote Peloton's culture of inclusivity, all locker rooms, showers, and restrooms are gender neutral.
BRANDING
A focus on details.
Peloton is passionate about their products and the details associated with their bikes, treads, online workouts, and brand. The curved detail of their bike, reflective in their logo, is something that the design team used to help weave together the enormous open space and connect destination points strategically located on the plan "to get people moving."