News & Insights — Insights
Integration and Immersion: A Study on Virtual and Physical Experiences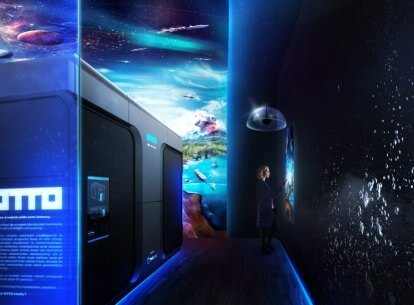 When approached to create a platform for the global launch of OTTO, TMGcore's new conceptual data center, Corgan tapped into emerging technologies and experiential trends to carve out a space that combined virtual and physical possibilities for a completely immersive, customizable experience. Moonshot workshops quickly revealed the revolutionary aspects of their technology that required an experience that was equal in its innovation.

Incorporating a mix of graphic and digital elements empowered users to interact with and connect to the product providing an engaging, dynamic presentation that was educational and memorable. Exploring how OTTO disrupts the traditional data center architectural typologies and its impact on a variety of industries ranging from healthcare to national security and defense, Corgan's booth for TMGcore at the Super Computing 19 Conference married the storytelling powers of MediaLab and the fearless innovation of Hugo, the firm's research and development team.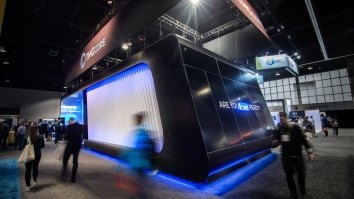 THE PROCESS
Pioneers in experiential design, Hugo and MediaLab leaned into creating a harmonious ecosystem of digital content and physical space. Strengthened by each other, the hybrid experience creates a different kind of memory and a self-led journey that is immersive and powerful. Integrating invisible elements such as sound and smell with digital content in a physical environment is a complex, layered process. Throughout the design process, the Corgan team used virtual reality to understand the scope and scale of the space—testing spacing, line of sight, and the customer journey in a virtual space for a seamless delivery.

A pre-event strategic viral campaign complemented the launch on social media to build excitement and create continuity before and after the conference. Not only did this campaign build excitement and create a desire for attendees to visit the booth, it also allowed those that were not able to attend the conference a chance to experience the brand and product story remotely. Providing continued visibility for OTTO, the social media platforms and custom curated pre- and post-event content demonstrated the power of reaching users and audiences beyond a single point in time in or place, all while enhancing the in-person experience.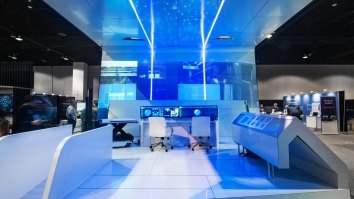 THE BOOTH
By leveraging a diverse array of design disciplines – including graphic design, video production, motion graphics, experiential storytelling, sound landscaping, architectural design, interior design, lighting, and olfactory design – the booth invites the user on a journey that places them in a world powered by OTTO.

Immediately capturing the attention of passerby, the exterior is designed to mirror the product in motion. Slow, pulsing light streams breath life into the built environment, while the overall shifting shape and vertical fins visually reference the speed and efficiency that are at the backbone of OTTO. Multiple touchscreens provide a tactile point to engage users in OTTO's story, with a custom digital slider tool developed to intuitively show a real-time 3D comparison between an OTTO and a traditional data center.

Step inside and the journey begins at the Operations Stage where the guests can experience what it would be like to remotely operate multiple OTTOs across the world from one desk. The booth's custom interface demonstrates how the new technology opens up global possibilities to work from anywhere.

Designing a booth to showcase a novel technology in an open exhibition hall is not without its challenges. With an inability to control the acoustics and lighting levels of the exhibition hall, we instead created our own room-within-a-room to capture and curate the experience – creating a museum inspired quality that removes distractions to intentionally engage all the senses. A sensorial environment captures the guest's full attention as we set the stage for OTTO. Upon entering the dark room, a custom-designed scent greets guests to invoke memories of fresh water as the chill of conditioned air heightens the olfactory experience and digital bubbles dance on the walls to the sound of water – all of which introduce OTTO's liquid immersion cooling technology.

Moving further along, guests start to see the inner-workings of not only the booth but also OTTO itself, as a robotic arm repositions servers one a time. Above, a scene from deep outer space, dark skies, and ethereal lights set an aspirational backdrop that begins to imagine the possibilities of TMGcore's technologies. A 42-foot backlit fabric graphic plays with images that transition from sky and mountains to cities and culminating in the depths of our oceans—a nod to the vast reach and impact of OTTO. This "Sea to Space" graphic describes a world revolutionized by OTTO: A world that leverages distributed networks and thrives on edge computing. A world where artificial intelligence is democratized, e-sports live in the cloud, personalized medicine is commonplace, national defense intelligence and disaster relief efforts save more lives via real-time situational awareness, discovering oil is faster and safer than ever before, and all students around the world have access to unlimited resources and next generation technology.

To complete the telling of this story, six industry-specific interactive videos were created to provide deeper insight on the potential impact of OTTO—laying the groundwork for thought-provoking conversation and challenging our notions of the future. Intuitive and easily accessible through a series of touchscreens, this

comprehensive interactive digital content program for the booth was made possible by 17 embedded computers running 18 videos of custom Corgan created content, three original soundtracks, 11 motion graphics, three custom web scripts, four Bose sound bars, six projectors, and three networks to establish quality delivery and a strong foundation of reliability working in concert to bring focus and spectacle to OTTO.

While a dedicated space for our partners to share more about the product and discuss new ideas ends the formal, physical experience, it is the start of continued conversation and exploration initiated by the booth's design and content. The digital content lives on past the event, and the booth itself has been memorialized as a sales experience center in the client's headquarters.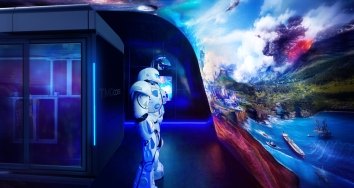 LOOKING AHEAD
While large gatherings such as conferences and exhibitions are problematic in the midst of a global pandemic, we can imagine that a post-COVID world will continue to demand experiences that invite participation from anywhere and at any time. In addition to providing a memorable experience for conference attendees, the OTTO exhibition booth is an exercise in testing the potential of layered design—integrating viral campaigns, virtual technologies and digital content with invisible and physical design to create an immersive platform that could offer benefits beyond a specific, singular place and time. Delivering an experience and tools that bring to life the power of storytelling in design, Corgan's team continues to explore new ways to help clients like TMGcore reach users in our new normal—keeping people at the center of design with innovative, new solutions that are both agile and memorable.