News & Insights — News
First gates set to open at JFK's new Terminal 6 in 2026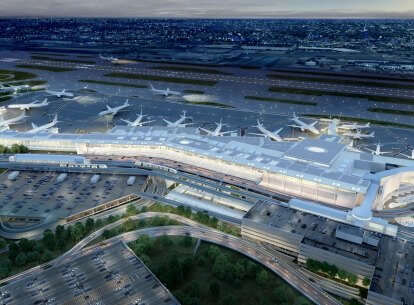 Construction is set to start on the new Terminal 6 at New York's JFK airport in the coming weeks, following the financial close of the $4.2 billion project.
An update from JFK Millennium Partners – a consortium composed of companies including Vantage Airport Group and Jetblue – confirms that the terminal's first gates are expected to open in 2026, with the second phase of the project being completed in 2028.
The airport's original Terminal 6 was demolished in 2011, with the site partially being used for the international arrivals annex of Terminal 5.
The new 1.2 million square foot Terminal 6 will connect to the airport's Terminal 5, and will feature ten new gates (nine of which will accommodate wide-bodied aircraft), as well as check-in and arrivals halls and more than 10,000 square feet of dining and shopping, airline lounges, and recreational spaces.
Jetblue will occupy the new terminal, and Lufthansa Group carriers Lufthansa, Swiss, Austrian Airlines and Brussels Airlines will also move into Terminal 6 when it opens.
Robin Hayes, chief executive officer of Jetblue, said that "Thanks to our Northeast Alliance with American Airlines, Jetblue's presence in New York has never been greater and the new Terminal 6 project will only accelerate our growth in the years to come", while Port Authority executive director Rick Cotton commented:
"The financial close on a new Terminal 6 allows us to move forward with the final piece of our plan to transform JFK International Airport into one of the world's great global gateways.
"The $4.2 billion private investment in Terminal 6 by JFK Millennium Partners is a vote of confidence in our vision for a new JFK and in the future of our region.
"We want to thank New York Governor Kathy Hochul, US Senate Majority Leader Chuck Schumer, Deputy Secretary Polly Trottenberg of the US Department of Transportation, US Congressman Gregory Meeks, Queens Borough President Donovan Richards, and the leadership and staff of the Federal Aviation Administration in Washington, in Region 2, and at JFK International Airport.
"Without their support, getting this important project to financial close would not have been possible."
This summer LOT Polish Airlines confirmed it had been selected as one of three anchor airlines at the yet-to-be-built New York JFK's New Terminal One, alongside Air France and Etihad Airways.
The first phase of the $9.5 billion project is expected to come online in 2026 – including new arrivals and departures halls – with the terminal slated for completion in 2030.
---
This article was written by Mark Caswell and published in Business Traveller on November 21, 2022. See it here.