News & Insights — Insights
Design Sprint: Crossroads Learning Pods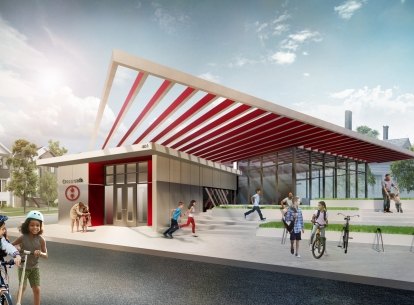 The educational system as we know it today — classrooms with forward-facing desks, changing classes at the ring of a bell, and the standardized testing system — is an 18th-century model created to prepare students for a life working in the factories. The "modern" education model has indeed proven itself an idea of a bygone age.

Over the past decade, evolving teaching methods and innovations have changed the way our students learn, and now the coronavirus pandemic has undoubtedly changed the pedagogical necessity of utilizing technology. We are now deeply indebted to technology for enabling the ability to physically distance, reduce in-person experiences, and slow the spread of COVID-19. However, as we've realized, increased use of technology has not been an ideal substitute for in-person learning — video calls, online textbooks, and pre-recorded lectures can make learning more challenging for some students. It has exposed a widening technology gap between students and teachers alike, exacerbated a crisis among lower-income families who depend on the school system for everyday necessities, and has decreased students' ability to build the social bonds they so desperately need.

Working together with Crossroads Education, a non-profit e-learning management service, we conducted a three-week design sprint to reimagine a new educational system of distributed facilities that augment school districts by providing access and support to a variety of locations. This conceptual network of one-room schoolhouses will leverage unleased spaces vacated due to the pandemic in urban areas and integrate into suburban neighborhoods at a reduced footprint. A mesh network of remote education facilities will work alongside existing school districts – both public and private – to provide a hybrid education system that reduces class sizes for educators, allows for safely distanced in-person learning, provides both a digital and personal support system for students and leverages innovative learning methods that support individual needs.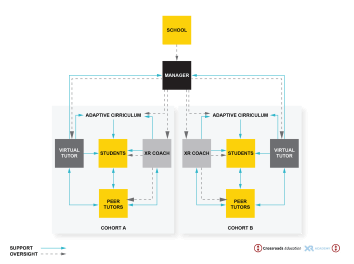 Designing a New Learning Typology 

To understand the needs of those that directly use these spaces, we conducted 39 separate interviews with a mix of parents, teachers, and those assisting with remote learning pods and other remote learning styles. Each participant shined a light on the various realities that exist in remote education. More than 20 hours of recorded anecdotal data revealed three key factors that are shaping the learning experience – exposing welcome opportunities for change within the remote learning landscape.
 
Insight 1: The Socio-Economic Divide 
"For a student who is in lower a socio-economic status, it's not even just the supplies or the view on education. It's also the food. We have many homeless students. Their individual success hinges on if they can get a good meal, if they can get enough sleep, if they find a place to wash their clothes and shower." – Alternative School Teacher
In 2020, nearly 463 million students and 63 million teachers around the globe were left without access to the equipment needed for remote learning, putting the most disadvantaged at risk of learning loss. These students do not have the appropriate hardware, software, connectivity, digital skills, and familial support systems required for remote learning. Likewise, teachers themselves struggle as they have in most cases not been trained to be the content creators and health safety enforcers this pandemic has required of them. Crossroad remote learning facilities will need to provide technical support for both students and teachers alike.
Technical support, however, is not the only concern. In many cases, our schools are not just where students learn but have become central to students' livelihood and wellbeing by providing meals, healthcare, safety, support systems, mental wellness checks, in addition to access to technology. How can remote facilities provide enough support to students and teachers alike across all socio-economic levels and continue to advance education through innovation?
Insight 2: The Social Aspect 
"When students aren't with their peers, they don't learn as well. I think some of that peer pressure is a good thing because it encourages them to do well. If they see their friend doing well, they want to do well too." – Private School Teacher
In crisis mode, the way we educate children and encourage socialization brought apparent challenges. Location, people, and a sense of security have an extreme effect on how we socialize.  In-person social interaction helps young children start developing their sense of self and start to learn what others expect of them – whether through conversations, interactions, body language, or learning from each other's behavior. The act of gathering shapes the way we think, feel, and understand the world around us.
But over the past two decades, technology has increasingly become an integral part of the way we communicate and socialize and will likely continue to. To be successful, remote education facilities should safely address in-person socialization by reducing class sizes to enable safe distancing and incorporating various and innovative learning strategies among the cohort that foster self-discovery, peer-to-peer learning heightened engagement.
Insight 3: Personalized Experiences    
"My approach to simplicity has really been beneficial for the students by [allowing] them to practice what they're learning in an experimental way and allowing them to branch out and not do things that were so traditional in the classroom." – Alternative School Teacher
Evolving teaching methods are changing the access students have to more personalized learning experiences that tap into their personal interests – and at the same time provide tools for educators to help modernize the learning experience to increase satisfaction and engagement. In some cases, this means that students are learning by doing. Whether instructor-led or not, hands-on experiments were a staple for parents trying to engage children in activities while tackling their work-from-home duties. Some parents even mentioned taking their children to the zoo when their lessons involved animals or biology. Would it then be possible for remote education pods to facilitate on-site learning to tailor students' learning experiences with an aptitude for science, biology, and nature? Why not learn about giraffes while feeding one!
Another way to personalize the experience is to make the school more accessible. Remote facilities offer the opportunity to walk to school, and a distributed network – both in urban and suburban locations – could provide safe walking distances that are parent-approved.

 
Education today is at a crossroads – it is at a tipping point where the old model doesn't meet the current needs of society. When faced with a crossroad, and you make a choice by understanding what your own needs are, and how they can be supported" – Dr. Kevin Berkopes, CEO of Crossroads Education

These key factors played an essential role in establishing the size, accessibility, safety, and spatial requirements that a distributed education system will require to be successful for the students, parents, and teachers alike. These insights led us to six overarching needs for each remote learning facility: security, focus, collaboration, socialization, privacy, and engagement.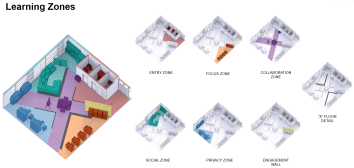 Each learning zone supports specific needs within the peer-to-peer education model and can be adapted to fit into any location, regardless of shape or size. To maximize accessibility across socio-economic levels, a secure entry will need high-tech and low-tech solutions, such as scanning a smartphone or using a key fob. More personal amenities near the entry include restrooms, laundry facilities, a nursing station with an isolated exit, and a private meeting space, all of which create a well-rounded support system for students and teachers that may not otherwise be available to them. The space will also include a small café and pantry to provide food and snacks for the students who depend on the school system for food security. Upon entry, students are encouraged to interact with the "class plant" – a trellis wall that reinforces Crossroad's mission to collaborate, innovate, and educate while enabling students to plant their own seeds and watch their plants grow, together.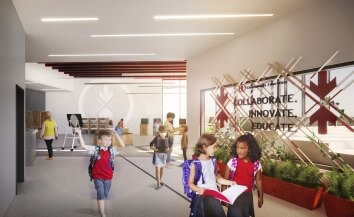 FLEXIBLE FURNITURE

To maximize agility on the interior, custom furniture solutions enable the space to effortlessly transition from coursework to community support facility – adapting to the various uses of the students or surrounding community as needed.  Each zone is designated by the flexible furniture system – such as a modular learning stair in the social zone – in place of walls.

The flexible furniture kit allows the students and coaches to fully customize the space, including the ability to store every item to maximize the open space. Configurations can adjust to accommodate any activity – enabling collaborative exploration or acoustic barriers for focused coursework. Seat tops may also be swapped out for an exercise ball, allowing students who struggle to focus the ability to "fidget" while seated.

Within the privacy zone, XR coach pods can be used for grading, personal storage, and one-on-one meetings. Privacy pods can be used by the students for independent learning while maintaining a visual for coach supervision. Additionally, flexible classroom tools such as portable interactive touchscreens, mobile power packs, lockable device storage carts, and lightweight pin-up boards are ideal for adjusting the space to support collaboration at a moment's notice.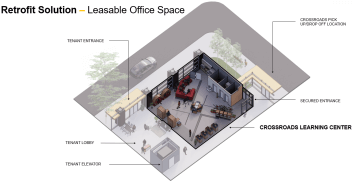 RETROFITTING TENANT LEASE SPACES

The 2020 pandemic left us with a growing number of vacancies in commercial real estate properties across urban environments – and with a workforce that is becoming more mobilized, most of those spaces have an uncertain future use. Typically, in cities similar to New York City, vacant retail spaces could be turned into hipster lofts, selling at a premium. However, with a recent exodus from the city, they remain vacant without a purpose. Additionally, New York City has the largest inner-city school district in the U.S. – with more than half a million students impacted by school shutdowns, forcing students to experience a discontinuity of education. This abundance of vacant real-estate dispersed throughout the city could be ideal locations for remote learning facilities to support the many students living in urban environments.

Using the learning zones developed to support remote education, these commercial units could be easily retrofitted into a network of remote learning facilities, leveraging space in office buildings and retail environments. Likewise, the reduced footprint allows designers to easily integrate them into multifamily residential buildings, whether new or retrofitting existing public spaces. Additionally, smaller communities may even consider leveraging a network of churches.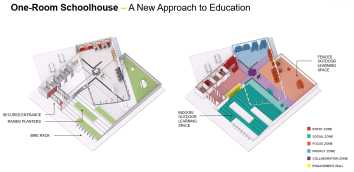 ONE ROOM SCHOOLHOUSE

In addition to urban solutions, the same components can be integrated into one-room schoolhouses can be built to provide similar amenities within safe walking distances to the suburban communities. In this case, the scale and vision of the facility must reflect that of the neighborhood, in addition to providing safe, well-lit sidewalks and bike racks to support pedestrian access.

This design engages the community by encouraging residents to grow plants alongside the students in a series of vegetable garden planters or to engage in the indoor/outdoor learning stair. Additionally, exterior picnic tables and parking are reserved for local food trucks participating in subsidized efforts to feed the students lunch each day.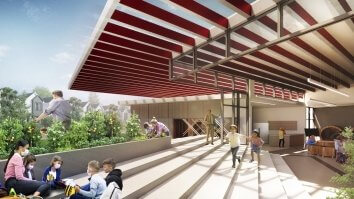 When considering the challenges brought on by COVID-19, providing a network of distributed education facilities is a solution that can support remote education for students as well as augment the teaching experience by redistributing and reducing currently overcrowded classrooms. This vision can support a variety of learning experiences across demographics and geographies. After centuries of classroom-based education, the learning experience is evolving at last.