News & Insights — Insights
ARFF Stations: Designing to Serve Those Who Serve Us
When we think of airports, we typically think of terminals, runways, long lines at security, and destinations. It is less often we think of the first responders stationed there. While safety and security at the airport are top concerns in airport design for passengers and staff, the conversation is primarily occupied by scanning baggage for weapons and not on the facilities to house the first responders. It is important to understand the unique needs of firefighters stationed at an Aircraft Rescue and Fire Fighting (ARFF) facility to shape a healthy and collaborative building program. One which more holistically considers the safety and security needs of the airport and supports the firefighters' critical work—saving lives and protecting the global hubs they serve.
Airports require ARFF stations to respond to acts of terrorism, natural disasters, or accidents at or in the vicinity of the airport. They house highly skilled firefighters with specialized knowledge and training in aviation-related hazards, procedures, and equipment. The firefighters rely on efficiency and clarity and require a facility to serve as an extension of their commitment to safety and wellness.
A Beacon of Safety & Security
Dedicated to the airport's protection and safety, ARFF firefighters require functional architecture both efficient and tailored to their work and designed to support their wellbeing. Tapping into the lessons from various building typologies, Corgan's Aviation practice has balanced the complexities of these spaces, including heightened security measures, precise protocols, and sensitive equipment while preserving its human-centric design, keeping firefighters at the center.
ARFF facilities, when designed well, are machines and tools that holistically serve the needs of their users. In the same way a data center must dialogue with mechanical and telecom engineers, the ARFF facility must optimally coordinate with the technologies and potential scenarios of the airfield. Airport Emergency Response Buildings must accommodate specialized communication needs, security protocols, ground and air traffic control and be able to respond to any emergency or threat. The building's program of telecommunication rooms, dispatch center, offices, workout spaces and suspect holding specifically caters to the emergency responder and what they require to be successful. Corgan's design and program of an ARFF station not only takes into account the firefighter's service to the airport but focuses on how the facilities serve them. The planning of ARFF stations must consider several factors ranging from private retreats, communal living spaces, safe storage of hazardous materials to ventilation, and access control.
The priorities for this building type are response time, security, functionality, and wellness. However, the buildings are more than functional beacons of safety and security; they are also home to the firefighters who live and train there.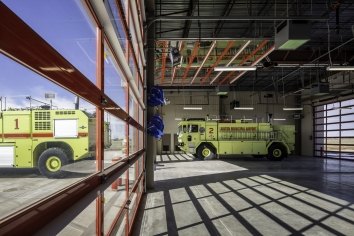 Wellness
An ARFF station has many functions within its walls. It serves as a home, an office, and a place to relax with crew members. How can we integrate these everyday living spaces and provide an efficient operation for a firefighter to get to an emergency and back home safely? The primary concern amongst emergency responders is their overall wellness, including cognitive, physical, and mental health, as their work hinges on their focus, energy, and strength.
A mix of design strategies combined with wellness principles of community, physical activity, and healthy building systems invest in the health and wellbeing of first responders—improving performance and efficiencies while reducing the probability of error.
Mental Strength
Emergency responders experience atypical stressful events that can severely and negatively impact their mental strength. However, the built environment has the potential to positively contribute to their mental state by incorporating elements such as biophilia, natural and artificial lighting strategies, color theory, and other UX/UI strategies. Dorm rooms built with artificial and natural lighting combined with color theory, for instance, promote natural circadian rhythms. Noise isolation techniques can provide a quiet retreat for firefighters when they need to relax or reach out to their support system. Day rooms and open-concept kitchens incorporate low-maintenance or maintenance-free biophilic opportunities such as nature-inspired finishes, back-painted wall panels, or a self-sufficient garden wall. Seamlessly embedding these elements into the design can simultaneously benefit the user by reducing stress, enhancing creativity, providing clarity of thought, and improving one's wellbeing.
Emergency responders are also prone to developing sleeping disorders. A typical shift includes being on-call 24 to 48 hours; therefore, firefighters may develop sleep deprivation, obstructive sleep disorder, sleep apnea, insomnia, restless leg syndrome, and shift work disorder. Researchers have found that 37% of firefighters will develop at least one sleep disorder throughout their time on the job. Light therapy can help regulate their sleeping schedule. For example, when firefighters wake up abruptly in the middle of the night, red-colored lights are best to alleviate confusion and create alertness and more attentiveness. In contrast, when attempting to go to sleep, blue-colored lights calm the brain's receptive signals because of receptors in your retinas called ganglion cells. Using lighting strategies that support the circadian rhythm by encouraging firefighters to dedicate sleep recovery times, and promoting sleep hygiene can optimize their performance, even during unconventional shifts.
Physical Strength
Physical strength is at the core of the work required of firefighters and is fundamental to their success. Extensive onsite training accounts for a significant portion of their day. With specialized training equipment and gear, additional storage provides convenient and easy access to a "Rescue Randy" and Keiser Sled for the crew. Due to the double volume space typically required in the Apparatus Bay, artificial ceilings made from pipes and sheets of plywood can be provided to practice with the pike pole trainer. Couplings bolted into an Apparatus Bay CMU wall provide hose work practice for whips or pulls. An exterior stair can provide access to storage mezzanines and training for multiple functions such as hose carry, victim carry, rope pulls off the edge, standpipe connecting, and more. Cardio training can also be incorporated into the landscape by providing a sidewalk track marked with different indicators for quick sprints or 1-mile runs and races. By building typical firefighting training features as part of the facility, firefighters can incorporate fire performance training into their daily cardiovascular routines. Programming these elements into the design will also provide significant benefits to the crew for a minimal amount of cost and provide them physical strengthening opportunities without requiring venturing away from the station.
Facility Health
As we learn more about how the COVID-19 pandemic impacts occupant health, it is also important to explore how the airport will need to adapt to promote best practices, including touchless processes and social distancing. The health of the ARFF station must consider the ways the building envelope, interiors, travel paths, and furniture and equipment can support our changing health requirements. While these facilities do not experience same the volume of people as terminals, design adaptations to the station's common areas, restrooms, kitchen, living room, and gym, can help mitigate the spread of infectious diseases for those living and working in close quarters. For instance, prominently placed hand sanitizing stations encourage healthy habits, while automated fixtures can replace high-touch surfaces.
Another strategy we have been using at our ARFF Stations is single-occupancy restrooms and dorm rooms, which also reduces the need for firefighters to share amenities or sleep adjacent to one another like in a shared bunkroom. Individual seat recliners rather than shared couches in the living area provide individualized comfort and add controls for distancing. Users should be reminded to practice good hygiene and cleanliness by incorporating signage in these locations.
It is also essential to evaluate the need and number of surfaces in the facility. We should opt for materials that are easy to clean, durable, and are without toxic properties. Luxury vinyl tile and textile composite flooring or certain upholstery fabrics provide the comfort, look, and feel of residential design but are more appropriate in strength and maintenance. Because of the nature of their work, additional attention should be given to the exposure that may impact firefighters' health and potentially be introduced into the facility. Toxic chemicals, for instance, can live on the skin for days. Specialized amenities but low-cost features such as a steam shower and reconfigured storage spaces to keep hazardous materials at a distance from living areas respond to the unique needs and challenges of their work to provide a healthier, more considered environment.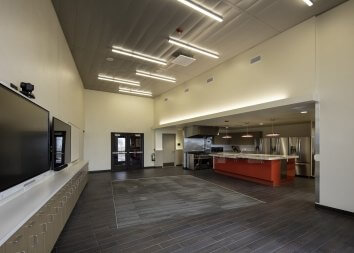 Technology Trends 
Agile, human-centric design also requires the strategic use of evolving technologies. For an ARFF station, this can mean integrating tools such as alert-lighting systems to reduce anxiety when alarms are tripped, or information monitors with live maps for weather conditions, and dispatch bulletins to keep critical communications at their fingertips. Layering automation and simulation can seamlessly improve workflows and experience as users move throughout the facility. Apparatus bay doors opening automatically when an alarm is triggered can help reduce the reaction time to get to the scene. Augmented reality goggles can serve as a visual aid on a dark airfield with a sea of taxiway lights to help drivers quickly identify where assistance is needed. Virtual Reality simulators can also enhance the training program and be incorporated into multifunction spaces and activate them as classrooms.

When serving in a line of work as reactive as a firefighter's, a facility that anticipates their needs and challenges is especially vital to empowering them to respond, change direction, and act quickly without sacrificing control, accuracy, or safety. Incorporating design elements to support mental, physical, and social health not only extends the culture and values of safety and security throughout the facility, but it is also foundational to the success of the health and safety of the airport and those responsible for protecting it.