News & Insights — Insights
Airports Adapt: The Social Paradigm Shift in Terminal Design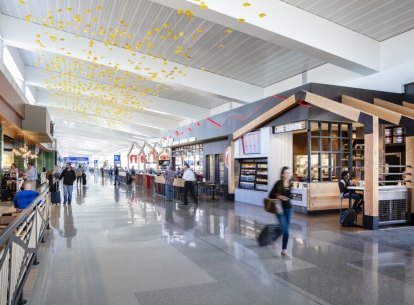 We are experiencing the sweeping impact of COVID-19 in our lives with each passing day. As we prepare for our new normal, we can anticipate a paradigm shift in our collective social experience. From how we work and how we communicate, to how we travel – the social readjustment post-COVID-19 could be significant. Whether it be a major airline or local airport hub, we could experience this shift immediately in our airport facilities. As the public returns to travel, we need to be agile and pivot our design to provide a passenger experience that aligns with new expectations for the level of service.

Over the upcoming year, our aviation practice, in partnership with our research and innovation team, Hugo, will be exploring the impacts of COVID-19 on the passenger experience, and more importantly, identifying design solutions to best mitigate the effects of this paradigm shift. Corgan's experts believe social distancing, touchless processing, and wellness will be the most significant areas of concern and are prepared to help the aviation community acclimate to this new reality.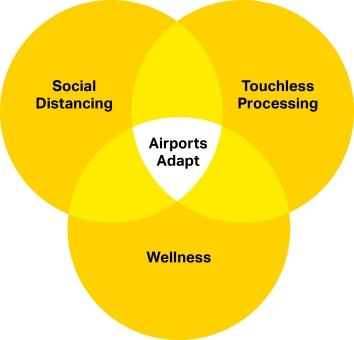 SOCIAL DISTANCING

To slow the spread of COVID-19, many health professionals, including the Centers for Disease Control and Prevention, have recommended the practice of 'social distancing.' As everyone is now aware, through this practice, it is recommended to keep approximately six feet distance from one another — particularly in mass gathering situations such as the environment experienced in an airport. As people begin to frequently travel again, will they instinctively social distance?

As an industry-standard, airport facilities are not planned for such personal separation. If passengers were to maintain this distance throughout an airport facility, we would see a shift in the entire passenger experience — from how they go through security, where they choose to wait for flights, and how they board aircraft. As we adjust to a new normal, we need to reevaluate our understanding of personal space and incorporate design solutions that encourage the utilization of amenities while providing social boundaries. One design strategy that could be implemented today is the incorporation of privacy walls on existing furniture to efficiently adapt present terminal environments while aligning with social distancing recommendations.

 
TOUCHLESS PROCESSING

In addition to social distancing, the CDC recommends avoiding high-touch surfaces or frequently disinfecting them to lessen the spread of bacteria or germs. As passengers move through an airport facility, they will inevitably have contact with both people and materials in the terminal. Currently, most interactions in a terminal, including those with airline staff, ticketing kiosks, TSA agents, baggage screening security bins, concessionaires, or public seating, do not allow for compliance with these recommendations. The ultimate goal moving forward will be to eliminate physical touchpoints and create a touchless process that enables passengers to take control of their experience.

Additionally, inherent in the planning of airport facilities is the use of queues, whether it be at check-in, security checkpoint, or customs and immigration, to process large groups of people. As the passenger experience adapts and evolves, we must do our best to move beyond this. Passengers should be able to process seamlessly and move throughout a terminal fluidly. First, we must analyze the current processing model to find innovative ways to reduce queue demands. Second, the time has come to deliver on the promise that biometric technology and automation will have on passenger processing.

 
WELLNESS

The social readjustment to travel and exposure to public spaces after COVID-19 will be a hurdle for everyone. Adapting spaces for passengers and employees that they feel comfortable and less anxious in will be a priority moving forward. It is known that a building and its environment has a significant impact on the wellness of its inhabitants. Programs, such as the WELL Building Standard, have been established to ensure that the buildings people occupy enhance their overall well-being. With airports partaking a unique role in the well-being of our communities by providing connections between people, economies, and society, the aviation community needs to consider the terminal's impact on its passengers and adapt for these connections to continue safely.

Right now, the main concern is health while traveling. How can we design so a passenger doesn't feel anxious or worried about their well-being, and what can we provide to safeguard their health in an airport environment? Evaluating and improving our existing infrastructure will be the primary focus of our wellness research. Identifying and implementing enhanced indoor air quality strategies will be vital to improving the air quality of terminal environments. Through a strong emphasis on human-centric design, the terminal experience could be less stressful and encourage passengers to focus on the delight of travel.

 

Explore the compiled Airports Adapt series in the document below.
TheSquare
Check out this episode — Airports Adapt
To learn more about how airports will need to adapt to the changes in a post-COVID-19 world, view this special release of #TheSquarePodcast.