Projects
Worldwide Express Headquarters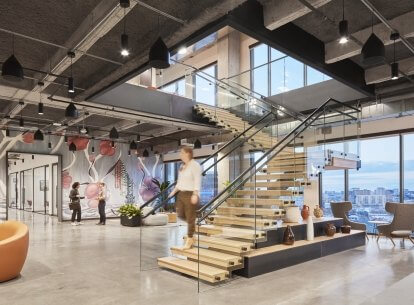 Project Stats
Location

Dallas, Texas

Size

45,760 SF

Awards

CoreNet Workplace Strategy Award

Market

Expertise
To keep pace with the shipping company's explosive growth and support their renewed branding efforts, Corgan's design for the new Worldwide Express headquarters in Dallas, Texas, was guided by principles of connection, community, and the future of hybrid work.
Crowning the top two floors of The Stack, the future-forward space embraces fluidity of collaboration, entrepreneurial spirit, energetic growth, and integration throughout the organization—reflected in their sweeping views of the iconic skyline and eclectic Deep Ellum neighborhood below.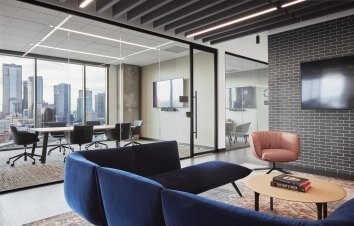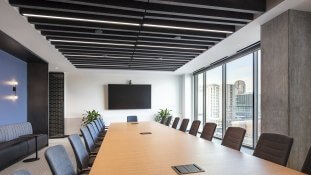 Work that Works
Intentionally designed for hybrid work, the space empowers and inspires employees for their best work and service. Responding to the demand for connectivity and belonging for a growing, hybrid workforce, the open floor plan, reception area, and break room offers moments of connection. Operable glass walls balance the space with flexibility and dedicate spaces for training and meetings.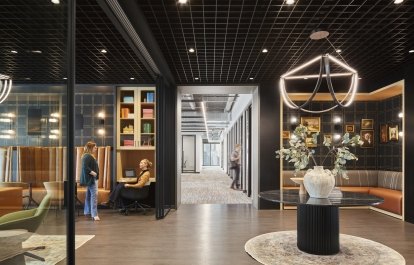 The hospitality-forward design celebrates employees and the local social culture. A modern industrial lounge and intimate library is outfitted with a mix of comfortable and high-end furnishings.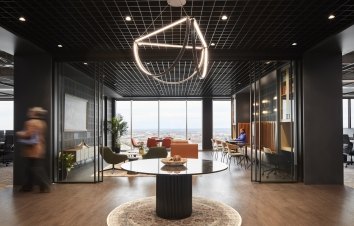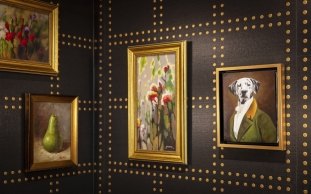 Cool Design. Local Charm.
In the library, black wallcoverings with gold accents, framed oil paintings of animals in suits, and mid-century furniture add a
"cool factor" and an intimate space for employees to relax and interact. State Fair posters and scaled black-and-white photos salute the jazz era—a charming nod to the area and a memorable mark for the space.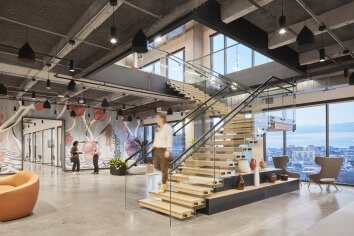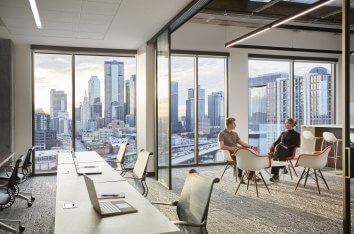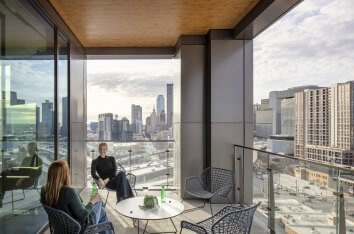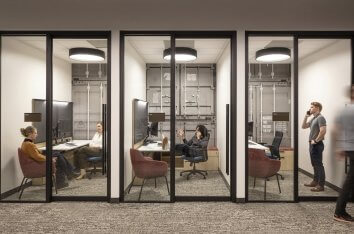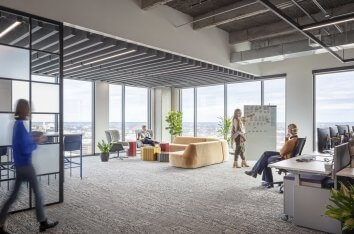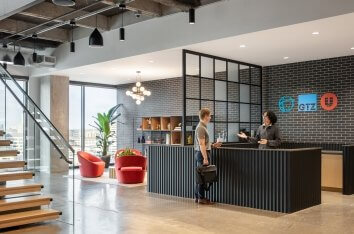 High Tech. Community Focused.
Worldwide Express' new space is a distinct destination for work and connection—a reflection of their reputation as industry champions, strategic partners, and innovators.