Projects
Transwestern Dallas Office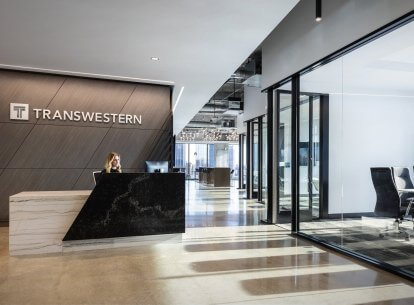 Project Stats
Location

Dallas, Texas

Size

20,000 SF

Market

Expertise
A sophisticated new office to support business growth and employee pride.
Transwestern's Dallas office occupies approximately 20,000 square feet and supports more than 100 staff members. To support future employee and business growth, and in response to changing client needs and expectations, Transwestern hired Corgan to help them prepare for their relocation to The Union by developing a workplace strategy and design that better reflected its evolved vision and culture.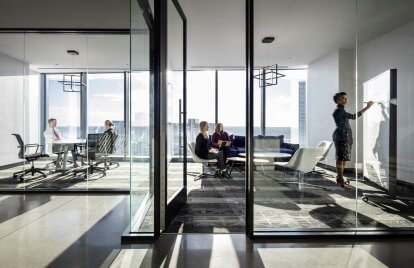 Transwestern was looking for a space that set them apart from their competitors, a space that reflected their position in the marketplace and reinforced how being a more concentrated and focused firm creates agility and trust for their clients.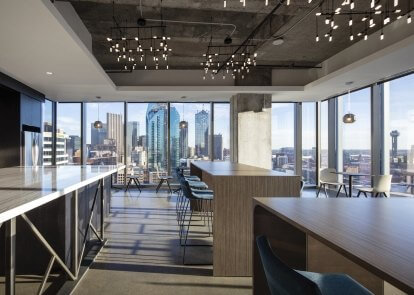 Corgan developed a design strategy based on this concept with a map overlay of iconic Dallas neighborhoods that informs the space plan and aesthetic identity of each office zone. A high contrast, neutral palette creates a cohesive look to the space and allows each neighborhood's unique identity to shine. A balanced blend of sleek and sophisticated materials with exposed raw architectural elements allows the first-generation space to define Transwestern's place as a leading real estate developer in Dallas.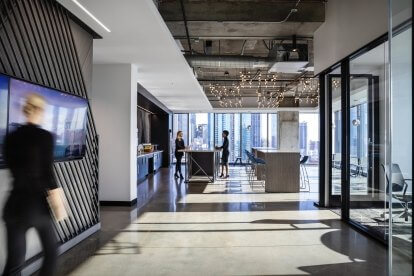 The office includes a main reception area that is visually and physically connected to the main breakroom to encourage intermingling of clients and employees, as well as open office areas with new sit-to-stand workstations. Conferencing includes a mix of individual phones room, huddle rooms, and large meeting rooms to satisfy a range of needs, and all private offices focused to the interior to maximize natural light within the open office. The employees are also given access to various amenities including a beer keg, nitro coffee machine, and library lounge for their kids when families visit.