Projects
PHX Terminal 3 Modernization Program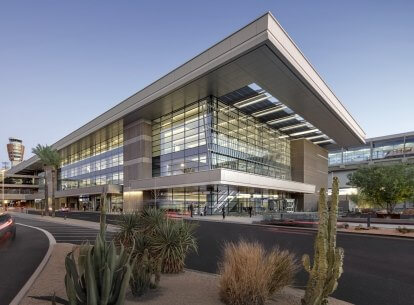 Project Stats
Location

Phoenix, Arizona

Size

675,000 SF

Awards

AIA Western Mountain Region, Design Excellence Citation Award

Engineering News-Record Southwest, Best Projects

Partners

SmithGroup

DWL

Certifications

LEED Silver

Market

Expertise
From Concrete Bunker to Crown Jewel.
Originally designed in the late 1970s, the Brutalist architectural style of Terminal 3 at Phoenix Sky Harbor was reminiscent of a concrete bunker due to the heavy concrete facade. With the goal of creating a world-class facility, Corgan re-imagined a grand gathering space reminiscent of the great transportation halls of the past. 
The project transformed the original processor facility into an Award-winning landmark for travelers. The design approach adopted a connection with the Sonoran desert through natural daylight, new viewpoints, and landscaping to welcome and see off the millions of visitors traveling through Sky Harbor each year. Following the completion of the processing building, the next phase of development was the replacement of the south concourse.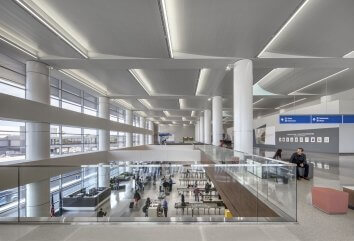 Through a collaborative design-build delivery approach, Corgan worked through the programming and design services to implement a comprehensive transformation of Terminal 3 at Sky Harbor International Airport. The T3 Modernization Program repurposes the processor's functionality and increase passenger processing capacity to meet the anticipated 2034 MAPS projections.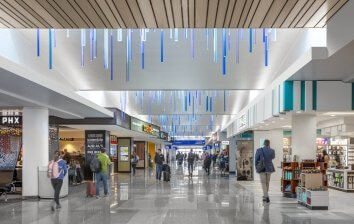 The comprehensive project includes modernization of the main terminal building, an all-new linear south concourse, and modernization of the existing north concourse.
The opening of the Sky Harbor Terminal 3 South Concourse represented the completion of the second major phase of the T3 Program. The main processor and the south concourse provide a modern, light-filled facility that enhances the passenger journey with new amenities, including a robust retail and restaurant program consisting of popular local merchants.