Projects
LHR Western Hub Development
Project Stats
Location

London, England

Size

5,900,000 SF

Market

Expertise
Innovating a new terminal at Heathrow.
The Arora Group contracted Corgan to create an innovative and cost-effective Terminal 6 development concept. An intensive four-month study resulted in a paradigm shift in terminal building configuration at LHR away from unit terminals to a central processor capable of serving both the existing Terminal 5 and a future Terminal 6. Our focus included creating an intuitive passenger flow, caring for multiple passenger types, and providing a differentiating experience. This unique terminal configuration maximized a very constrained and limited physical site.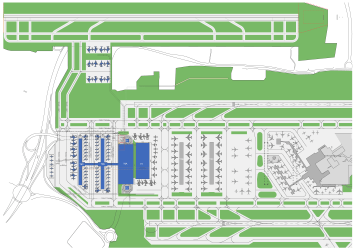 Corgan developed a new paradigm in stacking organization of the terminal building itself to accomodate future conditions and demands for the west campus expansion. Previous attempts at planning for this site could not yield more than 38 gates on the site. We were able to provide 58 gates based on an innovative design approach to planning and spacing utilization for passenger processing elements. Additionally, we coordinated with hub airlines to create operational performance metrics that meet or exceed functional requirements for peak hour passenger processing, gate count and minimum connection times.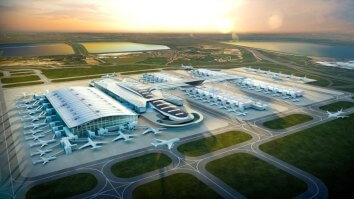 This terminal has the capability to handle up to 50.75 million annual passengers and includes a 1,200-room hotel on each end of the central processor.