Projects
JER Peer Review Services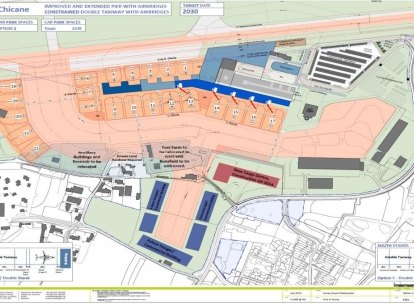 Project Stats
Location

Jersey, United Kingdom

Market

Expertise
Updating Jersey through peer review.
Ports of Jersey has undergone a series of studies to evaluate and improve the status of its current infrastructural situation. These studies demonstrate that the 1937 Arrivals Building and Hangar 4 are incursions to the 1:7 Transitional Surface, while the Alpha Taxiway has insufficient separation from the runway. Corgan was engaged by Ports of Jersey to perform a peer review of master planning and terminal project feasibility reports issued in August 2017. 
The Ports' Design Team, in coordination with Ports of Jersey, adopted the 'One-Box' Solution to be further developed for the final construction drawings. As part of the peer review, Corgan reviewed the Stage 3 and Pre-Stage 4 documents and additional studies as listed in Chapter 3. This review focused on five primary areas: Forecasting and Planning, Terminal Programming and Planning, Concessions Design and Trends, Sustainability, and Look & Feel. 
Corgan has been retained to provide a follow-up review of the post-Stage 3 documentation effort for the Combined Arrivals & Departures Terminal project. This review updated the Ports of Jersey on progress toward relieving concerns brought up in the Peer Review of the 2017 Masterplan & 'One-Box' Feasibility Report, in addition to addressing any new concerns upon reviewing the latest documents for the terminal project.