Projects
Inf1nity Views Office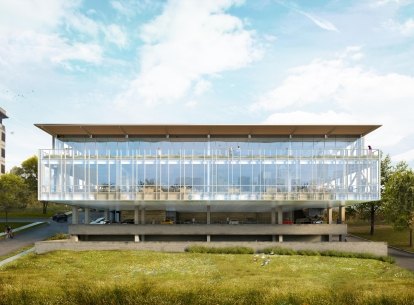 Project Stats
Location

Austin, Texas

Size

24,000 SF

Market

Expertise
A challenging and constrained site that offers mesmerizing views.
Perched along the east side of I-35 across from Downtown Austin, Inf1nity Views leverages its challenging yet desirable location to create a striking fixture along one of the most traversed thoroughfares in Texas.
Conceptualized in collaboration with the client, Rastegar Property Company, the team found opportunity in the steeply sloped site providing an office experience that floats along the interstate as the ground drops away below. Exercising restraint through a simple palette, the three-sided glazed office volume cantilevers over a two-tiered level of open-air parking anchored by a slim concrete core. With dramatic views of the skyline, the balcony retreats from the elegant glass form and provides shade for the west facing office. This glass form is accomplished in its single glazing type and expressed structure with impressive steel trusses and cantilevered beams. The form is bolstered by wrapping the underside soffit with a woven metal mesh beneath and executing a razor thin canopy edge at the roofline. The concrete core that anchors the form is made from board-form finished concrete rising from the ground that retains the steep site and supports the office above. 
Tenants enter the building from beneath the office through the ground floor lobby. Here the board-formed concrete transitions into the building with a cypress wood clad interior. The lobby provides both shelter and visual warmth from the adjacent parking structure. Visitors are brought through this intimate space before arriving upwards to expansive, unobstructed 180-degree views of the burgeoning Austin skyline.