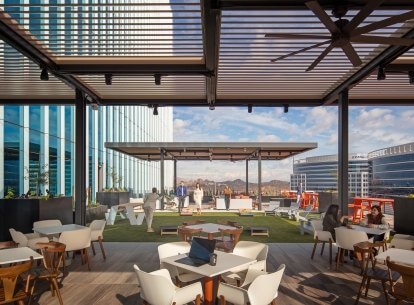 Project Stats
Location

Tempe, Arizona

Scope

Interiors

Market

Expertise
18 Stories of Amenities
Situated in Tempe near Arizona's Innovation and Technology Corridor, 100 Mill is well-positioned to lease office space in its 18-story office high-rise. As a front runner in competing in the high-end amenities race to attract Fortune 500 companies and cutting-edge tenants, Hines turned to Corgan to elevate and finish out the amenity spaces including the entry experience of the interior lobby and breezeway, the top-of-the-line conferencing center, and the rooftop terrace.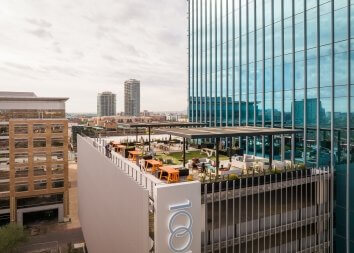 Art & Furnishings
Welcome to 100 Mill
The expansive breezeway was furnished to greet guests with opportunities to socialize and admire the incredible view of the surrounding Mill Street and art culture of Tempe. The ground floor lobby welcomes visitors with soft furnishings reminiscent of a cozy living room and stylized artwork made from copper electronics to appeal to the technology-minded tenants. An adjoining promenade fills the lobby with hoteling hotspots and lounge areas for tenants to meet with clients and provides a space to plug in and work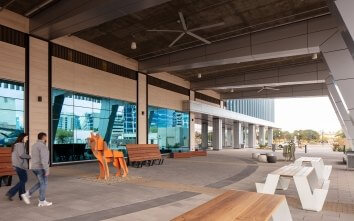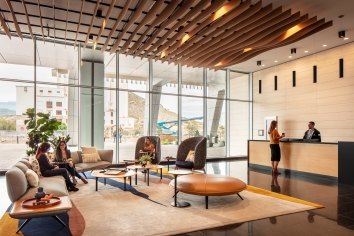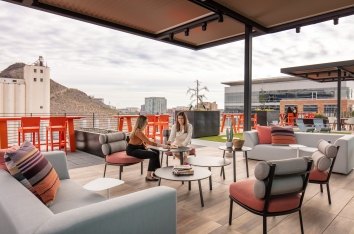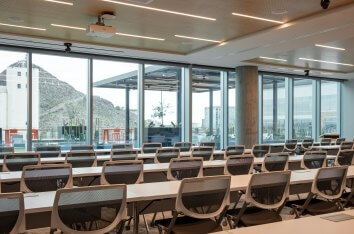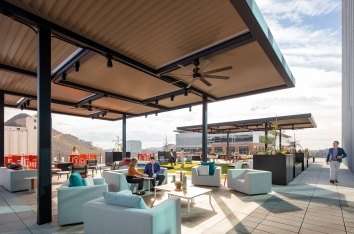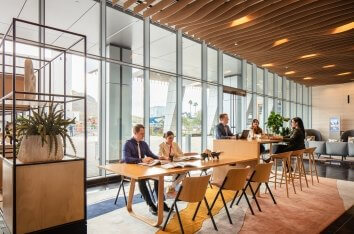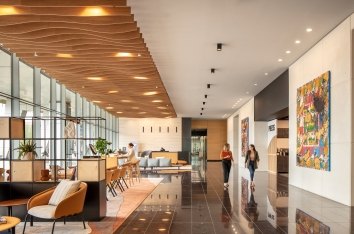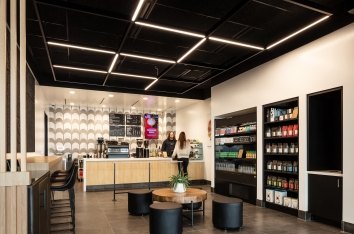 Conferences & Connection
Rooftop Hospitality
On the ninth floor, tenants can hold large training events and presentations with a comfortable hospitality-inspired lobby and a 70-seat conference center. Adjacent to the community space is a spacious rooftop terrace with two covered shade areas overlooking Tempe Town Lake and the iconic Hayden Flour Mill. The terrace provides a variety of seating and collaboration tables along with a play area for occupants to socialize and build community.
Attracting Arizona Talent
Near Sky Harbor Airport and Arizona State University, the office tower is poised to attract talent from recent graduates and professionals seeking job opportunities in Arizona's growing technology sector. These upgrades  enhanced its Class A status to exceed the demands and preferences of the modern worker to help attract and retain high-profile tenants to Tempe's burgeoning central business district.