Projects
Financial Services Global Headquarters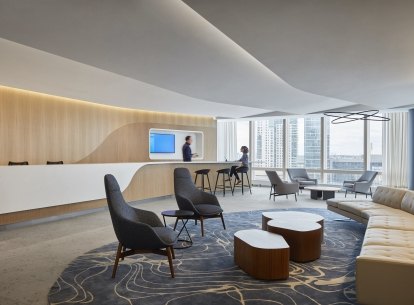 Project Stats
Location

Boston, Massachusetts

Size

510,000 SF

Certifications

LEED Gold

Market

Expertise
A dynamic environment designed to promote human interaction, wellness, and productivity.
This new 510,000-square-foot Financial Services Global Headquarters reflects the company's guiding principles and embraces a new way of working. To accommodate the needs of the future workforce, Corgan conducted workplace strategy sessions and gathered multilevel feedback. Corgan analyzed the data to create a workplace strategy containing guiding principles, user analysis, and space typologies. This resulted in a design that features a variety of community spaces, workstations, marketing suites, podcast studios, innovation labs, and a training center. The project is expected to be complete in 2023.
The overall design is based around the following concepts:
A focus on community spaces to increase employee interaction.
90% unassigned workspace, with dedicated departmental neighborhoods containing a variety of spaces. 
Four types of individual workstations, allowing users to choose the space that best suits their needs. 
Client experience, marketing suites, podcast studios, training center, innovation labs were all part of the company's new way of working.