Projects
Curative Talent Headquarters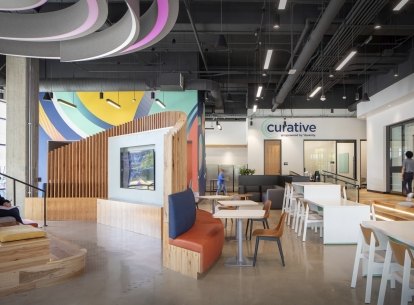 Project Stats
Location

Irving, Texas

Size

51,625 SF

Market

Expertise
Playful. Colorful. Innovative.
Curative's new office at the Toyota Music Factory in Irving, Texas, brings to life their brand and culture in a space designed to meet the demands and expectations of top talent — promoting a sense of belonging, encouraging collaboration, and inviting a spirit of spontaneous creativity and exploration.
Inspired by Curative's logo and bright color pallete, the elevated modern industrial design features amenities that make a workplace both fun and functional. The loft-inspired space with 22-foot ceilings and double-height windows showcases the buzz and activity of the vibrant streetscape.
The design prioritizes Curative's distinct employee-focused culture. From iconic branding and bold graphics that support internal initiatives that champion inclusion and team recognition to a beehive theme that threads the space in ceiling baffles, carpet patterns, and light fixtures, the design activates the space as a tool to build loyalty, pride, and belonging.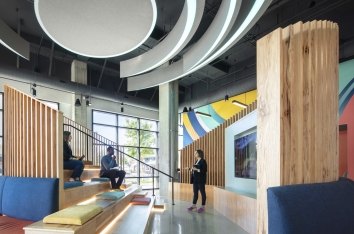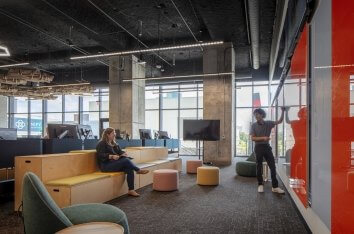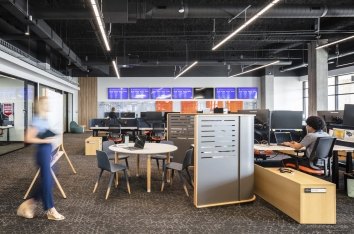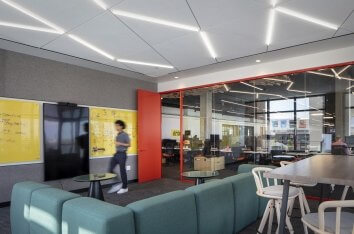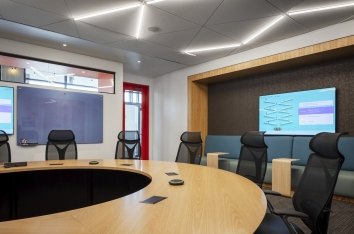 Movement
Finishes, seating, lighting, and artwork encourage movement and flow.
Concentric light fixtures call out hubs for gathering and connection points while stadium seating, cordoned off by curved wood slat walls and flanked by modular banquettes, promotes the circular flow.
An indoor work café offers a comfortable, casual space for connection and work, while recessed booths and huddle rooms carve out private nooks for a quiet lunch or heads-down work.
Conference rooms with round tables democratize meetings while lounge areas with writing boards encourage brainstorming on the fly.
Training Room
Showcasing the company's learning and professional development process.
Centered on an elevated platform, the training room is a dynamic space with moveable furniture. It serves as a town hall space that is easily divided into smaller training rooms with operable partitions and retractable walls.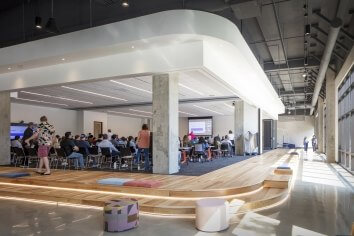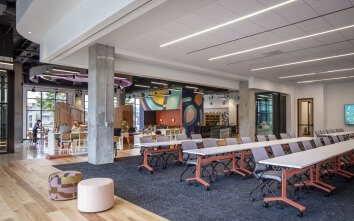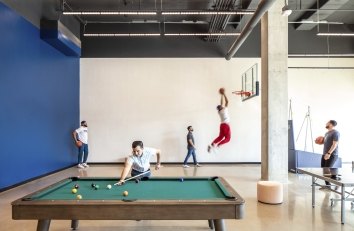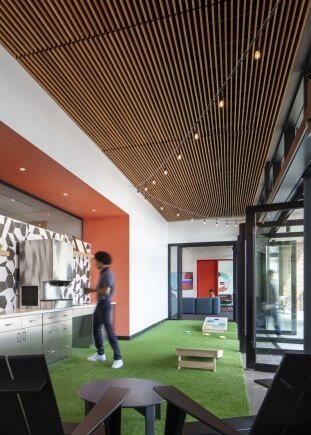 Amenities
Packed with amenities, the office includes a work café, an attractive breakroom, flexible training spaces, a recreation room with a basketball court, pool tables, and ping-pong, and an outdoor balcony overlooking the Toyota Pavilion.