Projects
Cottonwood Development Northeast Texas Cancer and Research Institute
Project Stats
location

Tyler, Texas

Size

100,000 SF

Partners

Harris Craig Architects

Market

Expertise
Master planning a leading sustainable cancer center dedicated to the holistic care of patients.
Corgan led the master planning and design of the Northeast Texas Cancer and Research Institute, a partnership between CHRISTUS and Texas Oncology. The vision for this project blends the cancer care mission from both organizations into a high‑quality, high‑touch evidence‑based care focused on healing the whole person.
The new comprehensive cancer center is located on the CHRISTUS Trinity Mother of Francis hospital campus. The three‑story, Class A medical office building will house outpatient cancer treatment services for CHRISTUS and Texas Oncology with all working together in one shared space to improve patient outcomes. Clinical and sustainable features of the institute include:
Chemotherapy infusion along the west side of the building with floor‑to-ceiling windows that overlook a tree-lined lawn
Retail pharmacy and laboratory testing on the main level
Three linear accelerators along with on-site diagnostic imaging with MRI, PETCT, CT, and mammography
Dedicated research area for clinical trials and resource areas for patient access cancer information
Spiritual area for prayer or meditation
High solar reflectance material for roof and high insulation value for building envelope and roof
Glazing with low shading coefficient and low solar heat gain coefficient for greater thermal performance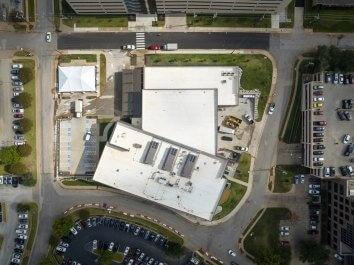 Partnering architect
A comprehensive cancer center.
Corgan partnered with Harris Craig Architects, with Corgan driving the master planning, design of the interior and exterior, and cancer care spaces. Harris Craig Architects worked closely with the design team and CHRISTUS Health to complete their spaces within the cancer center.