Projects
UT Southwestern Moncrief Cancer Institute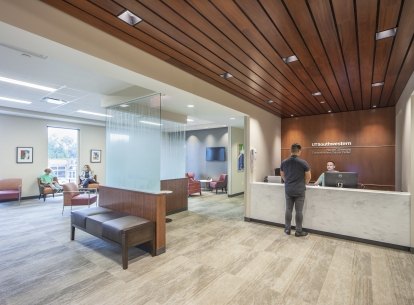 Project Stats
location

Fort Worth, Texas

size

30,000 SF

Market

Expertise
Cutting edge cancer therapies and research in a setting that empowers and supports patients.
The 30,000-square-foot space includes imaging and lab services, a clinic, and an infusion center with 14 private infusion rooms. At the outset of the project, the Corgan design team conducted an intensive visioning session with key stakeholders from UTSW Medical Center and Moncrief. The vision of a facility that is socially balanced, natural, and modern created a map for the project direction.
The center encourages community engagement through increased clinical trial participation and empowers patients by enabling choice during treatment. Patient education nodes, exam rooms designed for patient-clinician engagement, and three distinct treatment room options for patients each contribute to the vision for the institute. A rotating art gallery and art within each patient room provides an immersive, soothing experience for patients before, during, and after treatment.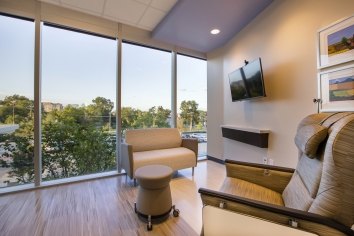 Empowering patients through choice of space.
The goal was to increase patient satisfaction by providing a choice of infusion room layouts. The angled room design provides several options depending on the patients condition on treatment day, from a social setting with access to light and technology, to a private more healing environment for those not up to a social space.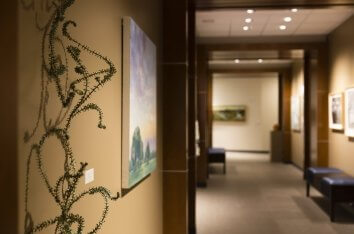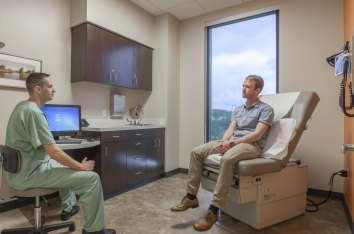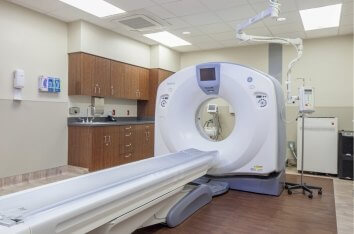 access to greenspace
Whether enjoying the view or walking the grounds, a lush garden provides an escape.
Patients can step out and take a breath, finding reprieve in the garden with walkways, water features, and art sculptures. Those receiving infusions or waiting inside the building can take in the views of the greenscape, offering a connection to nature.