Projects
Costa Verde Mixed-use Development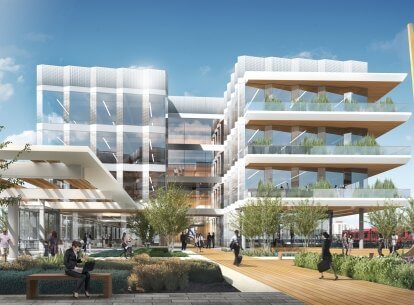 Project Stats
Location

San Diego, California

Size

Office: 266,000 SF

Retail: 62,000 SF 

750-car Parking 

Market

Expertise
A stitch in the fabric of the community.
A new mixed-use development designed to bring together apartment complexes, hotel, and retail uses. The design provides density through two office buildings, retail, hospitality, and parking to support them all. 
The office buildings are composed of a mass timber structure and glazed curtain wall façade. Due to tight site constraints and building orientation, the façade has a unique saw tooth profile to reduce solar glare. All glazing showcases a graduated frit pattern for additional screening and visual interest. Landscaped terraces at the office levels provide direct access to nature for office users and take advantage of San Diego's mild climate.
The development boasts a richly landscaped plaza deck featuring native southern California planting and allows for seamless connection to the office space. This elevated plaza deck is directly accessible from a new light rail station, creating a true transit-oriented development.