Projects
Cleveland Electric Headquarters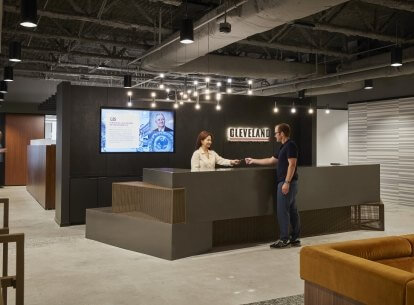 Project Stats
Location

Atlanta, Georgia

Size

48,000 SF

Market

Expertise
A modern workplace for a century-old company
Family-owned and operated since 1925, Cleveland Electric helped build the Atlanta landscape, providing engineering and construction services for Atlanta's most significant buildings. Relocating its headquarters to Atlanta's Buckhead district from the building it owned since 1962 opens new doors for the company.
The new office celebrates Cleveland's 100-year milestone and urban identity showcasing its industry-leading solutions and continued growth. The design is inspired by the skilled workers of Cleveland Electric who continuously create through design-build and virtual construction, installation drawings, and electrical testing. The conceptual idea of the skeletal frame within the building's core and shell incorporates architectural systems referencing electrical and mechanical systems — the backbone of the infrastructure.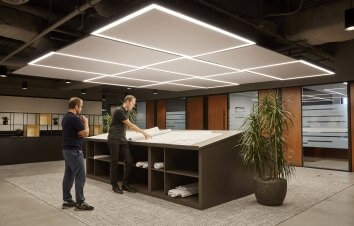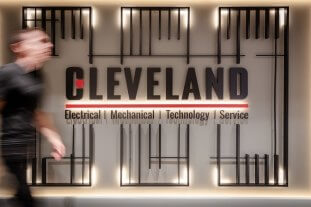 Throughout the decades, the company contributed to the current presence of Atlanta helping establish the city's infrastructure as a specialty contractor providing pre-construction services, electrical and mechanical systems, and technology, contributing significantly to making Atlanta and the Southeast what it is today. Development in Atlanta transformed the city creating the outside layer of urban space and the built environment. Consequently, the skeletal framework of Atlanta has not been degraded and remains true to its history and identity.
The modern workspace provides more than 80 private offices and 70 generous workstations.
Workspaces feature large monitors along with a dedicated large drawing layout area as well as multiple venues for seating, high-tech meeting rooms, a hospitality lobby, a work café, and media /gaming areas.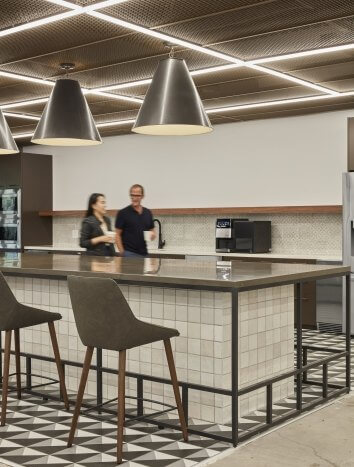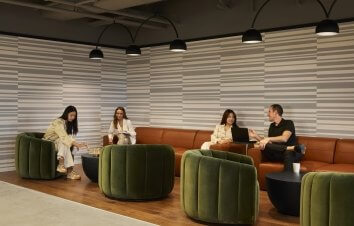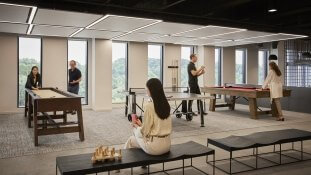 A nod to installation drawings, overlapping grid lines with layered rectangular forms in lighting, metal accents, and graphic elements create various open work zones to collaborate, socialize, and focus. The skeletal frame overlayed with various interior spaces forms various density levels and spatial zones providing quiet areas for focus work, meeting areas for collaboration, and open spaces for social gathering.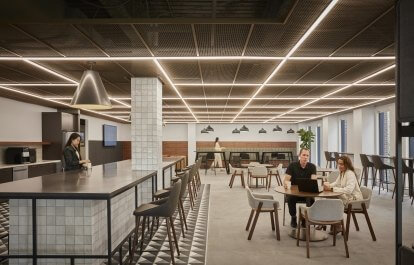 Embracing change, promoting progress
Honest materials reflect endurance and stability — exposed ceilings and slab-to-slab rebar structures span three levels which both unify and divide the space. Linear LED lighting, refined millwork, brass and bronze materials, and metal mesh panels further define elevated industrial design. Encouraging employee engagement, the monumental iron stair connects the three levels and opens to collaborative spaces, lounge areas, and conference rooms.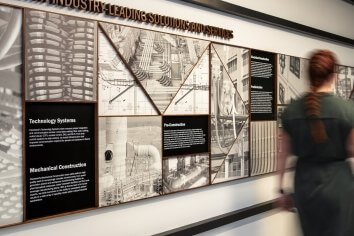 Designed as a client-facing hospitality space, the spacious office provides places to work, entertain, and connect with community. Further exemplifying the company's mission, identity, and legacy, an antique switchboard becomes a statement art piece and graphic timelines tell the company story. Digital videos tie the past with the present, recounting Atlanta's progress as well as the company's modest beginnings and continual growth.