Projects
City of Waller City Hall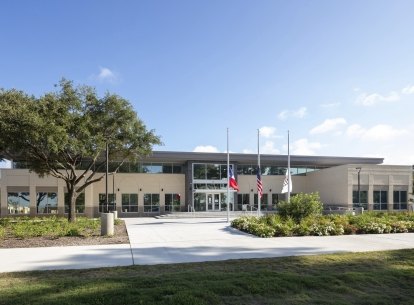 Project Stats
Location

Waller, Texas

Size

12,780 SF

Market

Expertise
The perfect balance of mirroring and connecting to the surrounding community.
The Waller City Hall, Civic Plaza, and Civic center project was the first major project ever taken on by the City of Waller. Corgan provided preliminary program development and assisted in the municipal bond election preparation. The projects consisted in the design of a replacement facility for City Administration functions, Public Works, Municipal Court, and the City Council Chambers. This new, ground-up building is traditional steel and masonry construction to match the surrounding context. Corgan's recommendation to vacate a city street allowed for the new City Hall to be directly connected to what has now become a two square block City Hall and Civic Plaza. This new complex created a true town center for city business, pop up plaza events, holiday gatherings, and other city functions.

The Civic Center's addition and renovation updated the existing amenities and brought deficient items up to code. A continuation of a pre-engineered metal building serves for the expansion of the gathering area and a central core will contain the entry, office and restrooms. Planters and screen walls were constructed along the front of the building.