Projects
BNA Terminal & Landside Area Planning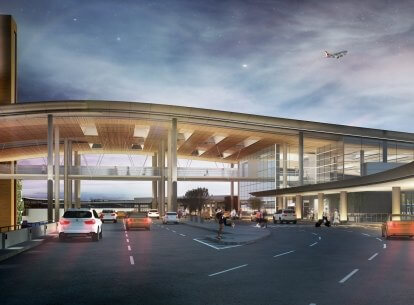 Project Stats
Location

Nashville, Tennessee

Size

4,250,000 SF

Awards

AIA Middle Tennessee, Merit Award

Design-Build Institute of America, Merit Award 

Southeast Chapter of the American Association of Airport Executives, Commercial Airport Architectural Project of the Year Award

Certifications

LEED NC v4 Silver Certified 

Market

Expertise
Nashville, Connected. 
BNA Vision is a transformative airport modernization and expansion project to increase capacity and elevate the passenger experience. It is a new civic symbol for Nashville, reflective of the people, culture, and history. The LEED NC v4 Silver terminal expansion expresses the character of Nashville and grounds the airport in a distinct sense of place to create a seamless extension of the city.
The new eight-gate domestic Concourse D provides additional capacity and is punctuated by a centralized concession node that elevates the passenger experience and provides "Nashville hospitality" to passengers. Expanded ticketing wings double the existing check-in capacity. A new centralized parking garage sits directly opposite the terminal entrance and is activated by a new LEED Silver hotel, and a new LEED Gold administration office. Linked to the terminal via a pedestrian skybridge, this plaza will also accommodate a future phase light rail station linking the airport directly to downtown.
Linking these experiences is the iconic "Airwave" canopy that connects from the plaza, over the roadway, and through the interior of the terminal to the new international gates. It unifies the campus into a cohesive experience providing intuitive wayfinding for airport users.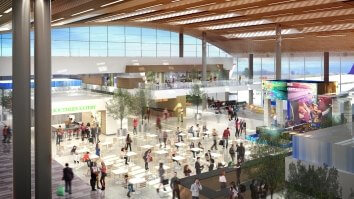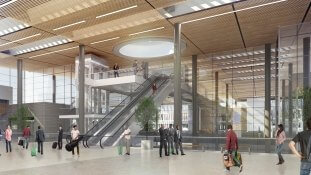 Nashville's Front Door
The terminal creates a shopping, dining, and entertainment "marketplace" reflective of local food, music, and culture in Nashville.