Projects
American Airlines Integrated Operations Center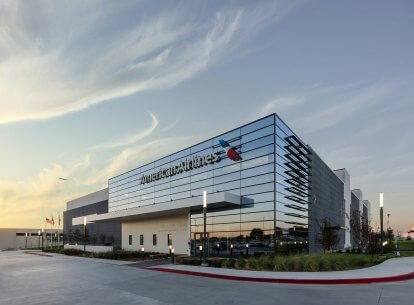 Project Stats
Size

150,000 SF

Location

Dallas, Texas

Market

Expertise
Designed to stand strong against the forces of nature.
The new American Airlines Integrated Operations Center (IOC) is approximately 150,000 square feet of hardened space with a 7,000-square-foot service yard. 
The facility was designed to withstand winds associated with an EF-3 tornado. This includes special ballistic window systems that allow for daylight into the occupied space but protect against projectile threats in a high-wind event. 
The facility houses operations staff with supervisors, training facilities, break, and locker rooms, venditeria, outdoor dining space, a loading dock, and associated parking. The control center portion of the IOC houses over 840 positions that provide day-of-departure coordination and planning for the airline. Demountable partitions have been used at conference rooms and offices to allow for flexibility and future growth. 
Due to the critical delivery date, this project was delivered through a hybrid integrated project delivery process. This allowed the owner, contractor, and design team to work in full collaboration and share in the risks and rewards of the project. Due to this process, the project was delivered a full month early with a budget savings of 4%. 
The AA IOC is connected to a campus-central utility plant that includes redundancy and growth space. In addition to this connection, the IOC has additional dedicated power and data feeds directly to the facility. In order to provide additional redundancy, AA elected to include a new central utility plant housed within a weather-protected service yard and also included a data center to support the high demands of the day-of-departure operations that are managed from this facility.
Highlighting its new brand in a new space for consolidated operations.
The new American Airlines branding was implemented throughout the interior, with a feature wall in the lobby highlighting American Airlines destination cities.