News & Insights — Insights
Office Amenities: What Hybrid Workers Say Matters Most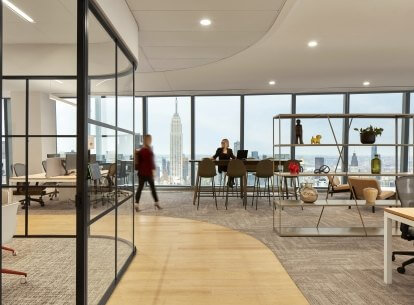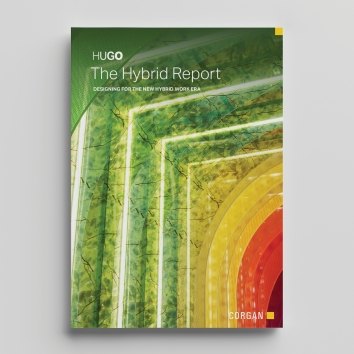 Which office amenities matter most?
As companies strive to find a balance of in-office versus remote for their hybrid workers, a major talking point has been office amenities. Which ones actually matter to employees? What features are key to providing a lasting, successful work environment where employees feel productive individually as well as connected to their coworkers and mentors? As office space and culture evolves to meet the needs and preferences of hybrid workers, designers have the opportunity and challenge to rethink the traditional workplace.
To do that, Corgan undertook a detailed survey of 1000 hybrid knowledge workers across the United States. The resulting document – The Hybrid Report – found that the top design-related amenities required by workers relate to IT resources, personalization of their environment, and parking. The common theme: convenience is king.
No surprise here. In a culture that expects on-demand late night food delivery from local restaurant favorites and curbside pick-up or at least self-check-out, workers also want easy access to people, technology, resources, and real estate that makes work easier. Seamless, intuitive, comfortable—the office has always facilitated how we work, and like any other good tool, the expectation and demand even as things change is that it continues to deliver on these fundamental expectations. Both enduring in some ways and changing in others, the goal is to identify how the tools evolves to serve as a tool we want to use.  
Easy commutes and desk set ups that rival the convenience and personalization of being at home, reduced friction points of moving from meeting to meeting or from "on" and "off" parts of the day, or the functionality of a space determine how the success of the tool—both real and perceived. By supporting what the modern workforce believes powers their productivity, engagement, and collaborative, we continue to reimagine a workplace as a tool for not only how we work, but what that work feels like.
Gone are the days of perfunctory ping-pong tables. After a heated war on flashy amenities that invited an era of shiny new gyms and spa-like facilities to gaming rooms and recreation yards, the modern, hybrid workforce is challenging design to take pause and more thoughtfully consider what they need from their workplace. While in some instances, these amenities may still make sense—certainly the hospitality trend shows no signs of slowing—but evaluating the key drivers for hybrid workers when choosing between remote or in-office work uncovers three key principles when curating the amenities and design of the workplace.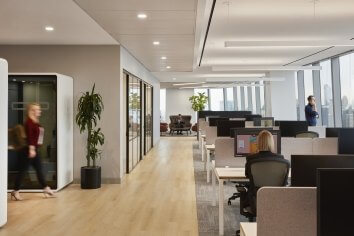 Functionality
Workers reported functional office technology and effective IT help as the top two most important workplace amenities. Of course, we want the printer, badges, conference room cameras to work when we want them to, but for many knowledge workers, everyday tasks and projects require access to technology or resources that may only be available in the office—or may work better in these settings. From multiple screens to specialized software or machines, it seems like common sense that the workplace be a predictable place to easily access and use resources.
But for hybrid workers, functional technology and IT help is also key to navigating a virtually seamless office experience. For hybrid workers toggling between in-person, individual, or group work and then collaborating with a remote colleague or joining a Teams meeting with an international office, on-demand connectivity is key to functionality at work. 4 in 5 employees see the workplace as a virtual environment with physical spaces connecting to it, as opposed to a physical environment connected by virtual spaces. To foster both productivity and connection between employees – regardless of their physical location – it is important for office design to support connection via technology in all environments, not just individual workstations. Workplace design should also accommodate teams of different sizes and locations to transition between in-person and virtual interactions and consider technologies that democratize the experience for the different users. The types of cameras, placement, audio, and more can help replicate in-person experiences and more seamlessly connect users.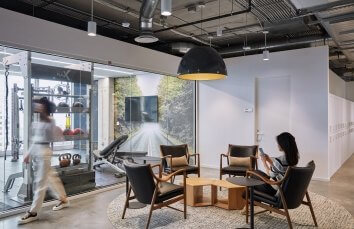 Convenience
Parking was reported as the third most important office amenity. While relatively simple and self-explanatory, this again speaks to a larger desire for convenience and ease that was a recurring theme in The Hybrid Report. Nixing the daily commute is employees' number one reported benefit of working from home, so minimizing the friction points—badging in, finding a parking spot, the number of elevators, and the distance from car to desk—can help identify opportunities to make the experience more seamless.
Convenience and removing common pain points don't end once employees arrive at their desk. While having the right resources available to them is one part of coming to the office, how easily those tools can be accessed, their proximity, and reliable functionality can profoundly shape the work day. From plug and play technology when you need it most and how quickly you can book a conference room on the go to concierge services that add an element of hospitality and customer service to your work, the modern workforce expects a seamless, on-demand DNA to their office environment. Access to green space, strategic location to nearby amenities and restaurants, and wrap around amenities including gym, laundry, grocery and food services, childcare, and other offerings that support the rhythm of our work and life are increasingly important to hybrid workers navigating fluidity and flexibility.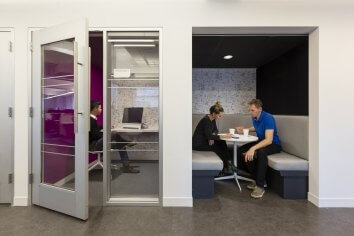 Personalization
Unsurprisingly, the work environment – in particular access to natural light and the ability to control their environment – also ranked highly, at number four and five. Notably, a personal desk setup is both a driver to work from home and to work from the office, indicating that the advantages of a personal desk set-up are crucial for focus and productivity. Without well-designed spaces that meet individual needs and allow for adjustment to personal preferences (such as natural light, quiet, proximity to resources, the ability to adjust lighting and temperature), hybrid workers will continue to seek other options for working when they need to be productive individually. Designers should consider solutions – such as visually and acoustically separating individual work areas from collaborative work areas, placing common resources centrally, and providing user-controlled elements like window shades and lighting controls – that allow workers to balance comfort, personal productivity, team collaboration at the office with the same ease they do in their remote work environments.
As the lines between in-office and remote blur, it essential for both environments meet the unique but fundamental needs of hybrid workers so that as these employees toggle between remote and in-office options, they are able to find environments that best support how they work, connect, and live. While the ability to control your desk height, easily book a conference room, or have an IT desk to help you troubleshoot software may not seem like an amenity by recent definitions, the principles of functionality, convenience, and personalization offer employers and designers a data-driven guide to curating the offerings, design, and policies that shape a more powerful and satisfied hybrid workforce.