News & Insights — Insights
Adding the "Awe" to Office Amenities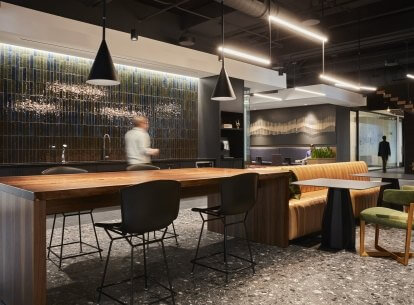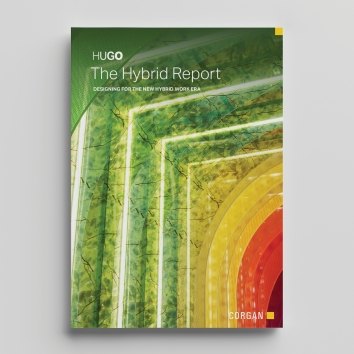 In a survey of 1,000 hybrid workers, Corgan asked which amenities people want (and need) from the workplace and discovered what matters most.
In an era of hybrid work, how we approach and think of the office has fundamentally changed. It is no longer just where work happens. It shapes how work feels. Surveying 1,000 hybrid workers across the nation, Corgan's Hybrid Report uncovers the biggest paint points, preferences, needs, and drivers for the modern hybrid knowledge worker. What matters most? How do we design a space that supports the way they live and work?
Where recent office design trends have ushered in flashy new amenities and offerings, the report highlights the top 5 amenities hybrid workers want from their workplace—a direct response to their biggest drivers when choosing to work remotely or in-office. Beyond the latest technology or flashy hospitality features, the report underscores the need for amenities that enhance the office's function as a tool for how we work. Functional. Convenient. Personal. Curating on-site amenities means understanding the changing needs of the workforce and delivering places that make it worth the commute.
Drivers for decision-making
How does the office compete with the home? It doesn't. The office offers another, crucial option—a sort of third place that complements and completes how we work, live, and connect. The office has a distinct place in our cultural and economic fabric.
The Hybrid Report uncovers new insights into the expectations of a hybrid workforce around what they need and expect from the office, misalignments in traditional office design, and the evolving role of the office—especially around which amenities matter most.
What really drives the decision for hybrid workers to work in an office or at home? The biggest draws for hybrid workers into the office are access to office-wide technology, the ability to easily connect and meet with team members, personal desk setup, overall office design aesthetics, and provided workplace amenities.  The competing draw for workers to stay at home are the commute time, ability to control their environment, flexibility with work and personal life responsibilities, and being able to freely take breaks throughout the day and stay close to pets.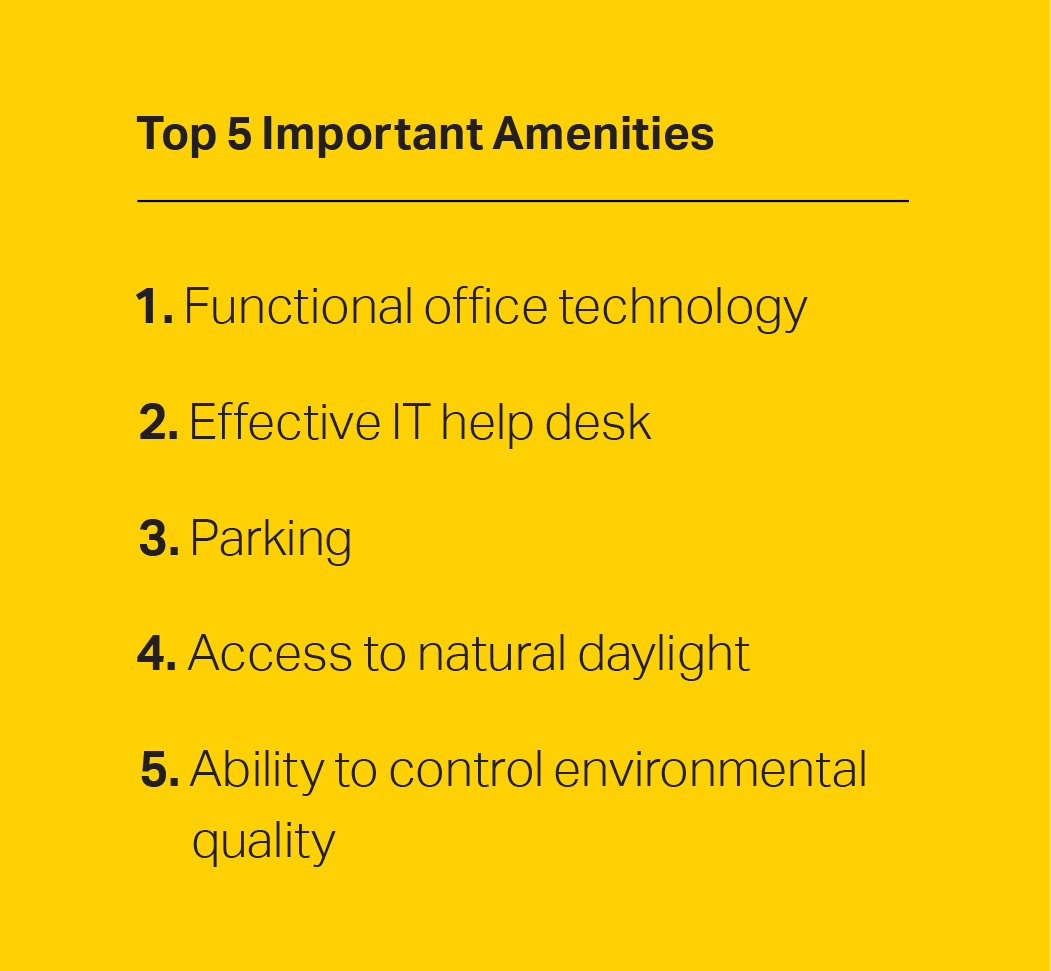 Now, let's dive into the top five amenities workers want from the office:
#1 Functional office technology
Moving between work and home requires functional technology and seamless transitions, which means bigger investments in IT to curate effective digital resources. Enter: functional personal desk setup with docking resources, access to multiple screens, rooms designed with virtual conferencing capabilities…that work, and consistent wifi access. Sure, the metaverse, AI, biometrics, and more will continue to make splashy headlines and offer endless potential in providing tools that make work easier, but hybrid workers need predictability that comes from functional tools that work when and where they need them to.
#2 Effective IT help desk
So, what happens when that office technology doesn't work? A demand for productivity coupled with the expectation that work be convenient and functional, IT help desk that is responsive, personalized, and quick to get them up and running again is paramount. When there is more technology to navigate than ever, and we are more reliant on it to stay productive and connected, an IT help desk is key to staying efficient and minimizing interruptions to the workday.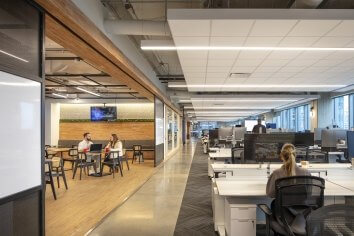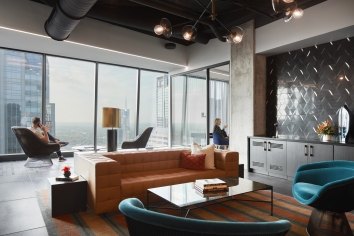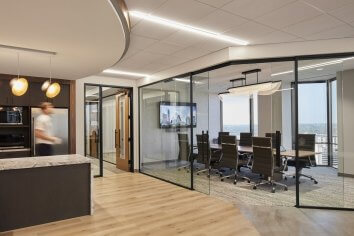 Ways to work smarter …
Technology is great--but even better? Tech that makes work feel more intuitive, seamless, and comfortable. Some ideas: 
Smart parking technology that assists employees in finding available parking spaces, streamlines parking payments, and leverages loyalty programs or energy-trade payment opportunities.
State-of-the-art security systems that may include biometric or keyless entry, surveillance cameras, and AI-powered threat detection to increase security, personal safety, and ease of access.
Smart lighting and climate control systems that reduce glare, automate temperature controls and enhance overall user comfort.
Access to fitness, health and wellness apps, wellness programs, and mental health resources.
Wellness technologies like ergonomic standing desks, sit-stand converters, and posture-monitoring devices to promote employee health and wellbeing.
IoT sensors to monitor office conditions such as occupancy, air quality, light quality, sound quality, and temperature, providing data for employees to make decisions about their in-office working environment to best optimize productivity.
Smart conference rooms and team rooms equipped with video conferencing equipment, interactive digital whiteboards, and high-quality audiovisual systems to enable efficient collaboration with remote team members or clients.
Interactive digital or semi-immersive informative displays for announcements regarding company news and updates.
Automated ordering systems in cafés, breakrooms, and cafeterias such as cashier-less point of sale, cashless payment options, and smart vending machines.
Smart lockers with electronic or mobile access control and notifications for package deliveries, and in some cases, food deliveries.  
#3 Parking
Parking is huge. One of the biggest drivers of coming into the office, especially in CBDs, is access to parking. If it takes a while to find a space or they have to pay out the nose, going into the office becomes more a challenge. This singular factor is may even influence site selection and location and office policy to help alleviate congestion. In addition to providing the right number of spaces, technology that makes badging in easier, helps clearly identify open versus occupied parking spaces, and supports wayfinding can make the parking experience more seamless as can minimizing the distance from car to desk, the number of elevators, and badge swipes at security points.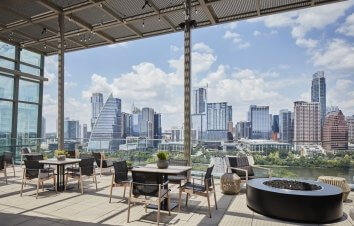 #4 Access to natural light
With an emphasis on wellness and health, employees generally have come to expect access to natural light and connection to the outdoors. For hybrid workers, who can often personalize their workspace at home, choose to work outside, or go for a quick walk, access to daylight and greenspace while at the office is especially important. As an amenity, the resource provides a data-backed resource for stress reduction, physical health, and a place for colleagues to connect. Welcome to workplaces that situate these common places in positions with stunning views to their neighborhood or skyline, move desks closer to floor-to-ceiling windows, and punctuate the campus with small parklets and outdoor areas.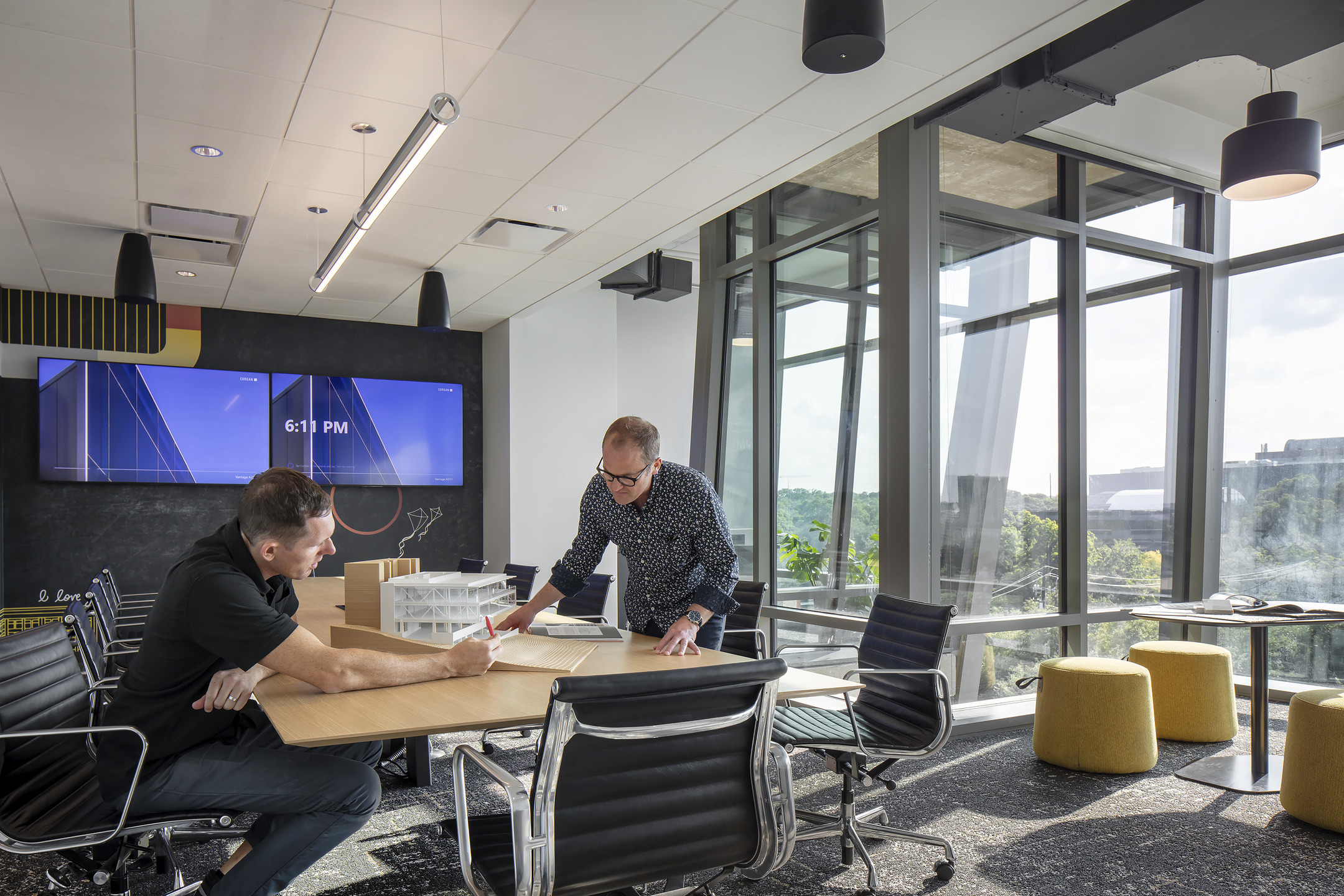 #5 The ability to control environmental quality                                                                               
The comfort of working from home isn't about being in your pajamas. It's about being able to personalize your space to meet your individual preferences or the task at hand. Providing auditory and visual controls as well as a mix of spaces can help replicate the options that employees have remotely to create an environment that works for them. They also rely on areas for rest, take a break, and focus without constant environmental distraction. If one of the benefits of hybridity is choosing where and when work happens best, the office has a similar expectation and function—to provide spaces that empower employees to find similar control and agency about their work environment.
Hybrid work isn't going anywhere.  Employees are still going to desire working from home – and are still going to have tasks that are more efficient at home.  Instead of trying to solve, 'is home or office better?' we need to strive to make office amenities match that of what employees are needing. Providing space with functional technology, personal desk setup, spaces for teams to gather and collaborate, aesthetics that emphasizes daylight and wellness space, and a comfortable controlled environment.  Location also plays an equal role, with parking availability and ability to have an outdoor environment for respite and de-stress.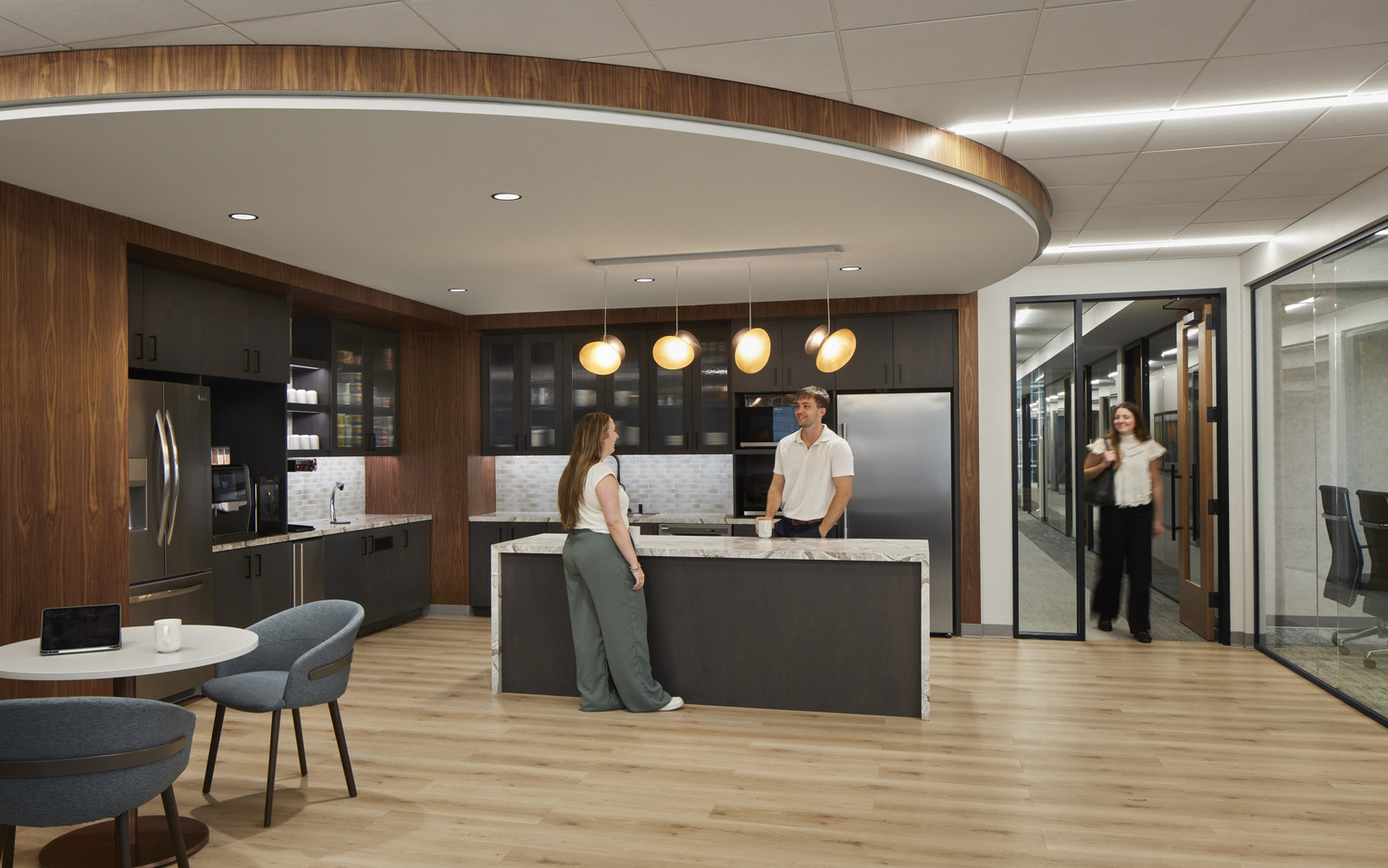 TheSquare Ep #70
The Hybrid Report: The Role of the Office