News & Insights — Insights
Going Up: The High-Rise Data Center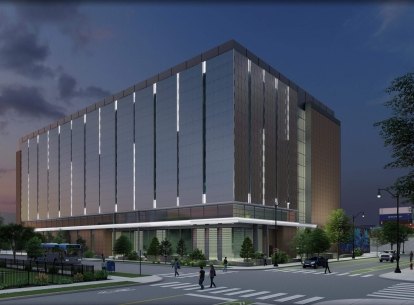 Feeding an insatiable appetite for data, data centers are moving closer to our suburban and urban neighborhood—becoming a part of our streetscape, the rhythm of our lives, and even anchoring the evolution of their surrounding communities. The biggest perks: reduced latency, attracting top talent, and the additional reassurance it provides clients to feel more connected to their most valuable assets and information. But, as we consider the secondary impacts of more urban data centers and the possibilities of design, these structures find value beyond their computing power. The neighborhood data center brings jobs and economic potential, community-serving assets, and ultimately, gives shape to the continued development of the streetscape and surrounding area.
However, where data center design has typically enjoyed sprawling acreage in more distant and even rural locations, these urban sites are often more constrained, expensive, and require additional considerations in navigating code, city infrastructure and utilities, and contextual design standards. The move means more than a change to location—it means reimagining data center design.
A Shift in Perspective: Looking Up at the Future of Data Centers
Building in an urban core not only means more expensive real estate, but it also typically means a tighter footprint. Finding a solution means looking up—driving the rise of the multistory data center. Vertical solutions, however, means new considerations for weight distribution, cooling mechanisms and heat management, and even construction logistics. It means rethinking mechanical yards and the placement of large equipment. From supporting the immense weight of heavy racks on each floor plate and increased cabling to navigating building regulations and more sophisticated labor for installation, upping the computing power on smaller footprint also ups the complexity of design.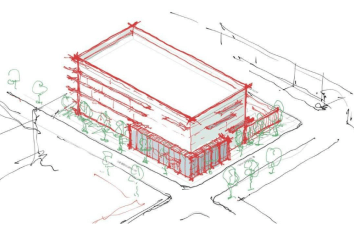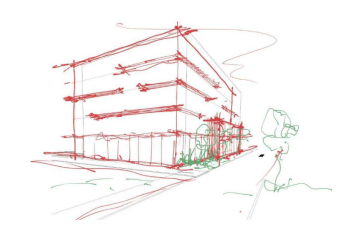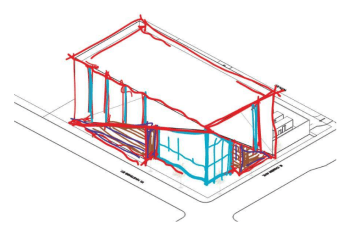 In addition to building up, urban sites also requires a contextual design approach in keeping with the fabric of the neighborhood. Instead of a single site, these data centers are now part of city skylines and suburban streetscapes. Connection to their surroundings, appropriate materiality, and landscaping moves data center design away from nondescript, single stories that previously dotted sprawling remote locations and toward typologies that are both more attractive and integrated into their surroundings. Inside, design has the opportunity to speak to the preferences and expectations of contemporary consumers—amenities, branding, and finishes that attract the modern workforce while serving as a space to distinguish between data providers. 
And, as a neighborhood citizen, these locations are also tasked with considering how to balance increased security with a sense of belonging and community-serving benefits required in an urban ecosystem—introducing murals and iconic exteriors as well and continued efforts to support sustainability and technology initiatives.

Hello, Chicago: IMD1 MetroEdge Data Center – A Case Study
The IMD1 MetroEdge Data Center will be a five-story high-rise data center located in the West Side of Chicago in a medical district targeted for transformation. The 16-megawatt facility will support the technology needs of local organizations including healthcare, financial, educational, and government institutions and is a key component of the region's plans to revitalize the area.
Designing For Computing and Community
In keeping with the context of Chicago architecture, a timeless brick façade is balanced with the light and connectivity of a glass exterior. The street level offers transparency and invites in natural light while data halls are secured on the upper floors. Inspired by a pixel concept, the exterior draws on the blocks and colors of the reference point to reinforce the roots and purpose of the structure. Tapered metal panels and colored LED lights break the mass into a more human scale fitting of the surrounding architecture while also serving as an opportunity to engage with the city—flipping the lights to match team colors and major holidays, for instance. Additional trees and raised planter beds line the perimeter of the building to activate the walkways and create an attractive membership on the city block.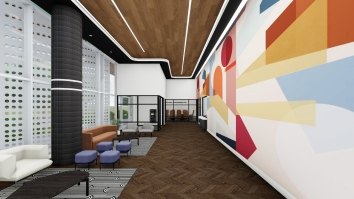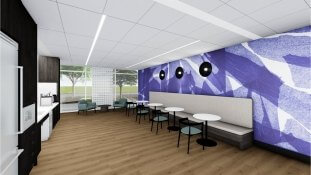 People First: The Future of Work at Data Centers
Responding to the expectations and preferences of top talent, the interiors at IMD1 MetroEdge Data Center feature strong branding and memorable moments that energize the space. Calling attention to popular amenities, flexible spaces, individual offices, and lounges, large graphics, a dynamic color palette, lighting and residentially-inspired furniture encourage connection throughout the day while showcasing modern, inspired work environments.
While requiring a more advanced technical approach, these multistory designs allow clients to consider available land near necessary power and telecommunications infrastructure, maximize density, increase connectivity, and tap into talent hotspots.