News & Insights — Insights
The Future of Smart Cities and the Impact of Data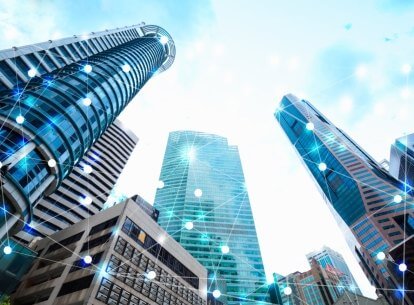 San Francisco. Singapore. London. These are only a few of several large global cities and smaller towns racing to unlock the potential of smart cities. With promises to enhance communities with increased sustainability and responsive green features, smart cities offer hope for the utopian convergence of technology and planet, urban life, and environmental harmony.

Smart cities tap into the power of data and technology to promote a healthier, more responsible, and more human place. Imagine a city that tracks traffic to reroute congestion and reduce carbon emissions, where buildings are optimized to reduce energy usage or monitor and adjust for air quality, or where modern, integrated systems manage waste production, a city's consumption footprint, and even mitigate the effects on climate change. These new concepts are incredibly powerful—both in their potential to revolutionize the impact of human life on the environment as well as their ability to gather the information we need to make better decisions.

These powerful urban centers, however, require just that—incredible power. In addition to an unprecedented amount of computing and energy horsepower, smart cities also rely on lightning speed communication and data. The successful adoption of these cities and their environmental and sustainability goals means exploring the future of data centers that consider the impact, challenges, and potential solutions of their new and expanded role in urban life.
 
THE POTENTIAL

Buildings in smart cities collect data on everything from lighting and pavement to traffic lights and security/payment systems to optimize the facilities for the tenants that inhabit them. Monitoring energy usage and high-traffic areas allow these facilities to reduce their energy consumption and learn from its users in real-time. Collecting and responding to data for water facilities management including storm water and flood control, city water supply, and treatment as well as the power grid extends the potential to more responsibly steward municipal resources.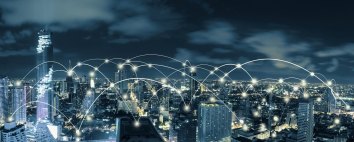 As the need and potential applications of data increases in urban cores, data centers need to move increasingly closer to the end-user—becoming synonymous with urban life and smart cities.
CHALLENGES AND OUTLOOK

The challenges of integrating data centers in the urban core are not new but are now increasing in number and scale. The introduction of data centers into dense urban environments may seem to be contradictory and incongruent in some ways with the green, sustainable aspirations of smart cities, however data centers have the capacity to dramatically change the ways we think about our environmental footprint—providing critical, real-time information needed to improve performance of our buildings and enact change. Responsible integration of these critical facilities requires an understanding of their deployment challenges, impacts, and their potential solutions.

The expansion of data centers into the urban and suburban fabric of our cities to meet and support the growing needs of our emerging smart cities will require budgeting acreage for added power infrastructures from new power plants to transmission lines and local substations. The exponential need for power means it is increasingly important for data centers and smart cities to incorporate renewable sources of energy including wind, solar, and hydropower. Additionally, the design of data centers within smart cities will need to address enhancements to existing utilities, acoustical challenges, and visual impacts of equipment infrastructure in an intelligent fashion, allowing for the seamless integration of the data center into the fabric of the community. Sound barriers, visual screen walls and an approach to aesthetic design which responds to the adjacent urban context all support the cohabitation of the data center within the community

Corgan has had the opportunity to design numerous urban data centers. Each data center project has presented design challenges related to integrating the data center within the built environment. The need to mitigate acoustical impacts to the adjacent community has been a consistent thread in all designs. By examining numerous types of equipment with different sound properties (i.e. different generator enclosures with higher and lower dBA limits and different chillers with alternate sound packages) and running simulations with different equipment mixes assist in determining cost-effective solutions in association with local code decibel levels. Another mitigation method utilized is to examine screen wall configurations for equipment at both grade and on rooftops. Creative screen wall design has included application of various materials from concrete walls to metal panel walls or louvers. Corgan has studied various sound absorbing material approaches to creatively enhance the performance of screen wall in a cost-effective manner. The creation and utilization of detail acoustical study results allows the team to provide the most cost-effective solution which includes varying walls heights, their location relative to the equipment and wall shapes.

From sprawling complexes and heat island effects to land impermeability and stormwater management, data centers are complex machines and unique building types that also require unique considerations on the environment—especially as they move into utopian urban cores. However, integration is not impossible. Rather, new technologies and products combined with strategic design and site selection have already permitted data centers to make their way from large, remote campuses removed from activity to compact buildings in metropolitan centers. The future of data center design embraces the increasing responsibility to consider its place not only in urban cores but as a key part of greener, more environmentally friendly smart cities.



Craig Pearson is a project architect in Corgan's data centers studio in Dallas, Texas. Contact Craig at craig.pearson [at] corgan.com (craig[dot]pearson[at]corgan[dot]com).