News & Insights — Insights
The Modernization of Regional Airports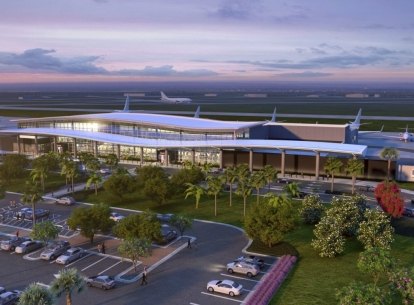 Regional Airports have evolved over the years — beginning as general aviation or air force bases to the commercial non-hub airports they are today. In the past, many regional Airports were designed by local architects with little-to-no aviation experience. The result was a less than optimal configuration for efficient operations and aesthetically resembled a school or office building. Today, Corgan brings expertise from working on some of the world's largest airports to regional airport design.
Regional airports have become a vital asset to the surrounding community. There are many unique attributes at each regional airport, from convenience for business travelers to less expensive parking for tourism and traveling families. Corgan's design at Brownsville South Padre Island International Airport incorporates a local restaurant open to the adjacent community, while Lawton Regional Airport has a landside courtyard where families can be together as long as possible before departure. East Texas Regional's lobby space allows the traveling public and visitors alike to sit and watch planes take off. Regional airports aren't only for community engagement and travelers, though; they provide rural communities a connection, one stop away from the larger world. They also help with local economic development by serving as an iconic event venue to the adjacent communities, providing revenue generation opportunities, and extending local companies' reach.
Regional airports serve as a gateway to their specific and unique community. Designers have more freedom to pull in cultural references that reflect the community, emphasizing a sense of place from the moment you touch down.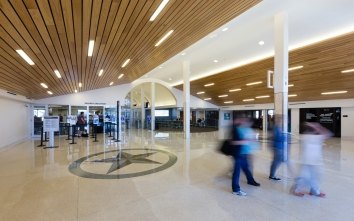 TRANSFORMING THE REGIONAL AIRPORT
When the infrastructure for most regional airports was first built, they started as Army Corps Bases, pilot training facilities, general aviation facilities, or even office buildings. In order for any of these buildings to be considered a commercial regional airport, they needed to meet the basic minimum-security screening requirements for both people and bags within the existing footprint, which led to inefficient use of space. The original building could not accommodate commercial airline operational needs or the traveling public's growing capacity while also providing a pleasing passenger experience. As we look at the airport's original design, we look for common elements to minimize or eliminate. The most common issues found are low natural lighting, confusing navigation, the lack of amenities in the public areas, no connection to the outdoors, limited seating available in holdrooms, lack of restrooms or concessions past security, and the need for operational efficiency between ticketing and baggage. Corgan is transitioning from dated, multi-use spaces to successful and user-friendly regional airports using several key strategies.
First, let's make the airport function properly. When starting the modernization process, one of the most important and common requirements is to bring the terminal up to current functional requirements such as TSA security screening and baggage handling standards. This entails creating easy-to-access or fully automated baggage screening and passenger screening equipment that includes walk-through metal detectors, baggage screening, body scanners, and individual search areas.
Second, redesign the regional airport for passenger satisfaction and user experience. Given the airports' previous functions, striving to redesign for passenger satisfaction and user experience is another crucial step in updating regional airports. Designing generous, naturally lit spaces for passenger holdrooms and incorporating a visual hierarchy amongst key functional elements provide clarity. Since traveling introduces lots of stress on its own, it helps passengers have a clear path through the airport from their car to the gate. When passengers can clearly see the next step of their journey, they can move through the terminal more efficiently. More critical than emphasizing natural light or a unique interior design is configuring an airport to function better for daily operations. Regional airports can be transformed by simply allowing them to operate efficiently for their intended use. By maximizing the passenger flow and incorporating intuitive wayfinding throughout the terminal, we can create a better experience for every passenger passing through.
Arguably one of the most important aspects of a regional airport is the local sense of place passengers get when stepping foot in the building. Using architectural design to incorporate aspects of culture, local art, regional history, and more creates a true identity and gateway to that specific community. Locally sourced materials and community-inspired amenities can create a strong sense of place rooted in the local environment and culture. Unique spatial experiences and materials can also create memorable moments that add character and meaning to the often-generic steel, glass, and terrazzo environments that often defined late twentieth-century aviation architecture.
CASE STUDIES
Regardless of the facility size, today's modern airport is a complex operation. Corgan's aviation team is the largest in the nation, dedicated to the practice of aviation architecture. This factor allows us to bring a global perspective, deep knowledge, and comprehensive resources to large airports and regional and local facilities. Our approach blends operations-based solutions, flow-based design, intuitive wayfinding, integrative technology, inclusivity, and sustainability, reflecting the local environment and culture. See some of our design transformations from over the years that elevated today's regional airport facilities: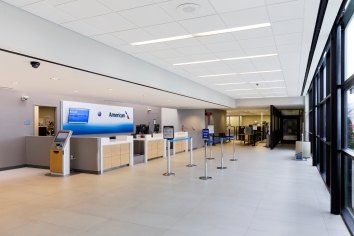 East Texas Regional Airport
East Texas Regional Airport holds the distinction of being the first civilian airport in the state and the Southwest, and its 10,000 linear feet runway once served as a training ground for American Airlines. With a distinct culture and aeronautical background, designing the building to appropriately represent it as the community's corporate gateway was of high importance. When the East Texas Regional Airport approached Corgan, the terminal was last remodeled in 1989. Since that time, there have been many changes to procedures and federal requirements governing commercial service airports. One of the more impactful changes has been more stringent security. First and foremost, Corgan had to modify the terminal to ensure adequate space was provided to meet Transportation Security Administration (TSA) secure area requirements. The layout was then adjusted to provide more effective use of space and relieve congestion, as the ticketing counters, screening area, and baggage claim were all located at the south end of the building.
In addition, Corgan redesigned the interior to ensure the traveling public's needs were met by adding amenities for comfort and improved user experiences. The renovated façade includes limestone to complement the community's local civic buildings with zinc cladding surrounding a prominent front entry. The most considerable improvement to the exterior and interior was adding a ribbon window at the entry allowing for 100% more natural daylight into the ticketing area and providing visual hierarchy to the passengers' approach from entry, ticketing to security.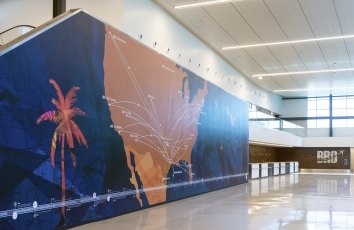 Brownsville South Padre Island International Airport
Brownsville South Padre Island International Airport was formerly designated as headquarters of Pan American's Western Division in the 1930s. When Charles Lindbergh landed in Brownsville in 1929 after a historic flight from Mexico City, the airport made history, establishing the first International Airmail service. The city then became a pioneer training center for teaching pilots to fly with navigation instruments only. When it came to updating the airport, Corgan wanted to make sure that the city's unique history is represented in all design aspects.
Corgan provided architecture and interior design services in conjunction with Jacobs Engineering to develop a new passenger terminal building for Brownsville South Padre Island International Airport. Corgan developed new design elements and an aesthetic overhaul that reflects the region and culture of Brownsville. The new two-story, 89,000-square-foot building utilizes the latest terminal design features and amenities, showcasing a strong expression of Brownsville's history and heritage while providing an enhanced passenger experience. The facility includes designing and constructing a new four-gate terminal and a Federal Inspection Services (FIS) Facility for commercial and general aviation, replacing the existing facility built-in 1971. Previously restricted to regional aircraft, the project will now allow the airport to accommodate larger aircraft and is designed for a future terminal expansion with expected increased air travel to the Rio Grande Valley and beyond. The airport showcases Brownsville and the Rio Grande Valley's history and heritage while pivoting towards the region's future as a technology and space travel leader.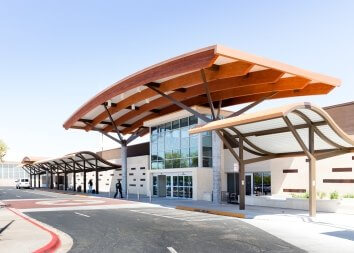 San Angelo Regional Airport – Mathis Field
San Angelo Regional Airport, also known as Mathis Field, operates out of an aging terminal building from the 1950s attached to a new concourse built-in 2008. Previously, the building was used as an Army Air Corps base and training facility for bomber pilots in WWII. A newer concourse was previously incorporated to provide an updated and newer experience to passengers as they wait for their flight. However, that experience does not relate to the city's existing terminal building or regional image. Corgan was selected to provide architectural and planning services to evaluate the airport's overall operations, develop a new terminal plan, and overall aesthetic.
Through a workshop approach, civic leaders and airport board members were brought together to approve the program's items. This committee met once each month to review design progress as it reflected the project's mission statement. These meetings served as a forum where each of the stakeholders evaluated the facility's image options, floor plan layout, and overall modifications. The result of Corgan's collaborative process exceeded expectations through a human-centric design approach and replanning to meet all the necessary functional requirements. In addition to making the space more user-friendly and up to date with security requirements, Corgan redesigned the interior to ensure the traveling public's needs are met while connecting the building design to the city's culture and community. The buildings' exterior showcases regional materials in a new modern façade with limestone extracted from a nearby quarry, native cedar glulam beams, and copper-lined light shelves that express motion.