News & Insights — Insights
The Anatomy of Southern California Cool — Insights from Sean Kim Nickerson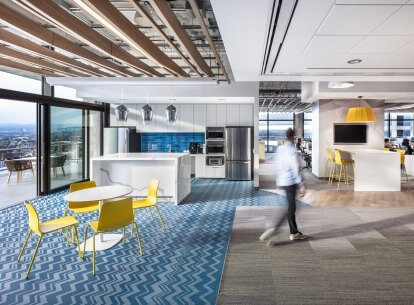 A guide to cool office digs you can create.
Southern California is home to movers and shakers, entrepreneurs, and creative powerhouses. With a recognizable "cool factor", the Southland's corporate campuses have adopted a laid-back vibe distinctive of the West Coast where exposed ceilings, polished concrete floors, and curated street art adorn walls, smoothie bars serve up matcha green teas after Pilates on the great lawn, and hammocks provide the perfect place to hang out in the central quad.
In a digital world where remote and coworking options are increasing in demand, these sprawling campuses point to something bigger—creative destinations that stand out as monuments of a new work culture. Once reserved for the exclusive and elusive Silicon Valley and Silicon Beach communities, they've challenged the typology of the traditional workplace. Whether a tech/media/entertainment giant in Culver City, California or a law firm in Dallas, Texas, the quintessential Southern California campus is disrupting what we've expected from the workplace and upping the game to attract the best and the brightest.
But what if board shorts and flip-flops may not be as appropriate as a tailored suit? What if an ocean view and beach volleyball is simply not feasible? As industries coast to coast look to recreate these trends while balancing what's realistic and appropriate for their brand and culture, I am working to demystify the allure of California workplaces and how to recreate workplaces that speak to evolving expectations: starting with our office.
Having outgrown our space in Playa Vista, Corgan decided to lay down roots in Culver City, a neighborhood that is being transformed by tech start-ups and vibrant creative campuses, to create a space that evokes the spirit of the Golden State with incorporated local preferences, while remaining true to our identity and roots as an architecture and interior design firm. Breaking down the anatomy of "Southern California Cool," here's what we learned on how to work around building limitations and how to adapt the region's hottest trends: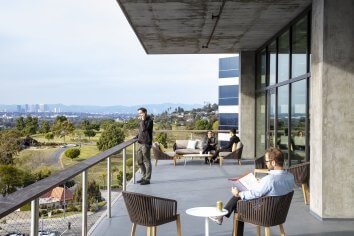 1. Location. Location. Location.
We are strategically positioned about a mile from the tech campuses of Silicon Beach and where entertainment, media, and technology campuses emerge as Hollywood 2.0, within minutes to LAX where Midfield Satellite Concourse is currently under construction. That decision was a deliberate choice to be near our top clients. Decide where you can have the most impact in terms of being easily accessible to your clients and 405 Freeway. Bucking the trend of being where everyone else is moving to can make you stand out from the crowd.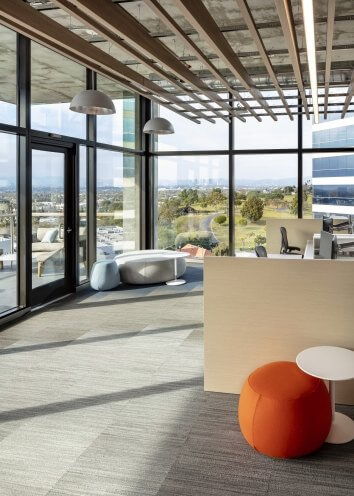 2. Frame the View
Instagram-able sunsets with unobstructed views of the Pacific Ocean, everyone has the "right to light" and be WELL! Although being on the beach was simply not feasible, we chose a building with a view from the sixth floor on top of Fox Hill in Culver City. The office was designed so the view was available to all while maximizing workplace density. Feature the view that you do have even if you must punch an opening in the wall to "frame view."
3. Create the Unexpected
At Corgan, we purposefully shied away from traditional SoCal cliché design language. Instead, we created an abstract and subtle design language to achieve a sophisticated balance of the DNA that makes up SoCal workplaces and our brand identity. Create opportunities to create a brand statement. Upon entry our guests are greeted with the Corgan yellow industrial barn door with a bold super graphic fractal outline representing water shimmering in the sun that reveals a curved yellow wall at the reception. A 'boardwalk' created out of warm wood intuitively guides guests through the space. The undulation of ocean waves is expressed in the weather-worn wood slat ceilings. Bring context into your use of branding colors whenever possible. The ombre pattern from blue to gray creates a subtle but dynamic movement of the ocean throughout the open office area. Corgan brand colors of yellow and red-orange are honored mirroring the colors of a perfect SoCal sunrise and sunset.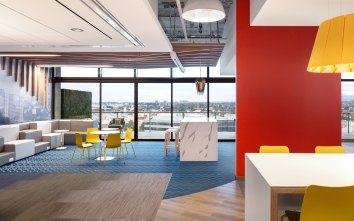 4. Never Underestimate the Power of Color
Sometimes, branding colors don't necessarily translate well into interiors. What looks good on a business card won't necessarily translate as well on a reception wall. Do some homework on color theory and come up with analogous, complementary, or split complementary color schemes that will work with your branding colors. You've got to know the rules first to break the rules. Keep in mind that with an abundance of sunlight, we Angelenos crave Pantone-inspired colors contrasting an urban canvas of concrete, exposed steel, woods, and a healthy dose of white. Introducing textures and micropatterns to the branding colors you must incorporate can be unexpected and refreshing!
5. All Hail to the Rise of Amenities!
Food trucks are not an amenity but a necessity at a creative campus. We have staff and visitors alike fighting for first dibs on working outdoors in our private terrace or working in the building courtyard. An outdoor courtyard with a fire pit, ping pong table, cornhole toss, and bocce ball court creates opportunities to take a quick break from a hectic deadline. Rotating daily food truck menus that can be ordered online in advance reduces the long lines and creates more choices for employees and visitors. We're also located a healthy 10-minute walk from a retail shopping center, Trader Joe's, and Starbucks. And while the amenities race is hotter than ever, an onsite arcade and movie theater isn't always necessary, or even possible. Our lobby is an amenity itself. Private booths for meetings, a pool table and foosball, and Pac Man station are available for all tenants and during lunch, every seat is taken creating a lively convivial and collegial culture. If you cannot provide ping pong tables and cornhole, find activities and areas that work for your company culture.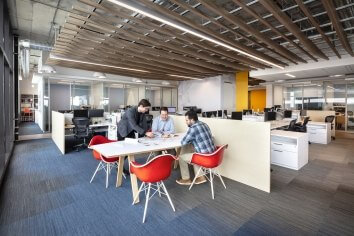 6. Working Anytime. Anywhere.
Fighting traffic jams is a daily ritual for Angelenos. Coupled with tight footprint and higher rents, workplaces are required to do double duty—offering everything staff needs throughout the day in one place while minimizing square footage. Flexibility is king when it comes to balancing multiple office functions with the non-traditional work schedules that come with long commutes, working remotely in an increasingly global, fast-paced culture.
Within 9,000 square feet, Corgan's new space houses 40 employees with room to grow. From architects, interior designers, student interns to vendors and clients, our office is designed to accommodate multiple modes of working and collaborating. With height-adjustable workstations, phone rooms, touch down stations a technology-enabled crit area, informal collaboration and meeting areas, meeting and conference rooms, the choice of how you want to work, who you want to collaborate with, and where you want to work is placed in the hands of the staff. We are a laptop office that enables you to work anywhere even in the lobby or in the courtyard.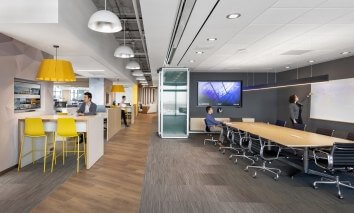 7. Collaboration Has No Walls
While including an open-to-the-public juice bar wasn't an option in our new office, we intentionally prioritized opportunities to invite others into the space. The break area opens to a large covered terrace furnished with comfortable lounge furniture and communal tables---creating a large, attractive, and inviting space to host industry mixers, Friday night happy hours, panel discussions, and engage the larger industry and community with the space.
When ideas are a commodity to be exchanged and challenged, fire pits and lounge beach chairs are popular gathering grounds to brainstorm and hatch new ideas. It's also a place where the office spills out beyond the walls and becomes a citizen of the surrounding community—actively engaged in a larger network. A campus designed to house multiple brands sharing amenities, communal and social spaces have become the template to attract millennials and Gen Z talent. Often opening their doors for community events, industry functions, and thought-leadership opportunities, the campus is a clubhouse to share new products, innovations, and get to know a brand, and sometimes offer amenities such as coffee shops that become neighborhood gathering hubs.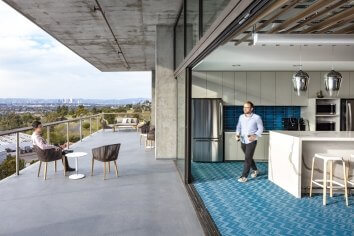 8. Beyond Workplace "Wellness"
No day is complete in California without trying the latest fitness obsession and the most progressive LA office are getting serious about cultivating healthy spaces. Workplace wellness is a comprehensive approach to the wellness of your employees. Wellness in the built environment focuses on specific features that impact human health and well-being: Air, Water, Nourishment, Light, Fitness, Comfort, and Mind.
The WELL Building Standard, a new performance measure that takes the guesswork out of healthy buildings, goes beyond fitness centers and smoothie bars to reveal small steps that can add up to a big impact—laying the groundwork for the next generation in workplace wellness.
Though adding a gym is a great option, it's not always possible but giving activity incentives is. Elements like access to daylight, non-toxic materials, clean air and water, access to nature, creating "me" spaces, and cool break areas that encourage staff to take a break throughout their day can make a huge difference in mental and physical wellbeing. We have invested in making sure that we meet all of the preconditions and optimizations necessary to achieve WELL Certification.