News & Insights — Insights
Superpowered Design: A Case Study in Accessibility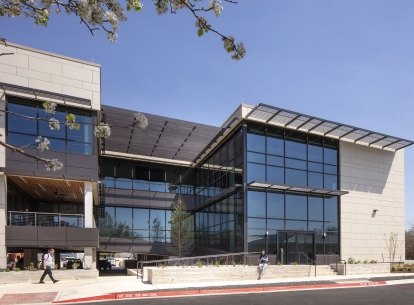 As workplaces reimagine responsible, sustainable places, inclusivity is an increasingly important consideration in creating resilient spaces that also make a positive contribution. While reflective of current expectations, inclusive cultures, and places foster dynamic thinking and unleash the power of a more diverse workforce. From prayer rooms to ramps, design has both the challenge and opportunity to meet the moment — reinforcing inclusive and diverse corporate cultures while also practically facilitating equal access and experience for those of several different backgrounds, ability levels, and needs.

And while building codes, safety requirements, and human resources policies ensure appropriate accommodations are made, inclusive and accessible design is more than a checklist. Rather, it is an articulation of a mindful and empathetic approach that considers the challenges, priorities, preferences, and experiences of those that engage with the space. Probing the possibilities of design beyond standardized requirements, Corgan's work with Professional Contract Services Inc. (PCSI) serves as a case study that expands the notion of sustainable, resilient design — offering a space that is not only more accessible for those with disabilities but one that also celebrates the contributions of a diverse workforce.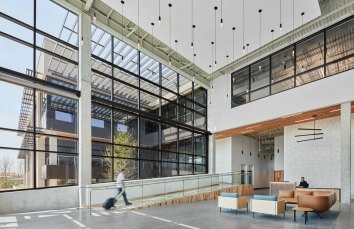 Case Study
PCSI is a nonprofit that employs more than 1,700 people — most of whom have disabilities — to fulfill support service contracts. Their work connects veterans and others with disabilities to meaningful, people-facing jobs offering competitive wages and benefits. As the centerpiece of their work and mission, promoting access and inclusivity were also the guiding principles for their new headquarters in south Austin, Texas.

For Corgan and PCSI, accessibility means that all employees and guests can comfortably and confidently navigate through the space regardless of their ability level. The two-story structure with underground parking was designed around a focal ramp that serves as a primary access artery and acts as an anchoring design feature that connects the garage and street levels. Starting on the exterior and winding through the grand, open lobby to the main level, the ramp spirals around an exterior courtyard saturated with lush landscaping to celebrate and enhance the pathway. Integrated into the design of the ramp, a timeline showcases key highlights of PCSI's 25-year history — layering branding and messaging with reinforcing design that brings to life the organization's mission.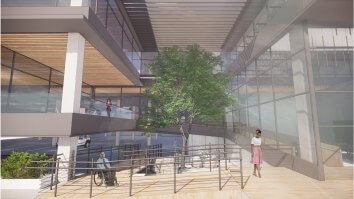 The ramp provides direct access to the heart of the building, which features an open collaborative space and serves as a gateway to a large communal breakroom flanked by a second-story patio and meeting room. A nod to the company's mission, a scone installation on the back wall spells "PCSI" as you would see it in braille text — a memorable moment that embraces the people and mission of the organization.

Color and materials play a significant role in the interior of the building, as contrast can be extremely helpful for individuals with sight disabilities. The dark metal stairs are finished with a lighter wood tread, helping to indicate the changes in height and depth as you ascend. Every interior door frame includes a thin fabric panel sidelight with different room types signified by various colors – blue for offices, green for conference rooms, red for restrooms, and so on. This allows one to identify the room type from across the open office and allows employees or guests who may be feeling their way down the corridor wall to understand that they are approaching an opening. The flooring in the corridors throughout also utilizes color and contrast. For instance, the main corridor path of the interior workspace received a smooth porcelain tile in a light color, while the tile immediately adjacent to the wall is a darker colored tile with truncated domes creating a tactile and visual indicator that an individual is approaching a solid wall. This concept is borrowed from tactile paving found on sidewalks in New York City and other large urban areas.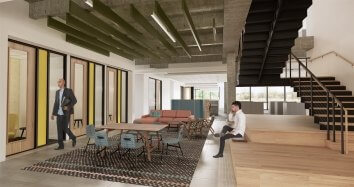 The site plan also includes an outdoor dining space and an open lawn for exercise or games, promoting wellness and connections with fellow employees while a decomposed granite trail suitable for both walkers and those using a wheelchair encourages movement throughout the campus. This new headquarters building comes as an addition to two existing buildings on the site and will be completed with a central outdoor commons space, accessible from all three buildings on campus to promote unity and collaboration.

Accessible and inclusive design is not only a benefit for a minority of the population; rather, it is fundamental to good design. Creating spaces that minimize barriers and maximize use to as many people as possible, universal design is founded on equitable use — moving away from accessibility ramps located at the back of a building and instead asking design to provide appealing solutions, the same means of use for everyone, and a range of options that provide the power of choice. For workplaces, design offers a powerful tool to articulate and amplify inclusive policies and cultures with solutions that are as beautiful as they are functional.