News & Insights — Insights
Healthcare Design: What Remains and the Future of the Patient Care Journey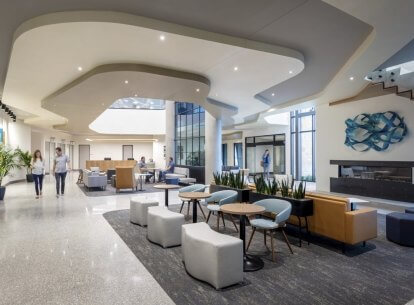 A lot has changed with how we approach places. In many ways, as more and more parts of our lives move to online platforms, we expect the physical space to do more. From on-demand features that serve an extension of virtual tools to enriching the user experience, the expectation is that places more deeply understand and respond to the preferences, needs, and challenges of those who occupy it. In healthcare, it means that design aligns with the fundamental shift in care delivery and patient expectations.

Accelerated by the pandemic, the industry, like many others, has seen a massive spike in the integration of virtual technologies. For patients, telemedicine has offered a convenient and safe platform to manage more routine health concerns while providers have leaned into many of the collaborative technologies available to traditional workplaces to share information and stay connected. But, in an industry in which the most important element is the care of people, the shift in healthcare and its design is much deeper than an uptick in virtual appointments. Rather, the past year has refocused design and care to consider the ways we behave, prepare for small and big changes, and create a physical space that enhances and integrates with the journey of both patients and the provider.

Exploring these changes, Corgan's healthcare team takes a look at how design can speak to more than the physical space and can also shape the evolution of a customer journey that respond to modern demands, lifestyle shifts, and industry trends.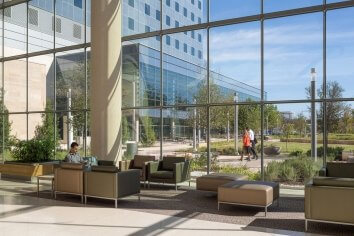 Establishing trust and fostering connection
People heal better where stress hormones are lower. They are more accepting of the advice of their care team and are more likely to share their concerns and provide critical information. Trust, comfort, and transparency are critical to openly discussing the intimate and private details surrounding medical concerns and treatment options. Patients are also more likely to comply with recommendations and see improved outcomes with there is a connection with their provider.

Effective communication is at the cornerstone of these interactions — the approach is as important as the actual information being communicated. There's a lot at stake including patient misunderstandings, decreased satisfaction, and misaligned expectations. Establishing trust and relieving anxieties through effective communication is a layered process of verbal and nonverbal communication that begins before a patient enters onsite or to key decision spaces. Timely communication to set expectations and help patients prepare for their visit, including details of their appointment, changes to protocol, or guidance in navigating the campus, not only reduce friction points but also help facilitate trust and satisfaction. Inside, comfortable, welcoming waiting and exam rooms outfitted with the technology for smart communication and the right acoustics can help assist with good communication and minimize opportunities for errors.

Establishing trust hinges on perception — an impression of cleanliness, safety, and ease throughout the customer journey. The physical space facilitates that sense of trust to create a stage where patients feel seen and heard while fostering connection with their providers. In a post-pandemic healthcare setting, the perception of cleanliness is as important as actual cleanliness. For example, speckled or worn finishes may appear dirty even when they are not. Damaged items, discolored ceiling tiles, or torn upholstery could be especially damaging to a patient's impression of the cleanliness of the place and their connected safety and trust there whereas prominent signage and visible sanitation stations not only encourage a culture of hygiene but also communicate an investment in occupant wellbeing and provide reassurance and confidence to visitors.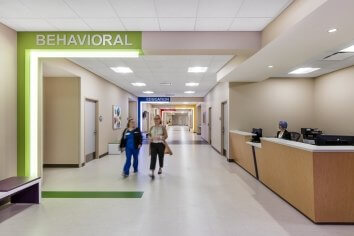 Hear more on TheSquare
TheSquare Ep 21 · What Remains Healthcare
Healthcare spaces have often been synonymous with care and healing. Providing restoration and even respite, healthcare spaces are the places we go when we are our most vulnerable. And, while these places have always been charged with encouraging trust and protecting the health and safety of their occupants, Stacy Brimmer and Chris Grossnicklaus, from Corgan's Healthcare studio share how the pandemic has heightened pressures and shifted expectations for patients and staff. Listen in to this week's episode of TheSquare as we explore the ways COVID-19 and pandemic modifications have impacted patient-physician communication and connections, the perception of healthcare spaces, and what remains for the future of healthcare design.
Provider-patient partnership
Between the popularity of preventative care and the proliferation of telemedicine, the ways and the frequency with which patients engage with brick and mortar healthcare spaces has been changing. Patients no longer have to wait for an appointment to take action on their health and are less reliant on an in-person visit to manage episodic illnesses like the seasonal cold. Rather, online resources make a wealth of information readily available and empower patients with the knowledge to make the best decisions for their own health and wellness.

As the relationship between doctor and patient models more of a joint partnership, healthcare spaces become spaces to support and deepen these interactions. Removing interruptions and adding immediacy to see their doctor, the healthcare setting mimics the accessibility of information available to patients and the ease of virtual platforms. The call on design is to continue to remove barriers of continuity between connection points as a key part of improving the patient experience and satisfaction while supporting a spectrum of comfort levels and abilities.

While the trend continues to move toward an integrated care model and places patients into an empowered position of decision-making, healthcare spaces have the challenge of supporting the health and preferences of a diverse mix of patients. Generational gaps and differences in conditions, for example, start to outline the several factors that inform a customer care journey. Where some patients may prefer more independence and minimized touchpoints, the same could be a deterrent for someone who appreciates the comfort and reassurance of more in-person direction and contact. Some may opt for the convenience of more virtual visits where others may favor the visibility and human connection of in person appointments. Ultimately, healthcare spaces will need to clearly allow patients the power of choice so as patients become more and more educated about their health, they are met with the ease and convenience of options to design not only management of their health but also their experience.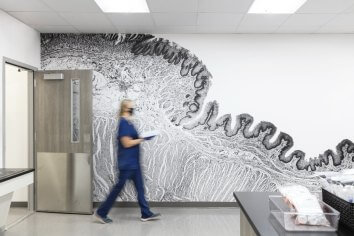 Supporting providers
Already facing an epidemic of burnout and shortage of critical healthcare workers, the industry was particularly challenged through the pandemic. But more than the strain of capacity, the rapid and concurrent change in patient needs and expectations compounded the challenge for a taxed workforce. Both healthcare workers and patients were more reluctant to make in person visits, and when possible, were laced with a heightened fear, stress, anxiety, and depression. As patients entered the exam room, they brought with them not only their ailment but the baggage of the pandemic into the care environment. Staff were forced to respond to the physical needs of the patient while learning to identify and support their mental and emotional needs as well.

Though pandemic anxieties may eventually resolve, the pressure on healthcare workers remains to provide exceptional physical care within the framework of changing preferences and a mix of customer care needs. Raising questions of how expectations change because of virtual visits or how patients want to see their doctor represented, the design of the healthcare setting essential to supporting the provider and their relationship to their patients.

Where healthcare design has primarily focused on patient health and wellbeing, design solutions from personalization options including sit-to-stand desks or centralized nursing stations to incorporating mindfulness moments and biophilic design in break rooms can help care for those responsible for delivering that care. Applying best practices and design solutions from its traditional corporate counterparts, healthcare spaces can approach design from as a workplace for nurses, doctors, and other healthcare providers — tapping into the power of the environment to boost engagement, productivity, and quality of care delivery.

And, while ping-pong tables or private fitness rooms might be trendy perks in splashy corporate offices, more meaningful amenities including dedicated spaces for telemedicine appointments can better help doctors and nurses establish a reputable relationship with patients while providing ergonomic and tailored spaces for productive, efficient work. As the lines between the physical space and virtual experience become more blurred, patients expect to see an environment that reflects the professionalism, cleanliness, privacy, and trustworthiness of in person visits regardless of the platform. Dedicated spaces within the healthcare setting and including the appropriate equipment such as sound, lighting, and cameras for virtual visits can help doctors and nurses focus on seamlessly providing care and remove the friction of different patient flows.
Care journey
While the pandemic has accelerated and disrupted the ways we approach our care in healthcare settings, the impacts are different from patient to patient with expectations tied to patient flows and individual care journeys. A hospital, for instance, may serve well patients and those managing chronic issues as well as those with episodic or acute illnesses. In a single facility, a patient may need a routine physical, come in for a monthly visit or bloodwork, or need treatment for a virus such as COVID-19. Each of these patients and their families and care providers requires a different flow to maintain their safety and that of others. And, as care becomes more individualized and convenient, healthcare facilities will need to continue to respond with flows that ease the experience for a range of comfort levels, needs, and abilities. For example, rather than a single waiting room to house a patient with COVID-19 symptoms as well as a patient who is in for their annual exam, separate flows, rooms, and experiences can start to tailor the end-to-end journey for the preferences of each patient type. Beyond a single visit, attention to the care journey considers the wholistic treatment of a patient — from before their appointment through the follow up process.

While recent healthcare trends such as touchless features have made headlines as an immediate response to the pandemic, perhaps the biggest shift is the renewed commitment to human-centric design. More than touchless elevators or social distancing markers, this heightened awareness of the wellness of the patient and their unique needs both on and offsite provides healthcare design an opportunity to respond with a space that is more intuitive and speaks to what matters most. Where hospitality features such as coffee bars and Wi-Fi work stations enjoyed popularity before the pandemic, patients, families, healthcare professionals, and visitors would like to see care for their needs articulated in different ways — where patients have the power of choice, are an engaged partner in their care, and where dedicated flows support seamless and integrated care journeys across several departments and platforms.

As integrated care models evolve alongside patient expectations, the future of healthcare design as an enduring place for the care and wellbeing of those it serves has an opportunity to think about the human as a whole and to create a space that elevate the user journey with empathy and ingenuity.