News & Insights — Insights
Airports to Spaceports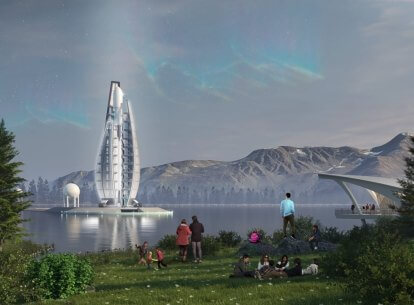 For the first time in nearly a decade, astronauts have launched into orbit from America—opening a new chapter in space exploration. While the notion of space tourism might seem too futuristic for many, the success of this mission reinforces the real and increasingly closer possibility of privatized spaceflight.
Imagine heading to the airport to catch your flight to the moon—the next age of space travel is closer than you think. The advancements of several technologies and collective global enterprises have made lower earth orbit travel and the ability to fly intercontinentally in just a few hours a near-future possibility. While the next generation of spacecraft provides a glimpse into what this will look like, less has been defined for the infrastructure needed to support this massive evolution.
Leading the design and architecture of novel aviation typologies, Corgan has reimagined air travel from smaller, local jumps in UberAir's flying taxies to longer leaps at internationally renowned airports that have revolutionized commercial air travel. Together with Hugo, the firm's research and development arm, the aviation practice is giving shape to the Spaceport—the buildings, networks, services, and experiences needed to support point-to-point rocket travel. An in-depth user experience analysis, programmatic masterplan composition, and market viability and adoption plan give way to an iconic vision of the future of travel.
Today, access to the Spaceport is limited to classified individuals. With the evolution of the space industry and eventual mass adoption, the Spaceport will welcome space geeks, curious civilians, urban dwellers, families seeking enriched education and space travelers alike. The Spaceport will not only be utilized by the traveling public but will also serve as a micro-city with a business center, educational training and wellness facilities, and an entertaining spectacle.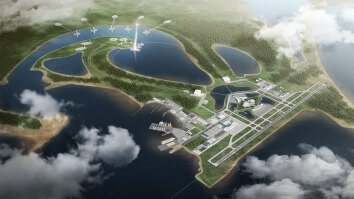 WHAT IS A SPACEPORT?
While launch pads, prototypes, and rockets lay the groundwork for space travel, Corgan's spaceport designs could provide the holistic infrastructure needed to take space travel from something out of a science fiction novel to reality in just a few years. Primarily, a spaceport is a facility where spacecrafts launch into space for various types of missions. But, much like airports, no two spaceports are the same—each requiring a unique and densely programmed design to support layered functions from aircraft upkeep and security to baggage handling and amenities. Similarly, the spaceport campus would need to include concrete launch pads and landing strips, along with facilities for maintenance, healthcare, education, training, and business commerce.
Though current spaceport concepts outline essential functions, mass adoption of space travel depends on a passenger journey and built environment that also prioritizes the user experience. Ushering in the next generation of connectivity, the spaceport campus also accelerates the frontier of aviation technologies and trends, including amenities, wellness, community, efficiency, and personalization.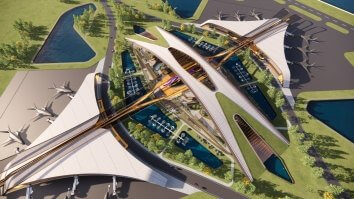 PHASES: GROWTH OF THE SPACEPORT
The underlying design principle for our Spaceport is rooted around hope, preservation, and growth. The first design of the launch pad was inspired by the lotus blossom opening to a new day just as our passengers will encounter new experiences. To achieve preservation alongside growth, the strategy is for the Spaceport design to progress in stages, similar to solutions from our airport projects.
In the first design phase, we will be building on and evolving the design of a current Airport campus. There, the Spaceport will capitalize on existing resources from the site and provide infrastructure to support facilities for maintenance, business commerce, launch pads, and landing strips. The site will be configured to reuse existing resources, such as waterways or detention ponds, for the spacecraft's sound suppression system and to designate blast zones. Another factor for initial site configuration and building placement will be based on our research to harness energy from the site. We are expanding the frontiers to create clean energy from the rocket blast or other phenomena occurring during a rocket launch with the overall goal of a net-zero energy campus. As point-to-point travel enables manufacturing facilities and transport to prosper and generate revenue, healthcare and education functions will be added to complement the existing commerce. From our knowledge of the multifunctional Airport campus, we understand the importance of various types of facilities within the Spaceport campus.
Simulation training and familiarization with the spacecraft are vital for pilots to transport passengers to various destinations safely. Maintenance staff will need to be trained in a multitude of engineering and technology and will do so on-site with hands-on learning at the Spaceport. From the research of the typical day and life of an astronaut, healthcare and wellness are essential to the passenger and other travelers. Because education and healthcare will have a vital role at the Spaceport, as well as to serve the surrounding community and ready for future travel, we are evolving the design of the typical Airport campus to group these facilities adjacent to one another. Once the education and healthcare facilities are built and open to the community, the Spaceport Terminal will be created and connected to landing strips and vertical launch zones to enable secure passenger travel intercontinental and beyond.
Taking a cue from the evolution of aerial travel, the Spaceport is a living laboratory that will mature and develop to meet changing preferences and expectations with comprehensive programming for its diverse users—housing maintenance and operations, professional training facilities, as well as retail, concessions, and meeting spaces for the business traveler.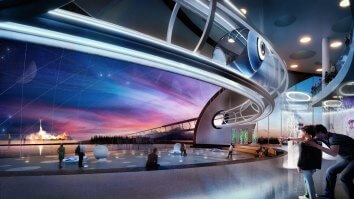 SPACE TOURISM
As a major connection point for travelers from near and far, a gathering place for the community and local tourists, and a symbol for future metropolitan life, the Spaceport is comprised of several building types and functions, creating a tourism center. For instance, education and training facilities located on-site bring added convenience and continued learning for the Spaceport's key personnel. Educational facilities and attractions, such as an observation deck, establish the Spaceport as a STEM-centric landmark to inspire young minds and lifelong learners alike. To continue hands-on learning and training, a unique feature to the Spaceport will be a medical and research facility. The healthcare facility will also serve as a wellness center to benefit and protect passengers as health screenings become a vital part of the passenger's journey pre and post-destination. The observation deck and public plaza provide cultural centers to view rocket launches, offer popular concessions and touchpoints for community engagement while providing an expanded opportunity for generating revenue.
As the Spaceport grows in popularity among civilian passengers, we can expect a lifestyle of space travel to take shape—born of many of the same priorities and trends that have defined modern aerial travel. Future space travelers will look for a heightened sense of personalization and on-demand convenience. Where today's passengers expect a seamless journey from curbside to boarding, the Spaceport presents added challenges with unique processes and clearance. However, new tools such as biometric and blockchain technologies have the potential to minimize barriers and bottlenecks at several points, including pre-boarding health screenings and concessions. Appropriately sized equipment and suits can be delivered directly to the passenger as they make their way to the concourse where boarding for horizontal launches mirrors conventions familiar to the modern commercial air passenger. Where necessary, an electric vertical take-off and landing vehicle will quickly bring passengers to vertical launches located further from the concourse.
The future of Aviation is the Spaceport. As we embrace this new frontier of travel, design solutions will be required to ground the spectacle of space travel with a human-centric experience. The built environment will be rooted in the tenet of hope and preservation as well as the potential to shape future lifestyles, connect local and global communities, and meet our core needs of convenience, personalization, and connectivity.