News & Insights — Insights
Spaceports: Rocket Science Within Reach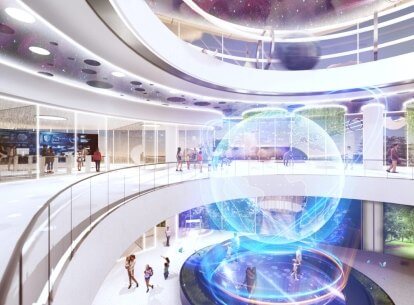 For the majority of individuals, when they think of space stations and rocket launches, they have childhood memories of watching them on TV with family or friends. For students that were lucky enough to visit a space center growing up, the highlights were feeling the zero gravity, hearing from astronauts themselves, and eating the dry ice cream. What if students were actually able to add spaceport workforce training into their curriculum, opening a world of space opportunities for generations to come. As we continue to test the limits of the next frontier, we have the potential to not only discover new possibilities in the future of travel but also rewrite the framework for our future careers and education of space.
Leading the design and architecture of novel aviation typologies, Corgan has reimagined air travel from smaller, local jumps in UberAir's flying taxis to longer leaps at internationally renowned airports that have revolutionized commercial air travel. Drawn to the possibilities and innovative vision of the modern-day space race, we have made it our mission to put our resources towards developing the message of Spaceports today and in the future. Together with Hugo, the firm's research and development arm, the aviation practice is giving shape to the Spaceport—the buildings, networks, services, and experiences needed to support point-to-point rocket travel. An in-depth user experience analysis, programmatic masterplan composition, and market viability and adoption plan give way to an iconic vision of the future of travel.
The advancements of several technologies and collective global enterprises have made lower earth orbit travel and the ability to fly intercontinentally in just a few hours a near-future possibility. While the next generation of spacecraft provide a glimpse into what this will look like, less has been defined for the infrastructure needed to support this massive evolution. We have interviewed and collaborated with aerospace industry experts from the Global Spaceport Alliance members, Spaceport Directors, Aerospace engineers, environmental science experts, and aviation planners to better understand the Space industry and sharpen our message. With insights from these leading industry experts, paralleled with our expertise and understanding in aviation architecture and design, and user experience, we were able to give shape to the future of aviation, Spaceports.
While focusing on the user experience and training as well as the need for workforce training, the Spaceport masterplan will include a large educational component. Overall, the Spaceport will act as a STEM-centric landmark to inspire young minds and lifelong learners alike to keep pushing the boundary to explore what is beyond. We imagine an education facility complete with training for future travelers as well as a learning and training center to capture talent from the adjacent communities.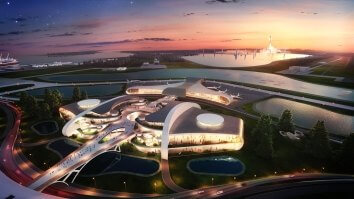 STEP INSIDE THE SPACEPORT EDUCATION FACILITY
The education facility will either serve as a travelers' destination or as the beginning of their exploratory journey to beyond. Like the Spaceport Terminal and the Wellness Center, the facility's design will mesh the terrestrial world with nodes to space. And education facility will provide required training for passengers while offering interstitial spaces for casual interactions between the public and academics. The education facility, open to the public, will be located in a non-secure area and will include observation areas and learning centers that inspire visitors to engage and participate in the growing industry.
Programmatic elements for the facility will include a training portion with vehicle simulators to train astronauts and maintenance and operation of various types of spacecraft. Engineering and maintenance training will attract local talent from the nearby communities to prepare a new workforce for the equipment and operations present at the Spaceport. Neutral buoyancy laboratories will provide astronauts and future travelers the feeling of microgravity to physically prepare them for the journey ahead. Virtual experience labs and stations offer remote learning opportunities and connect global citizens to the International Space Station and beyond.
Trainees will inspect and review equipment via digital twin technology without requiring physical proximity to the equipment, enabling them to run routine maintenance or inspections. The facility's education portion will include a similar resource to a higher education facility, including classrooms for training seminars and lectures, a library, and computer labs. A maker space with digital fabrication and design lab will also be included to enhance the facility's innovation tenet.
The training facility will enable astronauts and future travelers to train before their flight. Knowing a person will need to understand the impact a flight in space will have on their bodies, training with simulators and immersive environments will enable the human mind to ready itself for the flight, both mentally and physically. For post-flight, the travelers and astronauts will be allowed to provide lessons from their experience and provide evidence-based data to better the tools utilized by the training facility.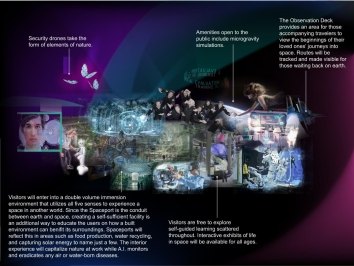 COMMUNITY AND CAREER CONNECTION
The education and training facility will be open to the public and adjacent communities to encourage collaboration and outside-of-the-box thinking. The center will include a science museum with an interactive display to convey the message of the Spaceports from around the globe, along with current and historical space events. An immersive experience will accompany the learning center to fully engage the senses and invite visitors to step into space to see, touch, and smell another planet or celestial body's environment.
An extensive resource for the Spaceport will be to engage local talent for occupations at the Spaceport and help build up the adjacent communities' economy. Integrating educational training into the spaceport creates a pipeline of specifically trained talent with hands-on experience with the tools, resources, and equipment required of future jobs in space travel.
In Career Technology Education (CTE), spaceport workforce training can be independent or integrated into existing career pathways. Training as a propulsion technician, for instance, may align with the aerospace CTE curriculum, while study in platform operations engineering alongside robotics engineering can strengthen both disciplines. Spaceport staff can instruct and collaborate with adjacent community schools and students worldwide, while remote CTE teachers can travel to the Spaceport for intensive training alongside interning students. Because the more realistic a student's experience can align with jobs, the better prepared they will be, the Spaceport offers a unique and rich experience for surrounding schools. Future partnerships might allow for collaboration in curating educational equipment, supporting teachers, and providing internships for students as part of a joint curriculum. Equipment within a spaceport or space station can also be controlled remotely by students in their classrooms as a part of collaborative projects with space experts and astronauts and immersive technologies, virtual field trips, and customized AI may round out the experiential opportunities made possible by the facilities.
LOOKING FORWARD
As we embrace this new frontier of space travel, new design strategies will be required to ground the spectacle of space travel with a human-centric experience. The built environment will be rooted in the tenet of hope and preservation and the potential to shape future lifestyles, connect local and global communities, and meet our core needs of convenience, personalization, and connectivity.
From more personalization to on-demand convenience, passenger expectations will continue to shape a future of travel that is increasingly more connected. The Spaceport will provide a new kind of framework for knitting together a collective set of resources, knowledge, and industry professionals that transcend borders and shape a travel paradigm. Space travel, a global medical ecosystem, and rocket science no longer need to be mysteries relegated to the intellectual elite. Spaceports can act as STEM-centric landmarks to inspire and explore what is beyond. They will break down barriers and allow room for what society's next mystery will be.