News & Insights — Insights
Airports Adapt: How Social Distancing Will Redefine Personal Space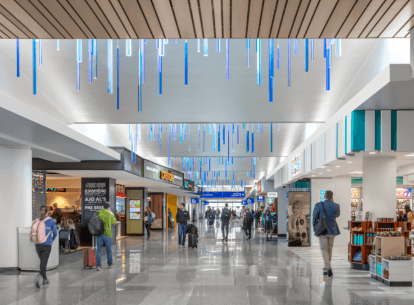 As we battle COVID-19, many regulations have become commonplace to serve as immediate mitigations to a serious threat. One of the most prevalent is the concept of 'social distancing' or remaining six feet apart from each other to minimize the spread of the virus. As stores and offices begin to reopen and quarantine comes to an end, it is unlikely that the public will continue adhering to the strict social distancing requirements; however, a new definition for personal boundary can be anticipated – and airports will need to adapt. While social distancing won't be a permanent fixture, it will be prudent for all airports and airlines to create contingency plans for continued operations when social distancing requirements may be necessary again in the future.

At Corgan, we have been researching the implications that the COVID-19 pandemic will have on terminal design with the goal of finding human-centric solutions to help address the societal shifts that are sure to follow. A new definition for personal boundaries will have impacts both right away to the existing terminal landscape, along with the programming and planning of future terminal facilities.

Through our in-depth research, Corgan has identified thoughtful design solutions to marry the demands of the passenger with the functional requirements of an airport in a way that still elevates the overall experience. Personal boundary zones, dispersing densely populated areas, and decentralizing terminals are design solutions that will help mitigate some of the most significant impacts the terminal will see post-COVID-19.
BOUNDARY BY DESIGN
Social distancing has refined our focus on not only the importance of personal space but also how we utilize that space in a terminal facility. Taking design practices rooted in hospitality, the future of holdroom design will consist of passenger-focused amenities that provide for adequate space and personal experience. The goal moving forward is to allow passengers to define what they need for their own space and allow passengers to efficiently utilize that personal space in a terminal through thoughtful design practices.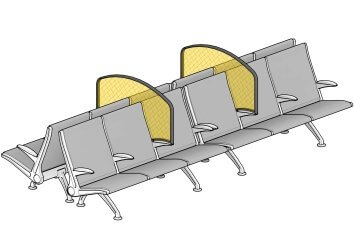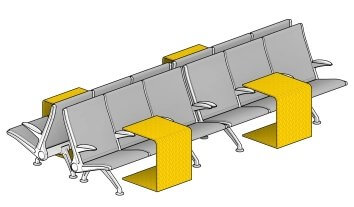 While defining personal space in most areas of the airport will prove challenging, it has always been human nature to do this in a hold lounge through a phenomenon known as 'Seat Spoilage.' Seat spoilage states that passengers will utilize more than one seat by placing carry-on luggage or other personal items in the adjacent seat – therefore, other passengers won't be able to use that seat. While this would typically be a concern for the airport, in times of social distancing this phenomenon could be beneficial to the base design after. There are a few adaptive components that could be applied to existing furniture as a solution aimed to discourage seat spoilage, but also provide defined personal space for travelers. Adaptive components such as privacy screens could be attached in between seating so that passengers are more inclined to sit next to one another, while their personal space is still clearly defined by the screens. As a short-term option, incorporating 'C Tables' in the holdrooms automatically enforces distancing, as well as provides an amenity to the passengers.

Another design principle from the hospital industry to incorporate in terminals is providing a variety of seating options for the diverse passengers occupying the holdrooms. Personal booths could offer a dense and efficient seating option for the business traveler or solo traveler. Family or group pods could be incorporated for passengers who are comfortable seating together. Spacious charging bars could be placed adjacent to window walls to take advantage of the desirable views, and the efficiencies gained by focusing one's personal space outward, away from other passengers. All of these seating options can be incorporated with the standard beam seating and should be coupled with appropriate cleaning protocols.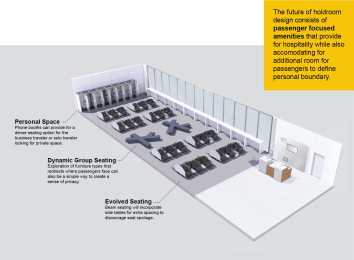 DWELL ANYWHERE, DWELL EVERYWHERE
There are certain areas that are prone to the dense clustering of passengers throughout the terminal, such as hold lounges, baggage claim halls, and concession areas. The basics of social distancing require encouraging passengers to disperse across the terminal and take advantage of all the square footage available. To encourage passengers to populate the entire terminal space, unique amenities could be provided that pique the interest of the traveling public, pulling them out of densely populated areas and naturally socially distancing them.
Each airport will require personalized solutions for these amenities. Whether an airport is a large international connecting hub or a small originating airport, or whether an amenity is required on landside or airside, every condition will have its particular nuances. Many amenities, such as the aquariums at Vancouver Airport on the secure side or the substantial conservatory at Changi's the Jewel on landside, take significant planning and operational protocols. While these solutions prove to be quite effective at drawing the attention of the passenger, not all solutions need to be grand in scale.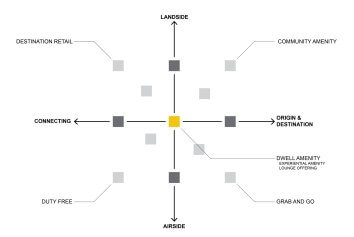 Many smaller-scale solutions can be incorporated to achieve the goal of separating passengers throughout the terminal. For example, combining a variety of lounge seating throughout a concourse could provide a space for passengers to dwell away from large crowds. Pop-up experiential retail, such as video game lounges for potential customers to test out the latest technologies, can provide exciting detours for passengers as well. Finally, the adoption of food delivery has been accelerated by the quarantining protocols of the recent pandemic. While food delivery has already found its way into many airport terminals, we will be able to take better advantage of this in the post-COVID-19 traveling environment. By providing community spaces throughout the concourse, as opposed to a centralized food court, passengers will be able to get the food they choose, at whatever location they want.
DECENTRALIZED EXPERIENCE
The great debate of airport design: to centralize or to decentralize. Whether it be for organizational or processing design, centralization and decentralization, each consist of their own opportunities and risks. The transport topology optimizations, 'hub-and-spoke model' versus 'point-to-point model,' is a prime example. While the 'Hub and Spoke model' centralizes the workforce, management, and logistical efficiencies, it brings higher risk to the business due to localized issues, such as weather. It also forces large parts of the traveling population to intermingle, as a 'point-to-point' system would not. This same thought process can be applied to the functions within a terminal building itself.
The traditional terminal planning paradigm is to centralize major, high-touch processing elements such as security checkpoint and passport control. There are many beneficial reasons to do this, such as consolidating operations, ease of wayfinding, and reducing duplicative program areas. However, centralizing high-touch elements for processing forces all passengers to circulate through the same area, increasing the risk of spreading germs to the total population. Providing multiple options for travelers in high-touch processing areas would separate passengers from one another so that they are only exposed to a much smaller percentage of the total population.

While considering multiple high-touch processing elements could be an approach for terminal facilities in the planning phase, it isn't feasible for existing facilities with little available space. However, we can consider the decentralizing methodology on a smaller scale for those facilities. Queueing for most high-touch processing elements is typically done by a single, more extensive queue that is then served by multiple processing elements. If instead, we were to break that single queue into five separate lines that are served by one or two processing elements each, the passengers could still be effectively separated from the total population. In the previous situation, if one of the five queueing lanes did indeed contain a contagious passenger, by decentralizing the lanes 80% of the total passenger population would have separated from that passenger, in addition to adhering to social distancing requirements.