News & Insights — Insights
Airports Adapt: Designing Wellness into the Terminal's DNA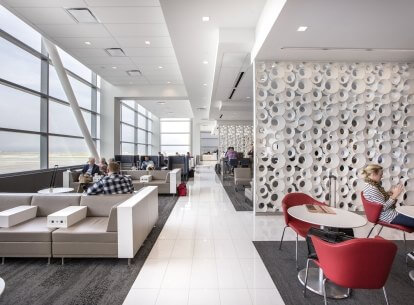 In the race to attract a more discerning passenger, airports large and small have measurably responded to the growing demand to offer a more human-centric experience that prioritizes health, wellbeing, and mindfulness. Where customers once looked to yoga studios and luxury skincare spas for added comfort and self-care, the global COVID-19 pandemic has heightened concerns of the real and perceived health and safety of airports. In place of glossy amenities, passengers have upped the pressure on airports to increase safeguards on public health and intuitive, ambient wellness interventions that seamlessly respond to the biggest challenges in the passenger experience.
Synthesizing and expanding on Corgan research with an age simulation suit, eye-tracking goggles, and a series of lighting experiments, layered design solutions have physically and psychologically eased the passenger journey and created a more comfortable experience. Coupled with operational improvements, the terminal environment has the potential to not only improve passenger satisfaction, employee safety, and efficiency but also the capacity to fundamentally associate an airline and airport's brand with an experience that promotes the overall health and wellbeing of the passenger.
Resuscitating aerial travel — the return of frequent business trips and memorable family vacations — requires responding to the call on aviation to employ creative, strategic solutions both in the operations and in design to alleviate public fears and reshape perceptions. Integrating wellness and healthy design solutions into the DNA of the terminal will not only help address the issues surrounding the current pandemic and articulate contemporary passenger priorities but will also prepare the terminal for a pivotal shift in how we think of wellness, safety, and human-centric design.
REASSURING PASSENGERS
As passengers return to air travel, it will be incumbent on the industry to provide a clean and sanitary environment not only for passengers to travel but also for the operators who facilitate the experience. IATA and other professional organizations have provided guidance to do so. Social distancing, the use of masks, and enhanced cleaning procedures have all been prescribed as playing a fundamental role in the travel experience.
While a design team may not play a large role in the day-to-day operations, they are significant in laying the foundation for the operational team's success. Restroom facilities are a prime example of how design can influence passengers' reassurance due to the large role they play in satisfaction ratings at airports. Critical design decisions such as layout, circulation, and fit and finish can either make the operational team's job easier or more difficult. Implementing occupancy sensors as a tool could provide real-time feedback on occupancy and availability for passengers and employees for optimal cleaning times. After touchpoints, providing access to disinfectant will give users with the added comfort of sanitation in the building where it's needed most. These are small design examples that can make a big difference when proving passengers with the health security they are looking for.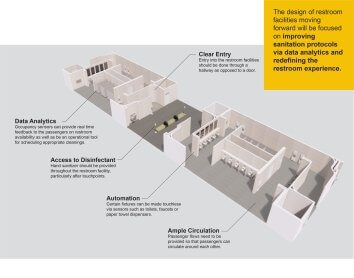 Interestingly, temperature screening and thermal scanning have not been prescribed as a prerequisite to travel because they are not 100% reliable in identifying contagious passengers.  However, there is a place for this process to reassure passengers that it is safe to travel, and perhaps more importantly, deter people from traveling while they are sick. Moving forward, the industry must work together across the full spectrum of the passenger's journey to establish a strategy of health inspection, confirmation, and reassurance.
An essential part of that reassurance is to give passengers ownership of the experience. Feedback loops, such as the "Are you satisfied?" buttons or QR codes for surveys, are vital to providing passengers the opportunity to provide real-time feedback to airport operators. We anticipate these feedback loops will increase throughout the airport facility, not only just in restrooms but in areas like food courts and hold rooms as well. 'See something, say something' is a motto typically reserved for security concerns — however, it will be important that this same mantra applies to the overall cleanliness of an airport facility as indeed we are all in this together.
DISINFECTING TECHNOLOGIES
Corgan's designers have been exploring innovative ways to incorporate lighting to diminish the disruptions to passengers' internal clock experienced when flying to help them adjust to time zones, beat fatigue, and improve health. Using what we've learned from that research in conjunction with emerging technologies, there are a few design solutions to help facilitate a sanitation process in the airport. Onboard the aircraft HEPA filtering and electrostatic fogging have been utilized to provide a safe in-flight experience – there is also an opportunity to use these technologies in an airport building.
For decades, UV lighting has been used to clean HVAC systems and purify air streams using uplighting. While its adoption in a public setting has been limited due to its harmful effects on the human skin and eyes, emerging UV technology has now been found safe for humans while having the same disinfection qualities compared to traditional UV lighting. The incorporation of UV lighting in autonomous robots has been adopted to bridge the gap between standard cleaning protocols. Additionally, traditional UV lighting has been proposed as a method for cleaning bathrooms, security checkpoints, and baggage handling systems. While there will always be a need for standard cleaning protocols, technology can be incorporated as an additive method for cleaning and sanitizing of the facility.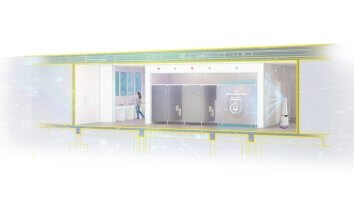 As we are still learning the nuances of this specific virus, a holistic approach to addressing contagions of different kinds will be critical for future events. Many of the presented solutions involve operational protocols on when and how to clean high-touch surfaces and processing points in a terminal facility. It is the designer's role to create an environment that can be easily cleaned and maintainable based on the frequency of use. The selection of materials for use in a facility is a complex decision. As technologies emerge that enable more materials to be antimicrobial, the aviation industry will need to rely on the design industry to help them navigate the marketplace.
ASSESS & RESPOND
In the healthcare sector, it is not uncommon to conduct an Infection Control Risk Assessment (ICRA) that cross-references the potential hazards to the surrounding patient population with the operational and construction protocols within the facility. Based on the outcomes, strategies are determined and put in place to reduce the risk to the patient population. A similar methodology could be created for the aviation industry that would cross-reference the health risk level with protocols that would be implemented regarding operations, built environment, and experience. This system could act like the Homeland Security Advisory System in that specific protocols are not required during no or low-risk times but would be implemented during medium and high-health-risk times.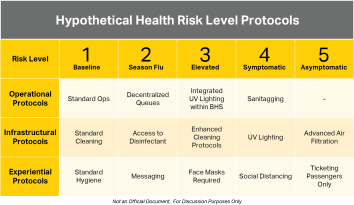 Pulling from the healthcare industry's ICRA, Corgan's aviation design experts researched and drafted strategic protocols that could be implemented when medium or high health risk arises:
Operational Protocols: Adjusting the operations of the airport facility in response to the health risk level.
The concept of 'Sanitagging' is a prime example of an operational protocol to provide a line of defense against contamination of airport operators from items that are brought into the airport. This two-step process would be a front-end procedure where items, such as baggage, goods, and cargo, are first sanitized and then tagged before entering the terminal. Some considerations to prepare for would be the required area space and location, and efficiently activating the protocol without causing a hindrance to standard operating protocols.
Infrastructural Protocols: Adjusting the terminal design in response to health risk levels.
There are many resources that a stakeholder team can rely on to help inform these protocols, including WELL Building Standard, whose stated purpose is to 'support and advance human health and wellness' in buildings, interior spaces, and communities. There will be a few considerations airport facilities will need to prepare to balance strategies, such as increased ventilation, advanced air filtration, and humidification, to fit within an airports' current operational paradigms and align with their specific locations.
Experiential Protocols: Aspirational protocols on the expectations of the terminal experience for passengers and operators.
Aligning wellness and user experience will require designers and airport operators to meaningfully address the complex issues that users can experience on a day-to-day basis in a terminal facility — a narrow focus on select aspects of the passenger experience is inadequate. We recommend aligning the experiential protocols through two lenses: First, implement strategies that could explicitly stop the spread of health risks through design, such as access to handwashing and hand disinfectant. Second, incorporate strategies to foster the passengers and stakeholders of the airport community's individual and organizational resilience. Sustainable approaches, such as a connection to nature through access to green space, clean water, natural light, and views, can improve mental wellness and overall satisfaction in an airport facility.
While COVID-19 brought wellness issues to the forefront, aviation architects have been designing to achieve wellness long before the pandemic. The design of the built environment has a significant impact on passenger experience, and understanding how to design wellness into the airport environment will be a priority for the aviation industry moving forward.
Check out this episode — Airports Adapt
Listen in as Corgan discusses the ways airports are adapting and evolving during the Coronavirus Pandemic.