News & Insights — Insights
Airports Adapt: Achieving a Touchless Processing Experience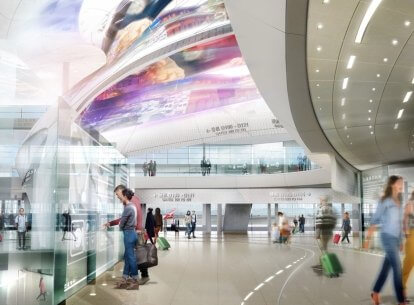 Between check-in kiosks, security checkpoints, and ordering food at concessions, there are several unavoidable or typical touchpoints in a traveler's journey through the terminal to their flight. In order to evolve the airport for a touchless experience is a matter of assessing today's passenger journey and finding ways to fundamentally improve the whole user experience. Whether through interactions with a regulatory, airport, or airline elements, the goal will be to find ways to enable passengers to take control of their passage, reduce processing times, and to enhance hospitality throughout the airport journey.
Through in-depth research, Corgan's aviation design experts have identified the steps needed to achieve this touchless experience by implementing a just-in-time processing model, capitalizing on the promise of biometric technologies, and anticipating the resulting shift to the passenger journey.
MINIMIZING QUEUES 
The use of queues is essential in the planning of airport facilities, whether it be at check-in, security checkpoints, or customs and immigration for processing large groups of people. As passenger experience evolves, we must do our best to move beyond the typical queue system. Passengers should be able to process seamlessly and move throughout a terminal fluidly. By examining how people show up to queues, what order they are processed in, and how fast they are processed, we will be able to improve the queues to achieve a just-in-time processing model with no one waiting in lines, processing travelers through as soon as they arrive.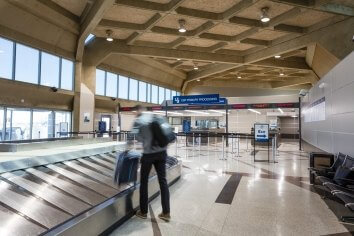 While airports are beginning to reevaluate processing, other industries and departments have been at the forefront of this endeavor. In a recently completed Corgan project, Kansas City International Airport upgraded its international arrivals processing to include a "baggage first" design process. Customs and Border Protection (CBP) was able to implement a simple adjustment to the processing flow to allow passengers the flexibility to pick up their bags first, as opposed to waiting in long lines for passport control. To implement this design process, Corgan first analyzed space planning in conjunction with passenger flows to provide a solution that gives passengers the ability to customize their experience and spread out the demand placed on passport control. This new design has had significant impacts on wait times and limits the amount of time large groups will have to congregate, improving the overall experience for all.

Outside of aviation, healthcare and theme park entertainment industries have also implemented ways to improve the processing experience in their respective sectors. Healthcare has implemented virtual queues to minimize the amount of time their patients have to spend in waiting rooms. Theme parks have applied the 'Fast Pass' system as an additional service that allows passengers to schedule when they will go on a ride, rather than waiting in long lines. This concept of appointment-based processing could be a model for aviation design to emulate.

By providing passengers with a scheduled time to arrive, we could attempt to flatten the demand curves for processing elements, such as the security checkpoint. This could be particularly beneficial for those passengers that are not frequent travelers, those that need extra time for processing or at-risk passengers by providing a less stressful processing experience. When implemented, the interdependent relationship between regulatory touchpoints and the passenger would result in lesser queues and more efficient use of the total lanes within the queue.
Applying this process to the airport journey could result in significant implications on design planning for the landside of the terminal facilities. Larger allocated space may be needed before for travelers dwelling before going through security if they arrive at the airport before their appointment time. Additionally, the need for concessions could increase at that end of the airport. Short term parking might also need to be reassessed with an increase in well-wishers wanting to stay with departure travelers until before their scheduled time. Recognizing these considerations ahead of the planning phase will be crucial in the successful implementation of just-in-time processing.
MINIMIZING TOUCHPOINTS 
Queues at processing elements are a resultant of not being able to process fast enough to handle the demand of how passengers show up. While appointment-based processing addresses the number of passengers arriving to be processed at the same time, automation and biometrics are a response to speed up the processing. For example, Evolv Technology has created a security screening device that can process up to 900 people per hour, compared to the approximate 200 passengers per hour that an automated security lane can handle. This technology has been incorporated into employee screening at airports; however, the real return on investment will occur when we can incorporate it into passenger processing.
A biometric airport has been an aspiration of the aviation industry for some time now. The biometrically enabled airport will undoubtedly improve processing speeds – but an additional welcomed improvement will be the touchless, passenger driven experience. By decentralizing the security checkpoint and dispersing it across the terminal provides airports and concessionaires the opportunity to redefine the airport experience.
In addition to improved passenger experience, biometrics and automation would drive better working conditions for airport operators. Using self-service bag drops, automated baggage handling systems and robotic baggage inspection tables, employees are not lifting and shifting bags as much as before, resulting in fewer disruptions to operations. This allows us to return the focus of many airport employees and operators to improve the hospitality of the airport experience as opposed to facilitating the airport process.
If we could process passengers faster through security, we would negate the need for long waits in queue and reduce the encroachment on personal space. This faster processing could result in a reduction of anxiety for all and provide passengers with the freedom to take ownership of their journey.
Corgan's design experts have researched and pulled together what the airport and passenger experience could look like with automation and biometrics implemented throughout the journey:
A Touchless Departures Experience
CHECK-IN 
As passengers arrive at the airport, facial recognition will cross-reference whether they are ticketed passengers or a well-wisher. Passengers will have checked in ahead of time via a mobile device, negating the need to interact with public kiosks. Those wishing to check baggage will do so via a self-service bag drop if they haven't already at one of the many check-in facilities located throughout the city.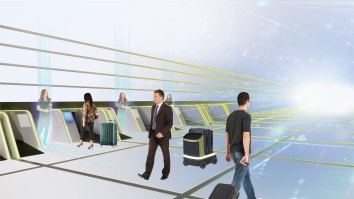 SECURITY CHECKPOINT & CONCESSIONS 
Instead of passing through a circuitous security checkpoint, with evasive personal checks, artificial intelligence will analyze crowds for suspicious behaviors, flagging those individuals who need to be screened further. The standard airport mall experience will be transformed into an experiential exploration. Amenities will have token enabled pay options so that passengers can quickly come and go. Pop-ups will cater to experience, allowing passengers to test out new products and services. Finally, community plazas will replace dense food halls where passengers can get goods delivered while relaxing before their flight.
RESTROOMS 
Passengers looking to use the restroom will be greeted with a fully automated system. Stall doors will open and close via gestural technology. The fixtures will work on-demand via sensors. Sanitation will be the top priority as robotic cleaning will be working 24 hours a day, seven days a week, to bridge the gap between standard deep cleanings.
BOARDING 
Passengers will be pinged on their mobile devices with their specific time to board. Boarding will occur through a biometric portal where seamless security scanning will be a combination of behavioral analysis and comprehensive 3D imaging of both person and baggage.
A Touchless Arrivals Experience
IMMIGRATION  
On arrival, passengers will have already gone through most of the Customs and Border Patrol processes before landing. Passengers will simply proceed through a series of biometric checks as a confirmation of identity as they enter their arrival destination.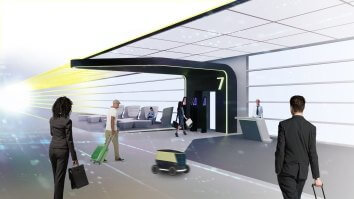 BAG CLAIM 
Most baggage will be delivered to the location of the passengers choosing, negating the need for a large comprehensive on-site baggage claim. As passengers exit the terminal area, a processing centerpiece serves to connect people to the multiple options to get to and from their final destination.
MAXIMIZING USER EXPERIENCE 
To achieve a touchless processing experience, there will be many hurdles to overcome, including the adoption of emerging technologies, personal privacy, and ownership of user data. To overcome these hurdles, there will have to be an unprecedented amount of collaboration.  The status quo isn't sustainable in the long term.  It is beholden to all of those in the aviation to work towards the common goal of a fluid, touchless airport processing experience for both passengers and operators.
Not only are these solutions beneficial as a response to the COVID-19 Pandemic, but they align with the aspirations of the modern traveler. We are wholly dedicated to long-term design solutions that put people first, not reaction-based or temporary resolutions. A tailored experience that maximizes the user experience for both passengers and employees elevates the airport beyond the expectations of today into a contemporary experience for tomorrow.