Projects
Vantage AZ11 Data Center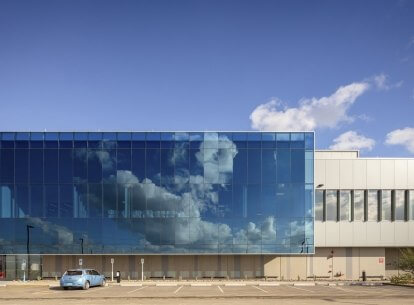 Project Stats
Location

Goodyear, Arizona

Size

144,046 SF

Data Hall

56,293 SF

Critical Load

16 MW

Market

Expertise
Master planned on Vantage's AZ1 campus, AZ11 is a two-story data center with four data modules, supporting infrastructure, and office space. With a substation built on the southwest corner of the lot, additional power is provided by Arizona Public Service, through a new master planned on-site substation, which is necessary for the functions of the data center building.
Monumental walls with Vantage signage are placed at the entrances of the data center building. These feature walls coherently work with other on-site signage pieces to create a visitor-friendly campus. AZ11 is the first 16 MW phase of a 64 MW building with AZ12 being constructed to the north and AZ13 to the west of AZ11.
Corgan worked with the city of Goodyear to provide landscape enhancements for increased aesthetics along the pedestrian walkways. The landscaping helps with storm water retention and were coordinated with the city's master plan. Recognizing that the area has become a data center hotspot, the city is working to make the area fit into the surrounding community.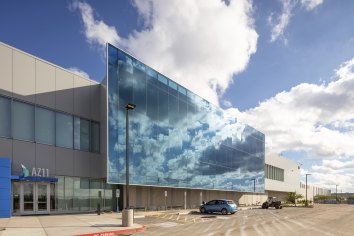 Visitor-Friendly Campus
Design Creates Visual Movement of the Data Center's Exterior
The main facade of the building features a dynamic composition of metal panel, curtain walls, and patterned concrete varying in height and length. The curtain wall system uses vision glass, spandrel glass, and metal panels to provide natural lighting, street views for on-site staff, as well as visual interest. Vertical fins, strategically placed for sun shading, are also part of the facade system to create visual movement of the building. Striated rock formation, a classic Arizona image, inspires the linear formed concrete texture. These patterns follow the playfulness of the vertical fins to emphasize the gradient of visual movement.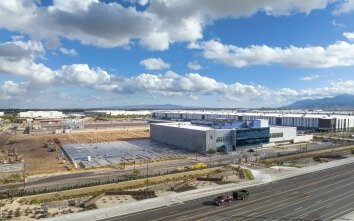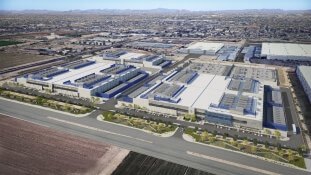 Streamlined Design Process
Design-Build Used to Strategically Complete Design Elements
Corgan's experience with Vantage as a client helped streamline the design process. Corgan worked closely with the city of Goodyear to expedite the city review process and get ahead of any issues the city may have. For future phases, Corgan is working with McCarthy construction in a design-build capacity to strategically complete design elements when needed while construction is ongoing.