Projects
Uber Skyport Mobility Hub Concept Design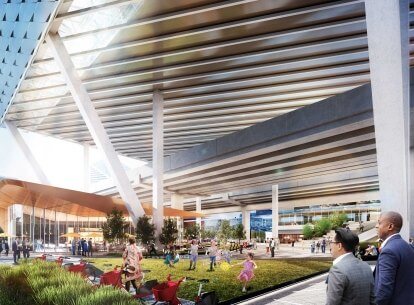 Project Stats
Market

Expertise
A gateway and meeting point for the community.
Flying cars are no longer science fiction. In 2023, on-demand aerial ride share will introduce a new mobility mix that will transform our cities and infrastructure, redefining our daily commute.  
Navigating this multi-layered third dimension requires a facility that supports a cohesive relationship between the commuter, the flying taxi, and the urban fabric. Corgan, in collaboration with Uber, designed and developed the Uber Skyport Mobility Hub; a novel architectural typology that aims to radically improve urban mobility and alleviate traffic congestion, using existing infrastructure to enable speed to market with a scalable, connected, and sustainable design. Dallas and Los Angeles have committed to being the first cities to globally launch UberAir flights in 2023, and therefore, it is crucial to understand how Skyport Mobility Hubs enable a well-choreographed transition between air and ground, exhibit operational efficiency of precise aircraft movement that can scale as demand increases, and minimize the impact on a city's electrical grid.