Projects
TRG Headquarters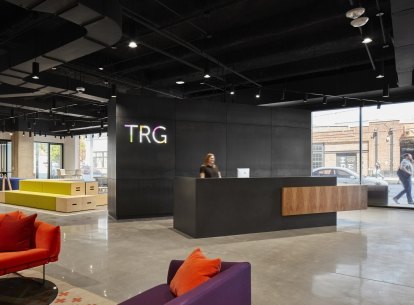 Project Stats
Location

Dallas, Texas

Size

101,000 SF

Market

Expertise
A bold impact for a new brand image
When the opportunity arose for the Dallas-based marketing agency to move into a new workspace at The Stack in Dallas' historic and trendy Deep Ellum District, the client was keen to reimagine the space as a catalyst for engagement and to elevate the agency's work and culture. From the outset, the client expressed the desire to start with a blank slate to reimagine their new image – and the new space was the first symbolic step in realizing this vision. TRG enlisted the Interiors Studio and Workplace Strategy to create a bold and inventive design.
Collaborative spaces spark new ways of thinking
The client wanted this space to reflect a new brand experience focusing on supporting the needs of the creative workforce. This was achieved through the creation of neighborhoods offering ample opportunities for functional and collaborative spaces including support spaces like an innovation lab and recording/photography studio. Additionally, they wanted the space to be equitable and full of life – a vibrant yet neutral canvas to showcase their clients' work.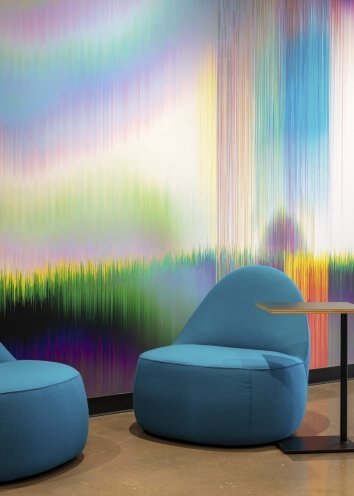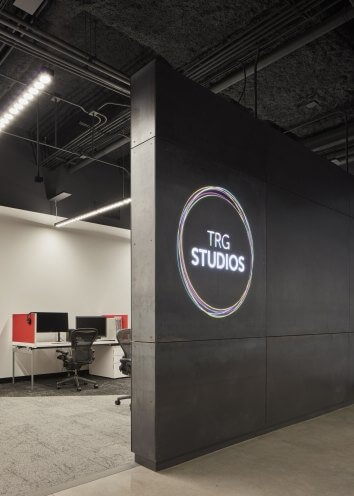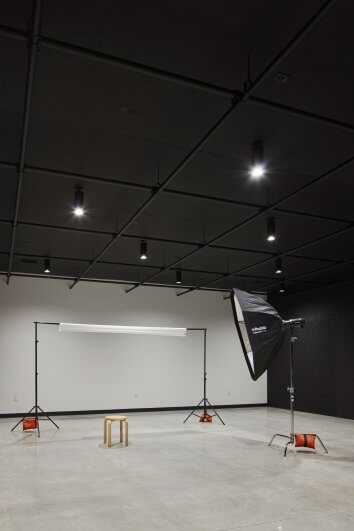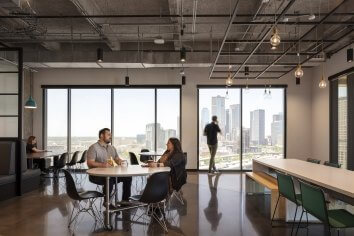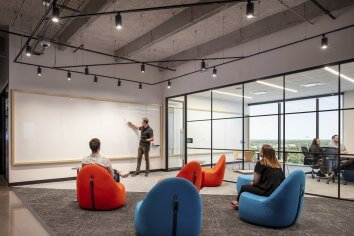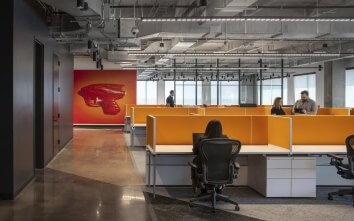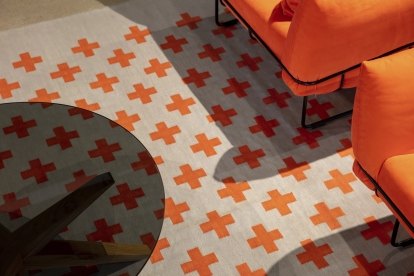 The design of this space draws its inspiration from various elements of design which are used in a repetitive manner for an engaging and dynamic journey for visitors. Basic shapes, curves, and angles throughout the space are a subtle tribute to the fundamental principles of graphic design.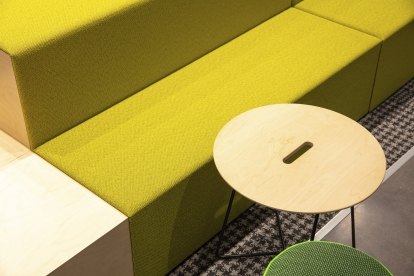 Design reimagined for an iconic agency
To create a balanced and inviting atmosphere, high-contrast black-and-white materials paired with warm tones add a touch of comfort and refinement. Bold architectural gestures are used as an unabashed reflection of TRG's work, which is known for its boldness and impact.
Moreover, intentional color in gradient-like finishes adds a celebratory tone to the design, symbolizing the beauty of differences and expressing TRG's full and fun personality. This design is a reflection of TRG's unique identity, blending simplicity and complexity to create a space that is both striking and inviting.