Projects
Harwood No. 14 Office Tower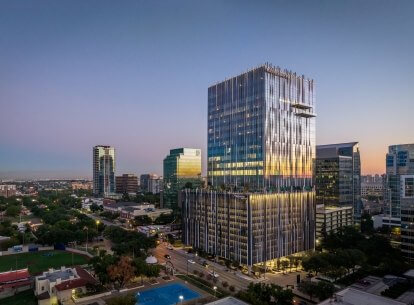 Project Stats
Location

Dallas, Texas

Size

725,000 SF

Partners

Kengo Kuma

HDF

Market

Expertise
The newest and tallest development in the Harwood District.
A gateway to downtown from a major highway, this 27-story glass tower is softened by texturizing fins which form a fabric-like drapery over the façade. Topographical variation across the site results in a split-level configuration accented by landscaped stone terraces which separate vehicle and pedestrian access. A natural landscape is provided for the office tenants in a 16,000-square-foot sky garden.
The tower includes 360,000 square feet of office space and 17,000 square feet of ground-level restaurant and retail space. Other amenities include a fitness center and a multi-purpose conference center, and nine levels of parking.