Projects
Thornton Replacement Elementary School, Arlington ISD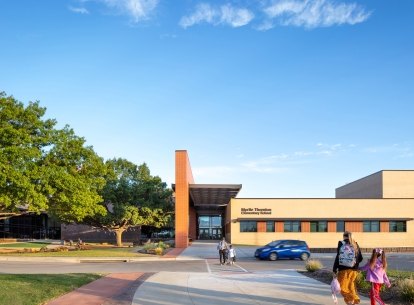 Project Stats
Location

Arlington, Texas

Size

107,000 SF

Market

Expertise
Celebrating Community and Culture
When replacing an aging facility with a new ground-up elementary school,  Corgan engaged students, parents, and teachers to revitalize the community and create a place that reflects local values. Designed entirely during the COVID-19 pandemic, Corgan gathered information and data virtually to help inform the design approach. Desiring a cultural experience and unified spirit to celebrate their local heritage, the community collaboration provided insights and feedback including an interest in saving existing oak trees and connecting indoor and outdoor spaces.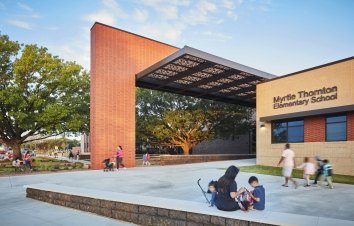 Dynamic spaces inspire exploration
The design celebrates the community's heritage and particularly ties to the tradition of Ballet Folklorico with vibrant collaborative spaces to engage and excite students to learn. Floor-to-ceiling glass floods the library with natural light and highlights terracotta brick and bright accents. Swirling bold colors dance across surfaces like a Latino dancer's ruffled skirts.  Rhythmic patterns spark energy and provide wayfinding toward a variety of flexible learning circles, reading nooks, and seating areas for one-on-ones, small group interaction , and independent learning.  Forward-thinking spaces elevate education and inspire community involvement – from individual teacher workrooms to a dedicated parent center offering parents ESL and computer skills.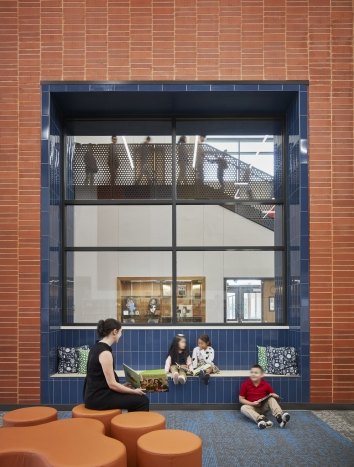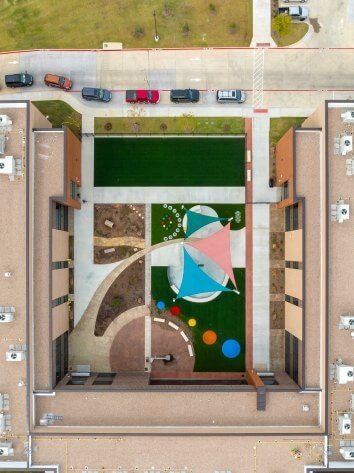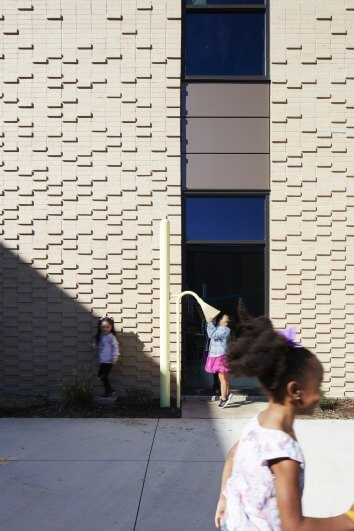 Nature as a teacher
The school supports a STEAM  curriculum with hands-on learning experiences in outdoor courtyards where students can search for fossils, interact with a water table, climb turf mounds, and explore nature and physics. The restorative natural environment provides pathways, sail canopies, and a shaded entry with a striking brick wall tied to a nature-inspired trellis pattern. On the playground, students and teachers can sit on stone walls and other organic stone and log elements to gather and socialize. An abundance of biophilic elements improve health and well-being in this dynamic and interactive environment that connects the community and rejoices in learning by creating a culture of identity and belonging.