Projects
Argyle South Elementary School, Argyle ISD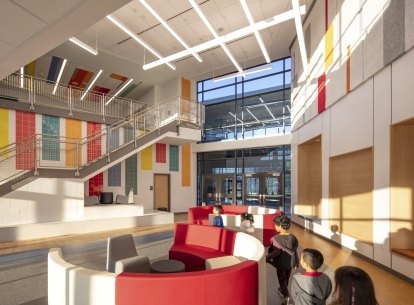 Project Stats
Client

Argyle ISD

Size

104,812 SF

Market

Expertise
Focused on student-led learning.
An adapted and improved prototype for the district, Argyle South Elementary School responds to the growing community's evolving needs. This playful learning environment is designed to inspire curiosity, nurture young learners' self-efficacy, and support adaptable, engaging, and personalized learning experiences. From the library to collaboration areas and outdoor learning spaces, inclusive design features are embedded throughout, offering freedom of choice to support every child's unique learning needs. At Argyle South Elementary School, the school motto "Always Striving for Excellence" was integrated into the design by providing a developmentally-aligned environment, rich with personalized learning opportunities.
Guided by research-based insight, lively and playful design nurtures young learners' curiosity-driven engagement with their world to support active learning and nurture growth. Intuitive wayfinding and student-led seating choices bolster self-efficacy and autonomy. Dynamic collaboration spaces equipped with flexible seating empower freedom of choice to create personalized spaces, while inset nooks and deep windowsills allow learners to activate every surface in their environment for respite, focus, and comfort.
At the heart of the school, the library connects to multi-functional outdoor learning spaces in a restorative courtyard setting where learners can explore and connect with nature. Designed with ease of maintenance in mind, the durable courtyard enhances the life cycle of the school while creating long-term value for the district, with a mix of natural materials to create warm and tactile experiences for students.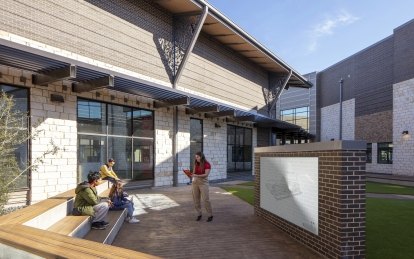 Student Well-Being
Connections to nature both inside and out enhance health and wellbeing, increase focus and concentration in the classroom, and offer opportunities for open-ended learning experiences.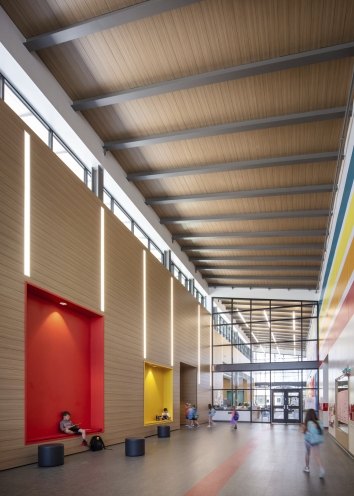 Using Branding to Create Belonging
Situated in a walkable neighborhood, this agrarian vernacular-inspired elementary serves as a community pillar, welcoming young learners with a warm wood and natural stone exterior. High ceilings, bright yet balanced colors, and ample natural light create an interior environment where students can thrive. Distinct colors in each classroom wing provide a sense of identity, coming together in a vibrant community palette in shared spaces. To foster a grounding sense of place and belonging, customized wall art creates a uniquely branded learning environment to inspire a feeling of "home," identity, and community pride, promoting a positive school climate where every student can feel seen and connected.