Projects
SJT Mathis Field Terminal Renovation & Master Planning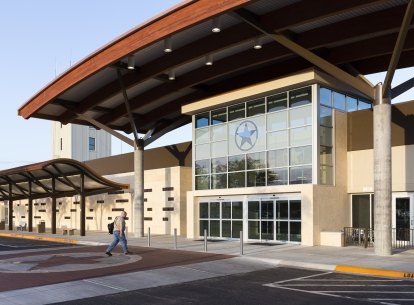 Project Stats
Size

21,700 SF

Location

San Angelo, Texas

Market

Expertise
Progress through local collaboration.
San Angelo Regional Airport, also known as Mathis Field, operated out of an aging terminal building from the 1950s attached to a new concourse that opened in 2008. The newer concourse provided an updated and clean experience to passengers as they wait for their flight, but that experience did not relate back to the existing terminal building or regional image desired by the city. Corgan not only provided architectural services, but also evaluated the airport's overall operations and developed a new terminal master plan which focused on remodeling the existing terminal to match the landside portion to the new concourse.
Through a workshop approach, civic leaders and airport board members were brought together to approve items associated with the master plan. This committee met once each month to review master planning progress as it reflected the project's mission statement. The meetings served as a forum where each of the stakeholders evaluated options for image, floor plan layout, and overall modifications to the facility.