Projects
S3 BioTech Copper Sky Medical Campus Development Phase 1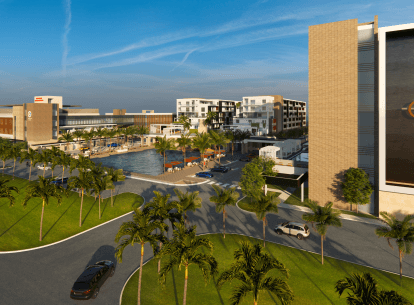 Project Stats
Location

Maricopa, Arizona

Size

700,000 SF

Market

Expertise
Envisioning a connected community where health and wellbeing come first.
When Britton Lee, tech entrepreneur and founder of S3 BioTech, envisioned a medical campus in the City of Maricopa, his team set out to disrupt healthcare — in a good way. With its ambitious scope, economic potential, and commitment to interconnectivity, the medical campus is part of Copper Sky Park, a massive mixed-use development which aims to maximize the concept of a "Smart City" to create more resilient and responsive networks, buildings, and neighborhoods. With sights set on supporting the health and vitality of the community as its preliminary focus, S3 BioTech turned to Corgan to design a medical campus with a hospitality ambiance to set the stage for world-class healthcare and research facilities.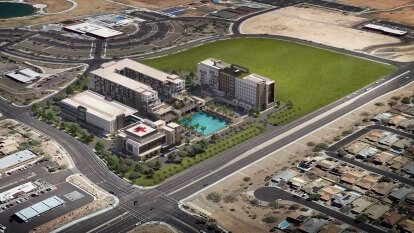 Establishing a one-stop destination for patients and staff.
The Medical Campus features patient-centric services and a high-quality staff experience, seamlessly integrating healthcare and hospitality with advanced design and a collegial working environment. The Campus supports the community with an ER and hospital and a life science building integrated with an advanced sports medicine program. The outpatient ambulatory surgery center (ASC) and medical office building (MOB) offer a variety of medical offices, healthcare providers, and services. To attract a large talent pool of knowledge and medical staff, the design includes short and long-term luxury lofts as well as a hotel to serve medical professionals, out-of-town visitors, and families.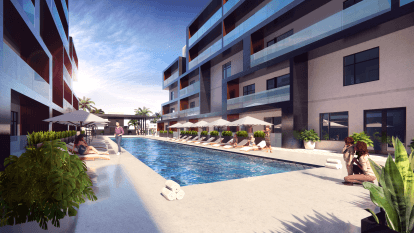 A verdant environment in the desert.
Centered around a reflective water feature and abundant green space and trees, a sky bridge walkway connects all facilities within the pedestrian-oriented community. Covered walkways, outdoor patios, and terraces overlook the biophilic setting and encourage physical movement and natural light to support circadian rhythms. Desert-inspired materiality pallets unify the architecture and emphasize the sense of place with copper and glass curtain wall systems and boxcar-sized portals referencing locality and Maricopa's railroad history.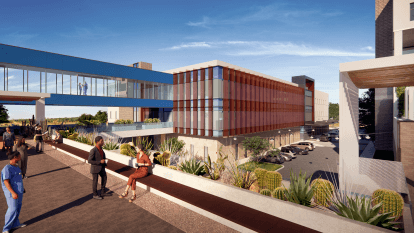 Good for the environment. Good for the community.
Central to S3 BioTech's vision is sustainability, investing in renewables, and green energy with a focus on the efficient use of resources. For instance, buildings with prefab and modular construction prioritize net zero waste and safe working environments to help drive Environmental Social Governance (ESG) outcomes and utilize Green Trust funding.
Looking Ahead
Future plans for a sports campus.
The Medical Campus is the first of several phases of Copper Sky Park which intends to attract a diverse community of professionals, families, and retirees seeking a quality lifestyle in the sunny desert climate. Plans for Phase II include a state-of-the-art 12,000-seat multi-purpose sports stadium along with a mind, body & spirit center that will offer sports psychology, physical therapy, rehab, and advanced training. Anchored by a European premier football team's off-season training site, Copper Sky Park will draw worldwide and local athletes and sports teams, promoting economic growth and tourism in Maricopa. 
A gateway to innovation and a paradigm shift for the emerging future of healthcare, the world-class sports and medical facilities promise to be a significant hub for medicine, research, innovation, and sports science for the region, promoting a wellness mindset and quality of life within a vibrant community where people of all ages can thrive.