Projects
QTS Project Shellhorn Data Center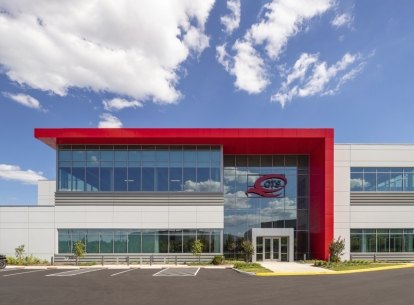 Project Stats
Location

Ashburn, Virginia

Size

305,000 SF

Data Hall

169,000 SF

Critical Load

42 MW

Awards

DataCloud Global Awards, Data Centre Construction Award

Market

Expertise
Located on 24 acres in Loudoun County, Virginia, the QTS Shellhorn data center is designed with function and aesthetic in mind along with unique touches, allowing it stand out in the dense data center alley.
Designed to accommodate tenant requirements, the data center can be rolled out over time for increased resiliency in the functionality. Equipped with modular PODs allows quick deployment for QTS customers. The team designed the facility for adaptability. The first floor has data hall slabs on grade on the first and second floor to adjust for tenant needs. By incorporating multiple docks and freight elevators — allowing flexibility and fast deployment — maximum circulation is achieved. The site incorporates a robust fiber loop with multiple points of entry, so highest redundancy is achieved. The team paid close attention to tenant needs when designing the data center, which boasts flexibility and adaptability — considering the need for amenities that are unmatched across the data center industry.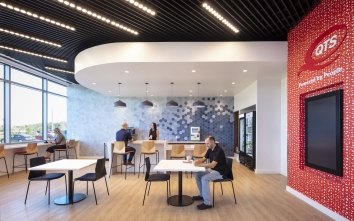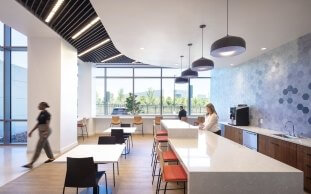 Space for everyone on the Shellhorn Site
Designed with staffing and functionality in mind.
The team paid close attention to user needs while designing the facility and incorporating engaging and innovative amenities that are unrivaled across the data center industry. Based on amenity-centric ideologies, these spaces reinforce QTS core values. These spaces include Freedom Café, which provides an area for visitors and tenants to grab coffee or a snack while taking a break.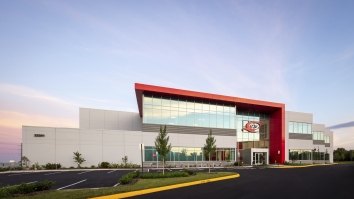 Functionality and quality provide a world-class experience
Continuing the well-thought design approach around the exterior of the facility, the south façade incorporates ornate elements to break up the repeating precast panels. Metal panels and curtainwall systems together conceal critical building functions that would typically be exposed. The QTS red metal panels are again integrated as a main feature to further exemplify the presence of QTS along the Dulles Greenway. Overall, function, materials, and finish quality were highly scrutinized to provide a world class experience for QTS and their customers.