Projects
JFK British Airways First Class Lounge & Club Lounge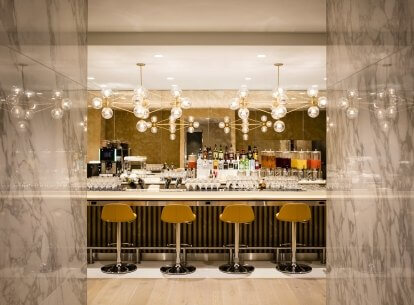 Project Stats
Size

30,000 SF

Location

New York, New York

Market

Expertise
Reimagining the boutique-style lounge experience.
A luxurious new British Airways First lounge for gold cardholders and first-class passengers is now open for business- this lounge is 60% larger than its previous iteration and covers over 30,000 square feet. The lounge is located within Terminal 7 of John F. Kennedy International Airport (JFK), which is considered critical to British Airways operations as it is second only to London Heathrow Airport in terms of annual company revenue.
Renovations
This lounge (and a renovated Club Lounge) was completed in April 2019 and includes updated FF&E standards with individual dining experiences and a common lobby. The passenger experience components include renovated check-in counters, finishes upgrades, new wayfinding signage, expanded holdroom spaces with powered seating and renovated concessions spaces. Features include a new wine room, a massive bar and a boutique dining experience featuring bespoke, chef-curated meals.