Projects
IAH International Terminal E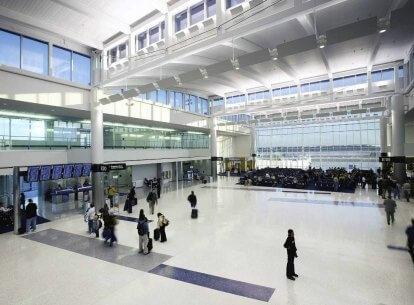 Project Stats
LOCATION

Houston, Texas

SIZE

600,000 SF

Market

Expertise
A new addition to IAH's international status.
As part of a comprehensive International Services Expansion Program, 23 additional international/domestic independent swing gates were incorporated into this new terminal to serve an entirely new FIS facility at Houston's George Bush Intercontinental Airport. The new Terminal E is a three-level, dual pier arrangement that provides independent operations at each of the aircraft gate positions. This  independent operation was accomplished through the use of vertical circulation cores and a third level collecting corridor that transports inbound international passengers over the terminal roadway and into the new centralized processing facility. The new construction area of the project was over 600,000 square feet with an approximate construction cost of $200 million. 
Additional components and services provided by Corgan on this project included: ramp control tower planning, shadow studies, baggage room expansion and automated equipment integration, comprehensive concessions planning, international ticketing hall planning and interior design,  Presidents Club planning and shell design. Sub-consultant management included: security and communications systems integration, code research, baggage system design, civil, structural, and MEP engineering.