Projects
EWR United Club Lounge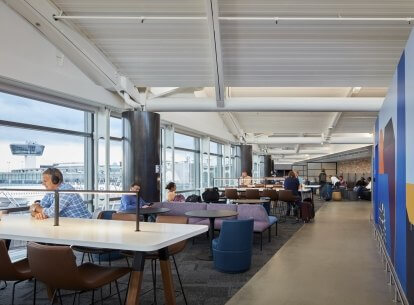 Project Stats
Location

Newark, New Jersey

Size

30,000 SF

Accreditation

LEED Silver

Market

Expertise
Opening up Newark to the NYC skyline.
Updating their clubs to celebrate and strengthen their refreshed brand, United Airlines premiered a loft-like space at Newark Liberty International Airport to serve as a blueprint for future lounges — enhancing the modern passenger experience through a design that embraces the optimism and history of air travel.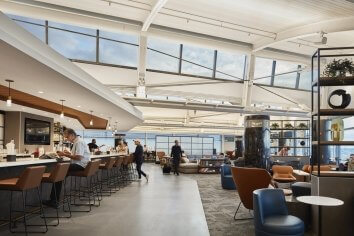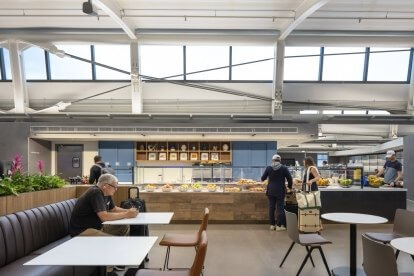 Showcasing hospitality and functionality, increasing human connection, and honoring its urban location, the airline's largest club to date seats 500 guests, delivering best-in-class service with automated check-in kiosks, a cocktail bar, hot and cold deli counters, a barista, a wellness room, and private shower suites. An open floor plan with rich materials elevates and exceeds industry standards as an extension of United's signature brand.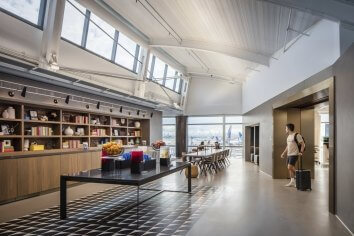 Achieved by adding a second story above an existing hold room, the spacious loft captures floor-to-ceiling windows for panoramic views of the Manhattan skyline. A dramatic barrel ceiling, sawtooth skylights, and exposed roof elements emphasize the modern industrial feel.
A wood library table and bookshelves warm the entry while concrete and black-and-white floor patterns and brick walls salvaged from NYC buildings express the loft aesthetic and sense of locality.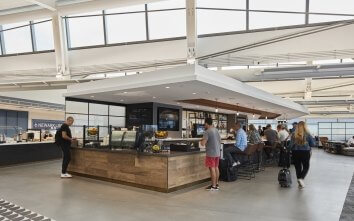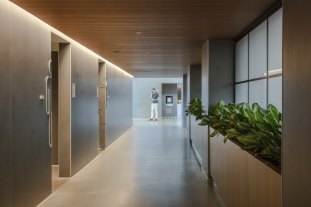 Zones break up the space, adding multiple seating options for passengers to work or relax. Frosted screens sequester living room areas furnished with sofas and recliners for passengers to gather and relax while well-lit library tables paired with leather chairs designate quiet workspaces.
Floating backlit canopies suspended above the cocktail bar, barista, and deli buffets activate hospitality zones. Nearby seating options powered with technology help passengers remain connected and enhance the experience.
Private spaces include a wellness room for meditating or nursing and six individual shower suites with high-end accessories for a spa-like experience.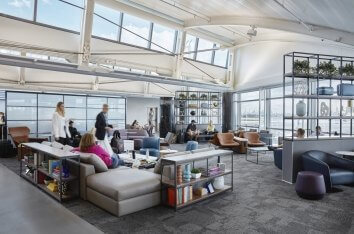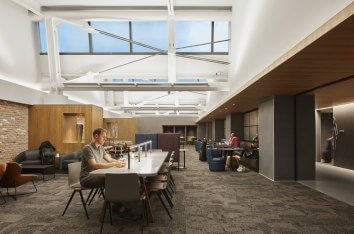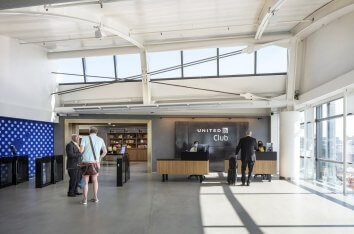 Furnishings and accessories in purples and blues reference their iconic brand and enliven the space. Display shelves with 60s-era UA memorabilia are a nod to the brand's evolution and invite passengers to "Fly the Friendly Skies."
Andy Warhol prints and a mural curated by the Newark Museum of Art add retro and memorable moments to the eclectic space. Marking the airline's proud past while embracing its bright future, the space offers the enduring comforts of lounge amenities in a space that is forward-looking and equipped with the latest technology and connectivity for the discerning modern passenger.